Web Browsing & Other Apps
Sense isn't just about giant widgets. HTC also provides a lot of customization to the preloaded apps on the Flyer itself.
Contacts can be synced across multiple sources, not just Gmail and your desktop PIMs. HTC gives you the option of pulling contacts down from Facebook and Twitter. You can even create a free HTC Sense account to store your contacts and information in HTC's cloud. I don't personally see a huge benefit to storing your data with HTC vs. Google (I'm not sure who I trust less with my personal information?) but HTC's Sense dashboard does allow to remotely locate, ring, lock and wipe your device.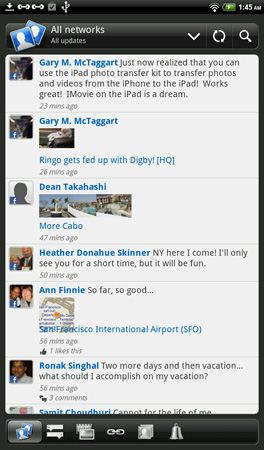 HTC does stream Facebook and Twitter updates down to individual contact pages as a feature of Sense. While I understand what HTC is shooting for here, the implementation is still not perfect. I find that the actual Android Facebook app seems to provide more complete status updates than what eventually makes its way to Sense. The integration is enough to get a casual glance at what your friends are up to, but far from an actual Facebook app replacement. The UI is also not quite as clean or centralized as the People hub on Windows Phone 7. It's a nice attempt by HTC but not perfect.
The calendar app is easier to read and can automatically populate itself with Facebook birthdays if you give the Flyer access to your account.
The web browser is also significantly modified from the stock Gingerbread browser. The user agent string from a Nexus One running 2.3.4 is:
Mozilla/5.0 (Linux; U; Android 2.3.4; en-us; Nexus One Build/GRJ22) AppleWebKit/533.1 (KHTML, like Gecko) Version/4.0 Mobile Safari/533.1
While the Flyer represents itself as a Intel based Mac:
Mozilla/5.0 (Macintosh; U; Intel Mac OS X 10_6_3; HTC_Flyer_P512; en-us) AppleWebKit/533.16 (KHTML, like Gecko) Version/5.0 Safari/533.16
Looks aren't all that are different about HTC's web browser. You get PlayBook-like tabbed browsing, although still not as nice as Honeycomb it's a good intermediate step. Web page loading performance is much improved compared to the stock Android experience, although that's largely due to the very fast SoC.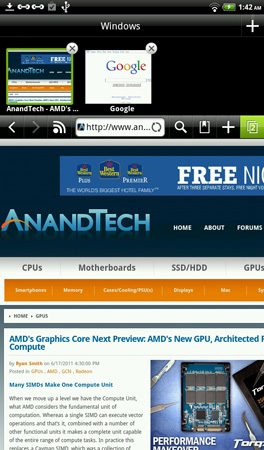 Despite the 7-inch screen, web browsing on the Flyer is made cleaner by the fact that the browser seems to default to a zoomed in state rather than fully zoomed out. Here's what AnandTech looks like on the Flyer by default in portrait mode: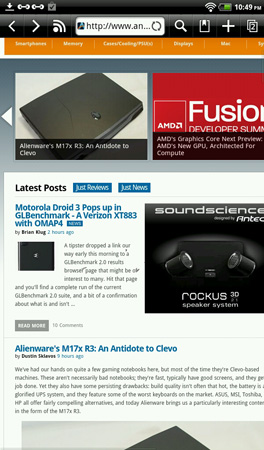 It seems like the Flyer renders all web pages at 1024 pixels wide, regardless of orientation. It does mean you have to do some scrolling or zooming out in portrait mode, but on a lot of sites you actually get most of what you need to see without doing anything. AnandTech's main content column actually fits almost perfectly without having to scroll left/right. For some reason the Flyer won't let you zoom out in portrait mode on AT, although other sites work properly.
If you are reading a site that doesn't fit so nicely in the 600-pixel-wide portrait window, web browsing on the Flyer can be a frustrating experience. Rotate to landscape however, and the experience gets a lot better - although you obviously have to do a lot of vertical scrolling. The Reddit front page still doesn't render properly on Gingerbread but since the Flyer doesn't try to zoom out to display the entire page it feels like less of a problem.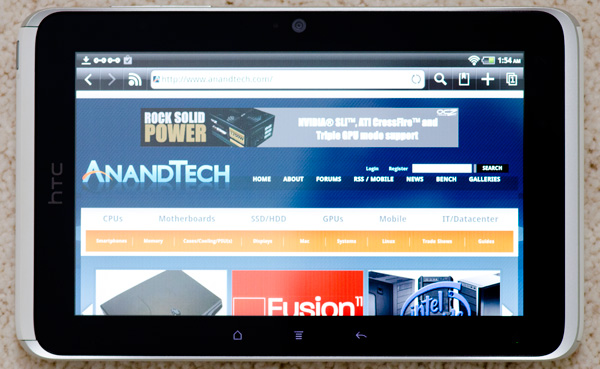 Flash performance is decent but not amazing. I'd say it's generally better than on Honeycomb simply because the GPU isn't as taxed thanks to the lower resolution screen. I still personally prefer larger tablets for web browsing, but the Flyer is better than expected here thanks to its default zoom level and landscape browsing experience.