Final Words
The new 10.1-inch Galaxy Tab is probably the sleekest looking Honeycomb tablet on the market today. The form factor is really wonderful and given how quickly Samsung introduced it after Apple unveiled the iPad 2, the company really deserves credit for responding to competitive pressure in record time. It's not just a great form factor however. The 10.1 has an incredible screen, competitive features and doesn't really sacrifice in terms of performance or battery life. The Galaxy Tab 10.1 is your run of the mill Honeycomb tablet, just better.
A part of me really feels like delivering all of the resolution, performance and overall goodness of the Galaxy Tab in a smaller 8.9-inch form factor is the ticket to ultimate success. The iPad is too big for me to carry around with me as much as I'd like, as is the Galaxy Tab 10.1. However tablets like the PlayBook are too small to really deliver the tablet experience I'm looking for when I'm at home. Keeping the resolution fixed at 1280 x 800 but dropping the screen size by a little over an inch may be enough to really hit the sweet spot.
Ultimately I believe we'll shop for tablets similarly to how we shop for notebooks (or they may end up being one and the same): by screen size. If this form factor really does take off however, we'll have many more decisions to make than just what screen size is best (perhaps we'll start seeing multiple SoCs offered for various performance targets instead of one smartphone SoC playing double duty as a tablet chip as well).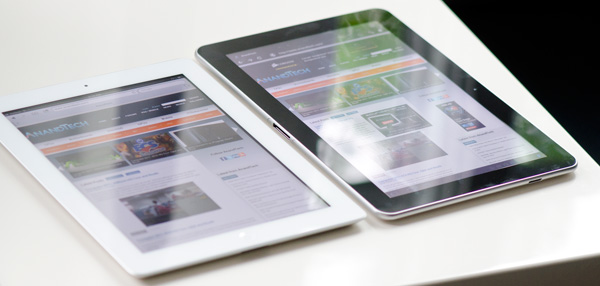 Unfortunately with most Honeycomb tablets today we find ourselves in a difficult position when it comes to making any recommendations. NVIDIA's Kal-El target was originally August, I've heard more recently that the date has slipped to around September. Regardless of the specific month, there's a high likelihood that within the next four months you'll be able to get a much more powerful Android tablet for the same amount of money you'd spend today. With that in mind, I can't in good conscience recommend spending any amount of money on a tablet today if you can wait another two quarters. Remember Kal-El won't really change single threaded performance, but it will improve GPU performance and address the video decoding limitations of Tegra 2 today.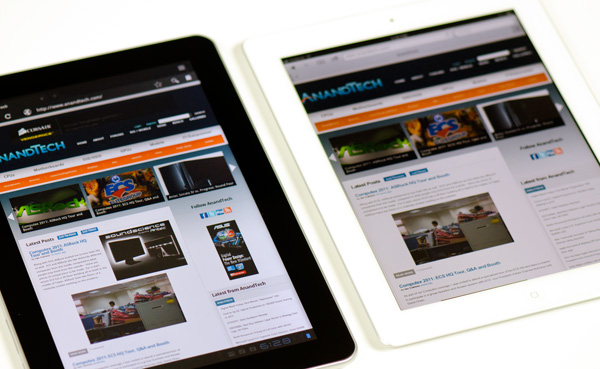 If you have to buy an Android tablet today I'd say the top two choices on my list are the ASUS Eee Pad Transformer and the Samsung Galaxy Tab 10.1. The former is an easy choice because of its price and flexibility vis-a-vis the transformer dock. If you want something more portable however, the Galaxy Tab is a much more comfortable device to use. Here's how I think the comparison boils down:
If you're a developer that just needs to have something running Honeycomb to work on today, buy the Eee Pad. It's cheaper and you get the same functionality as you would from the more expensive Galaxy Tab.
If you're sold on Honeycomb and want a tablet running the OS today but don't care about the ability to type on a normal keyboard, get the Galaxy Tab. The Eee Pad dock is a nice feature but it's also another $150 over its base price. If you're not going to use that feature and don't care about the cost savings, then the Galaxy Tab is clearly the better tablet.
Finally if cost is a concern (keeping in mind that you'll likely regret your purchase in another ~4 months), get the Eee Pad. You'll put yourself out less cash up front and hopefully have less to recoup later.


Samsung Galaxy Tab 10.1 (top) vs. ASUS Eee Pad Transformer (bottom)

However, as I mentioned earlier, my overall recommendation is to wait if you can. Smartphones and tablets are operating on a faster-than-Moore's Law curve. As a result you'll see huge performance improvements every 12 months and devastatingly painful upgrade cycles. Given that tablets aren't carrier subsidized, the longer you can wait, the better off you'll be.