Fusion GPUs: A Long-Awaited Upgrade to IGPs Everywhere
During our conversations with AMD, at one point they mentioned that they prefer not to use the term "IGP" anymore since they consider it a derogatory term. I asked what we should call Llano's graphics and they said AMD officially refers to it as the "Fusion GPU" (fGPU), so that's what we'll use going forward. Regardless of what we call it, though, there's no doubt that the 6620G fGPU is a dramatic upgrade to the old HD 4250; in fact, the 6620G should also boast significantly better performance than Intel's HD 3000…provided the CPU core doesn't become a bottleneck. Let's start with 3DMark comparisons to see just where Llano falls. Again, we have the 6620G and 6630M Llano setups tested, but now we're adding CrossFire to the mix.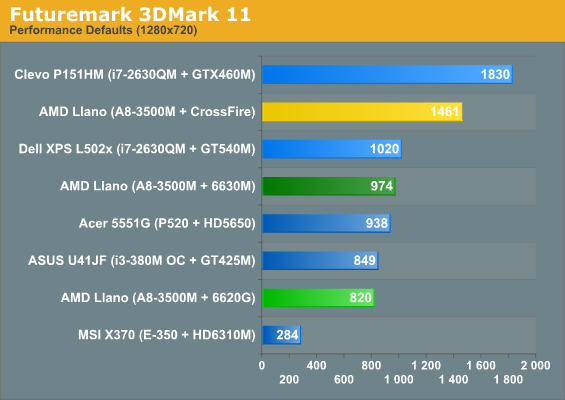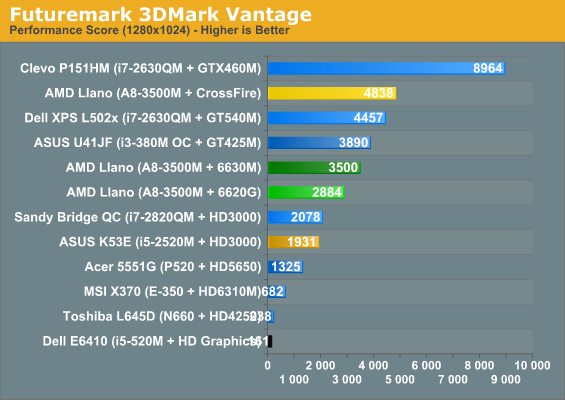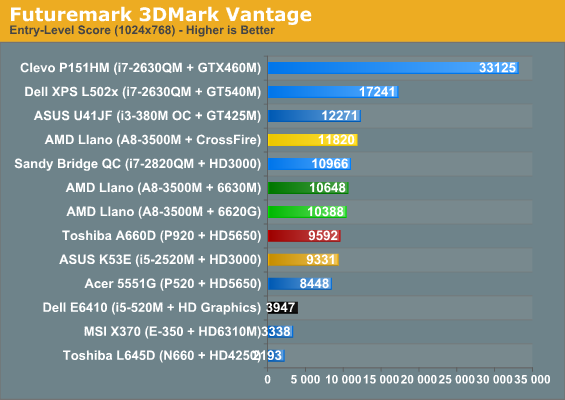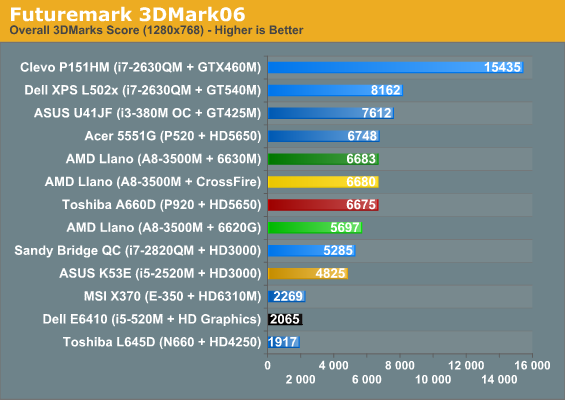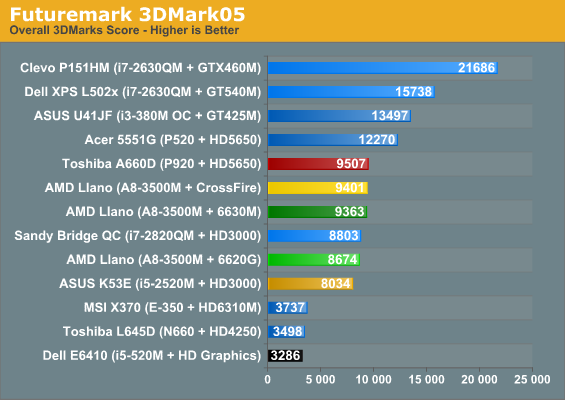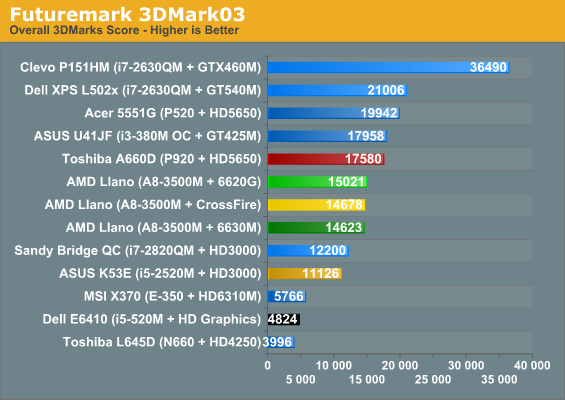 I'm including all of the 3DMark iterations to provide a broad view of graphics potential. The latest 3DMark11 release seems to be almost purely GPU-limited, but of course it requires DX11 support and thus many of the other laptops (including Intel's IGP) fail to run it. 3DMark Vantage's Performance defaults are about as demanding, and Llano comes out 40-50% ahead of Sandy Bridge's HD 3000. Of course, Arrandale completely falls on its face in the Performance test, generating a result of just 161, but AMD's old HD 4250 is only marginally better with a score of 238. Remove some of the demands with the Vantage Entry-Level preset and Sandy Bridge starts to close the gap, with the quad-core 2820QM actually coming out ahead of Llano. Things that make you go hmm….
Things don't get any better when we look at Asymmetrical CrossFire (ACF) from Llano. 3DMark11 comes in a whopping 50% faster than the 6630M dGPU, or 78% faster than the fGPU. If that performance boost showed up in our games, things would be great, but unfortunately it doesn't. AMD informed us just yesterday that only DX10 or DX11 games and applications will even work with ACF, so perhaps that explains why we see little to no benefit in 3DMark03/05/06. The Vantage Performance preset shows a respectable 38% increase vs. the dGPU and 68% over the fGPU, but on Entry-Level it's only 11-14% faster, and in 3DMark03 the dGPU actually scored lower than the fGPU.
If we were to stop our analysis of graphics performance right now, I suspect there would be a lot of confusion. Llano's fGPU is anywhere from being equal to HD 3000 to 50% faster; Asymmetrical CrossFire is either a boon or a bust. So which is it? This is why we only place a minor emphasis on 3DMarks; let's get to some actual gaming benchmarks.