Gaming Performance
Before we get into this testing, I do feel compelled to point out that Quad SLI is decidedly a niche product and you'll find the support is relatively commensurate with that. While NVIDIA's most recent drivers actually do a fantastic job of correcting the majority of surround testing quirks, I experienced some of the odd "red/blue" flickering during testing that people with Quad SLI have brought up on forums. This seems related to the SLI bridge being faulty or not high enough quality, and our rep at NVIDIA has suggested as much. The flickering doesn't impact performance, but it's pretty annoying. Thankfully it's easy enough to fix: replace the bridge.
Our "High" preset is liable to be a waste of horsepower, but for the sake of completeness, here it is: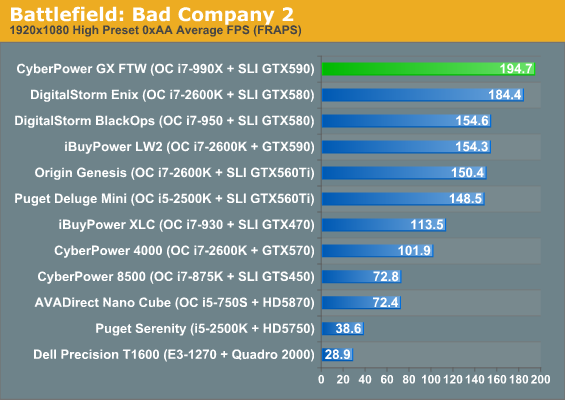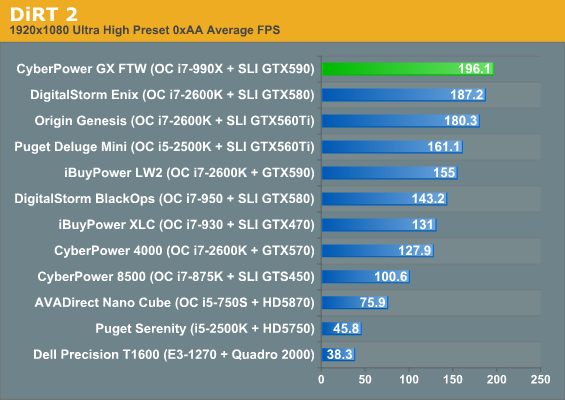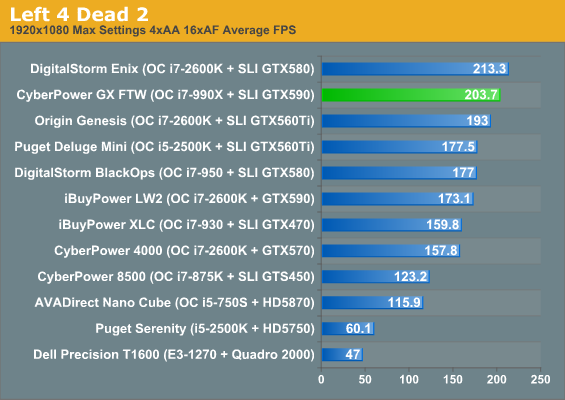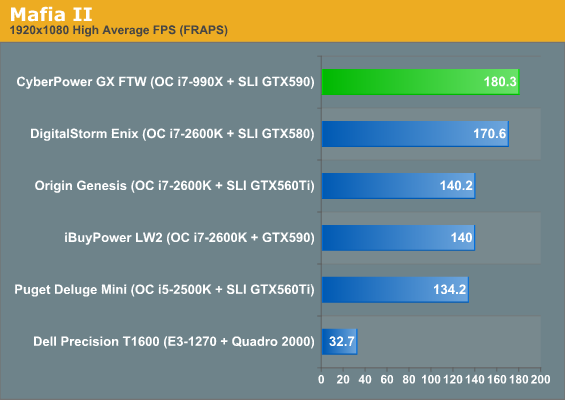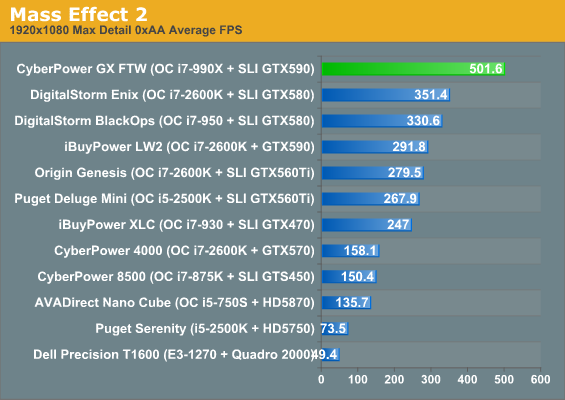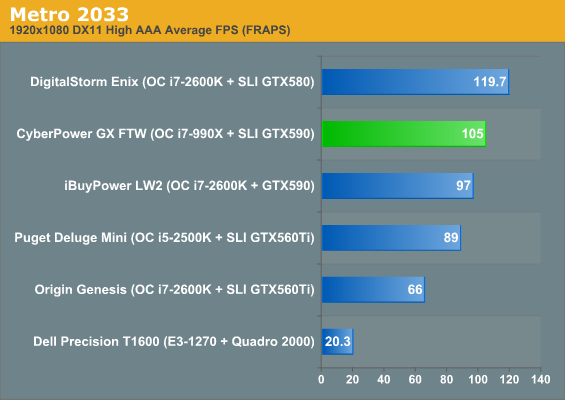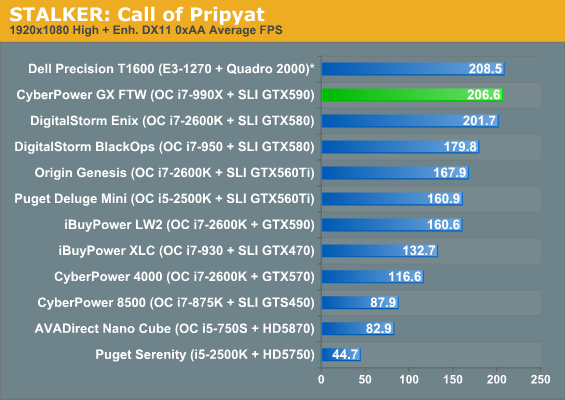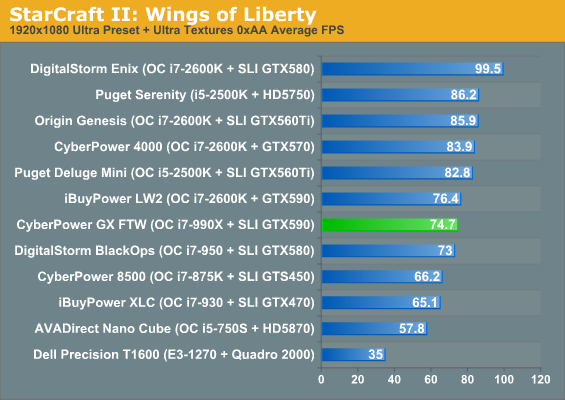 And the CyberPower Gamer Xtreme FTW, with its pair of GeForce GTX 590s, puts in a rocking performance nearly every step of the way. In certain situations it's still processor limited (which is amusing given it's being driven by a 4.5GHz Intel Core i7-990X), but when we finally shift the majority of the workload to the graphics subsystem it'll really start to pull away.
Two side notes, though: first, I've included the Dell Precision T1600's NVIDIA Quadro 2000 performance results as a kind of baseline for the sort of gaming performance one might expect from a $100 or less video card, but try to keep in mind that it's a workstation card and not designed for this purpose. The T1600 will still run roughshod over even this machine in many workstation-based applications. Second, the STALKER: Call of Pripyat benchmark has a very unique bug that we were able to root out while testing: if DirectX isn't installed or updated properly, the benchmark won't render dynamic shadows. It'll run perfectly fine otherwise, but dynamic shadows and some post-processing lighting effects won't appear, and as a result the score will be twice to nearly quadruple what it ought to be. If anyone ever runs into this (and it was a new one on me and the NVIDIA guys alike), update your DirectX installation.
Now, on to the "Ultra" testing!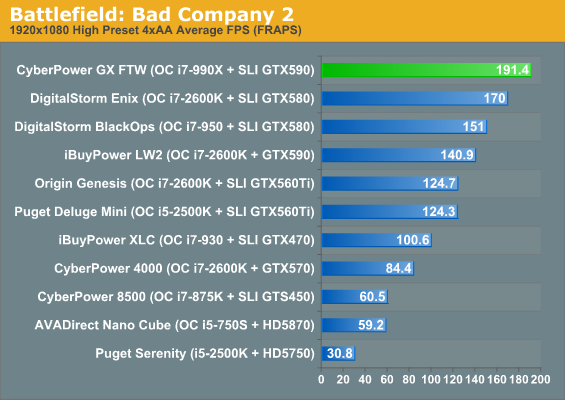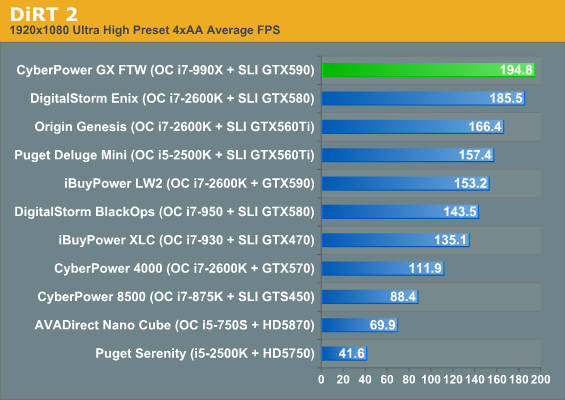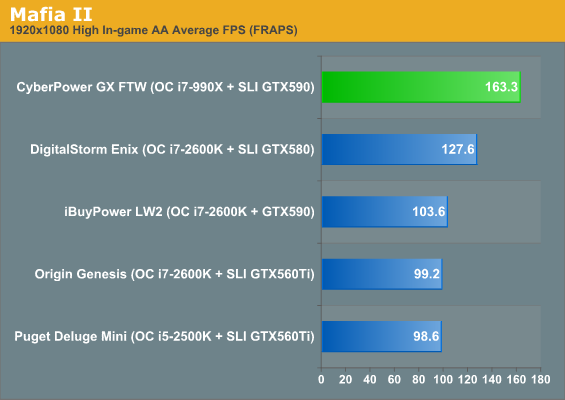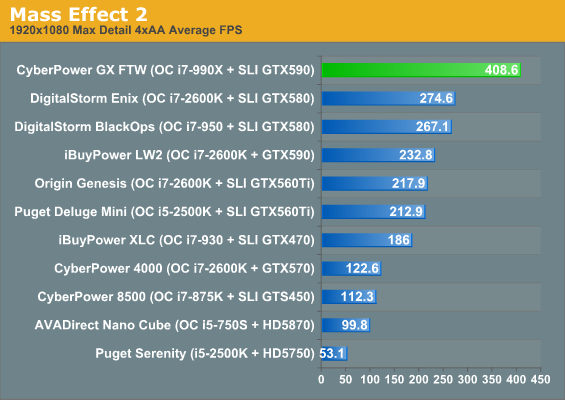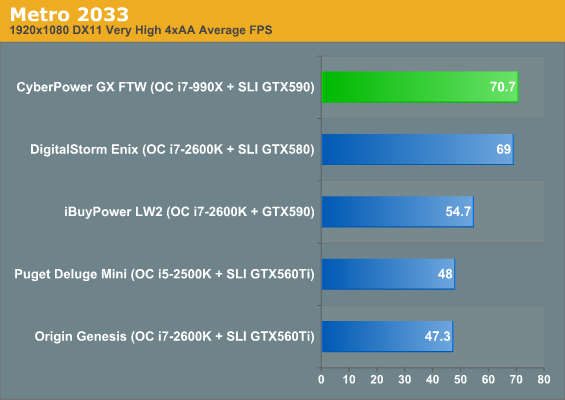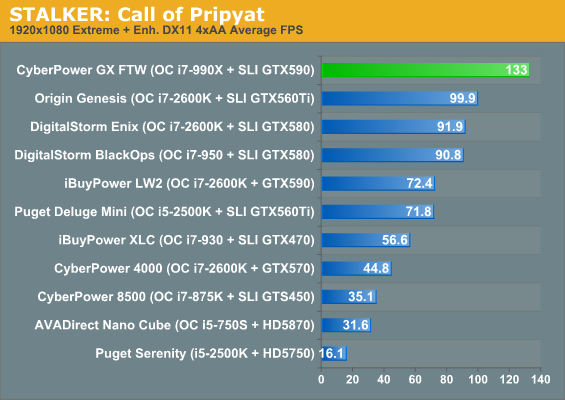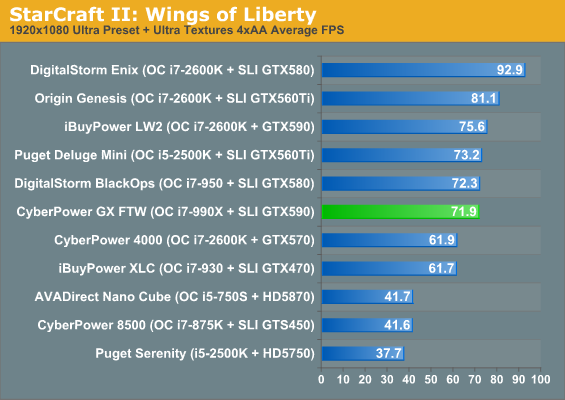 Once we shift the brunt of the workload to the graphics subsystem, CyberPower's desktop takes off like a shot, and you can expect this trend to further continue when we enter the "Surround" testing suite. StarCraft II continues to be the odd man out, but I've been griping to anyone who'll listen about how badly coded that game was since it came out. Released in 2010. It's a real-time strategy game that doesn't scale past two threads and still struggles with the now standard mainstream resolution of 1366x768, and there's no built-in anti-aliasing. What, were the designers too busy counting their money to produce a halfway modern engine? Come on, even World of Warcraft has DirectX 11 support and scales past two threads at this point.
But let's not dwell on badly engineered PC games when we can test a quad-GPU monster at the punishing surround resolution of 5670x1200.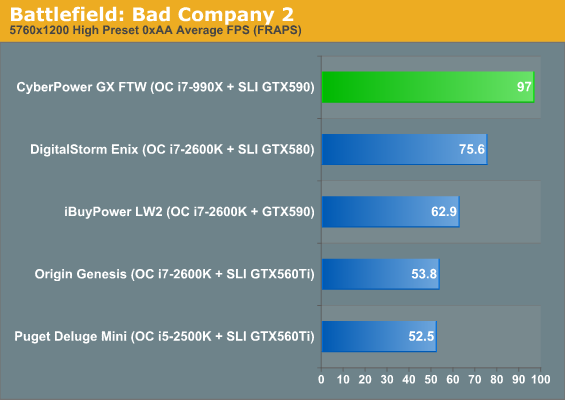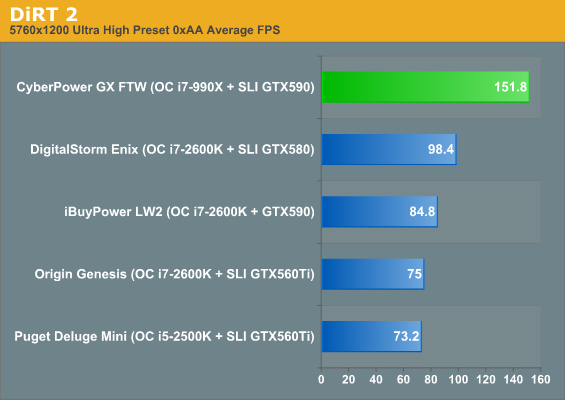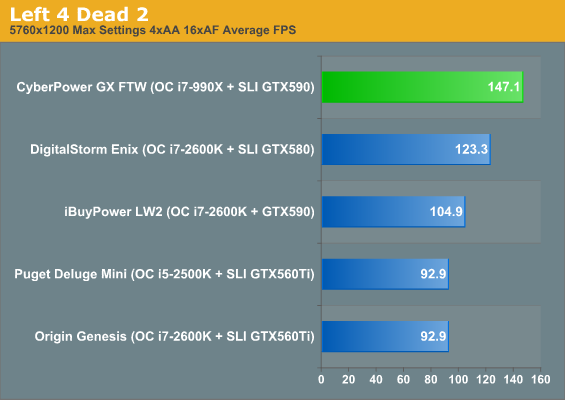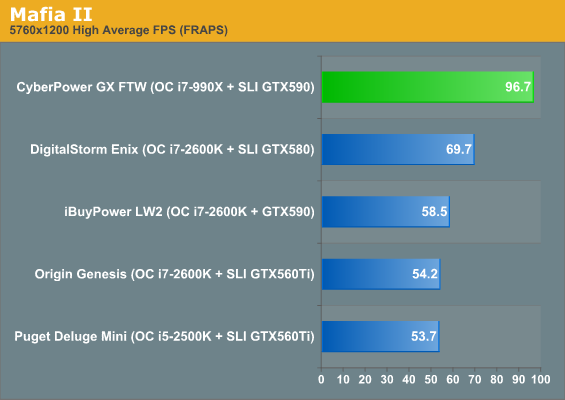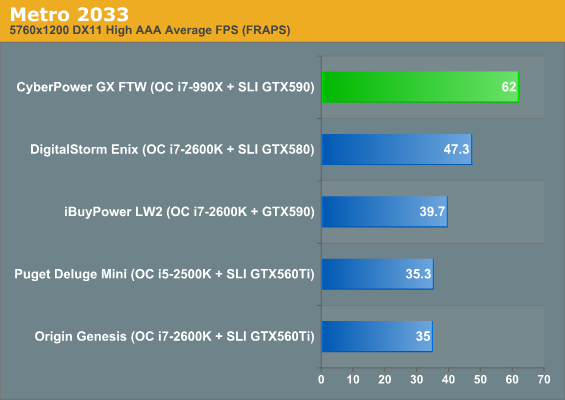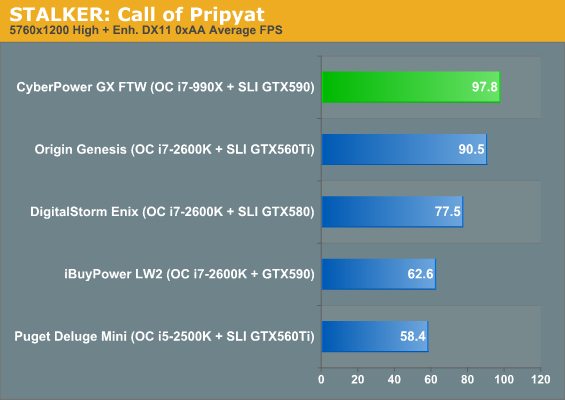 Now that the pair of GeForce GTX 590s can stretch their legs, the CyberPower Gamer Xtreme FTW takes a comfortable lead in every game. While some show better scaling than others beyond the pair of GeForce GTX 580s in the DigitalStorm Enix, ultimately there's still a performance boost and room to grow in every test case. The major question I have, though, is whether or not it's enough of a jump to warrant the increased price over a pair of GeForce GTX 580s. The 590 SLI rig is faster, sure, but the pair of 580s are still more than adequate even at this resolution. But if you're thinking about buying a trio of 27" or 30" LCDs for gaming purposes, by all means, go for the Quad SLI setup....