Let the Games Begin
Our gaming suite is the most comprehensive set of gaming benchmarks you're likely to find if you're wondering how your shiny new laptop stacks up to the competition. As both of the notebooks we're reviewing today are reasonably high-end, we'll run through our Medium, High, and Ultra quality presets on each title. I've also added a couple new games to the list, Civilization V and Total War: Shogun 2, but I won't include the graphs yet since we only have a few results. We're also not fully decided on if we'll keep these two benchmarks, so let us know what you think; in the meantime, you can find the scores in Mobile Bench. (We might also need to revamp the TWS2 test once the DX11 patch hits, which might be just in time to start testing Crysis 2 with DX11.)
We'll focus our commentary on the High and Ultra results, but the Medium charts do a good job at showing the gulf between the midrange and high-end mobile GPUs. Something else to look at in the gaming benchmarks are the results for the original MSI GT680R; we're including them mostly to see if anything has changed with the latest NVIDIA driver updates (and potentially firmware/BIOS tweaks from MSI), as the hardware remains the same; results for the earlier GT680R are in dark green.
Medium Quality Gaming Results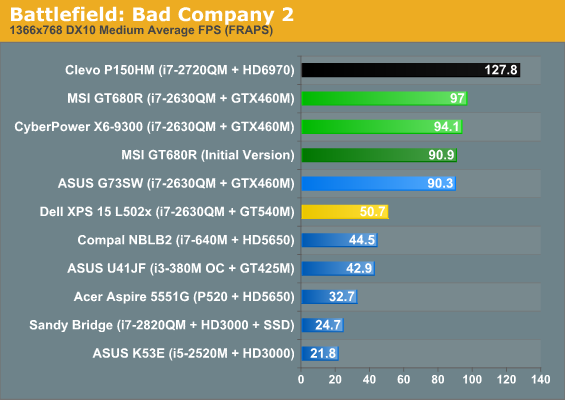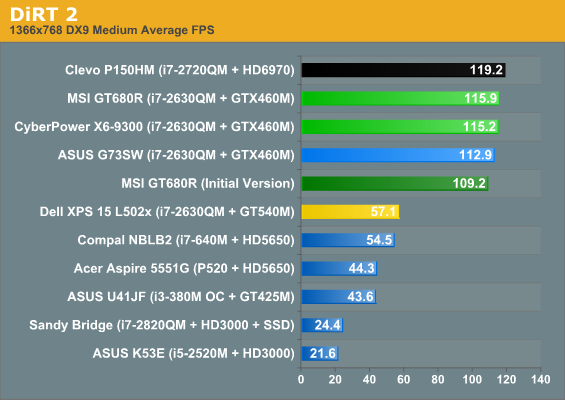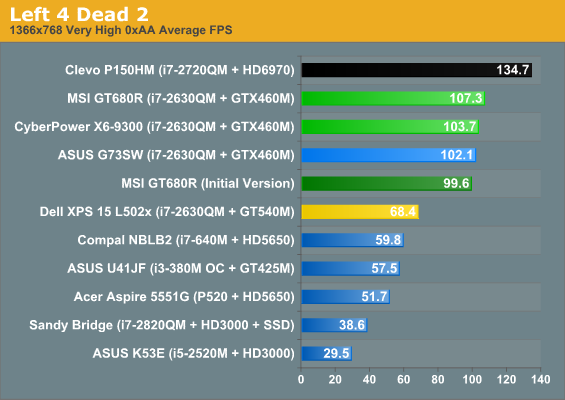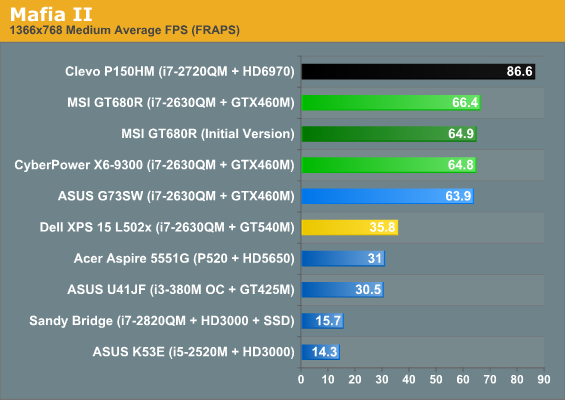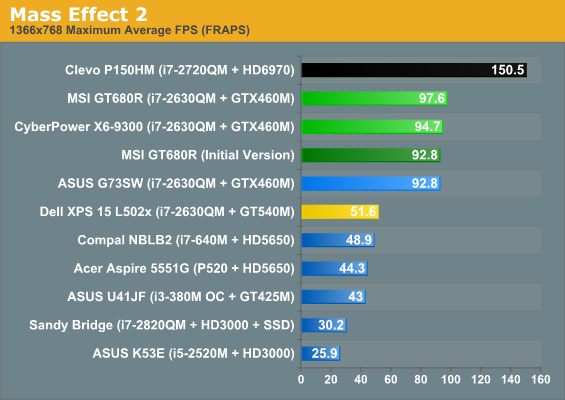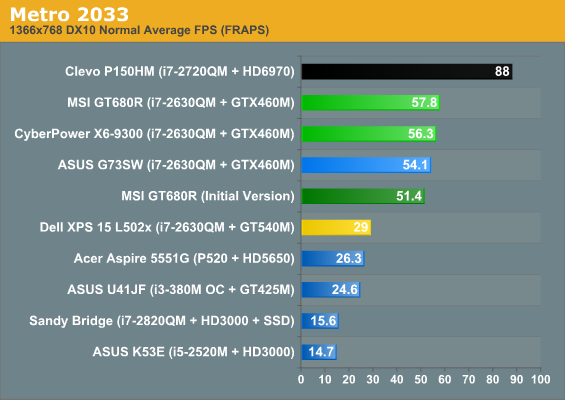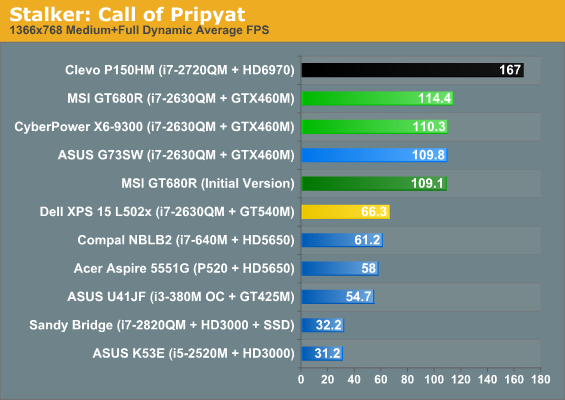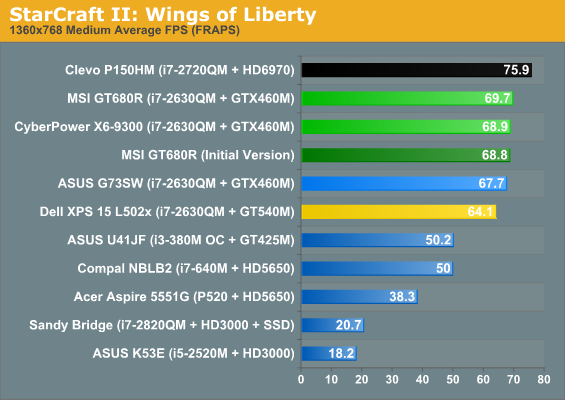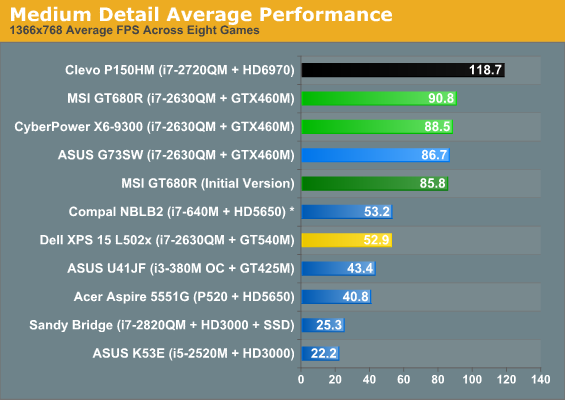 High Quality Gaming Results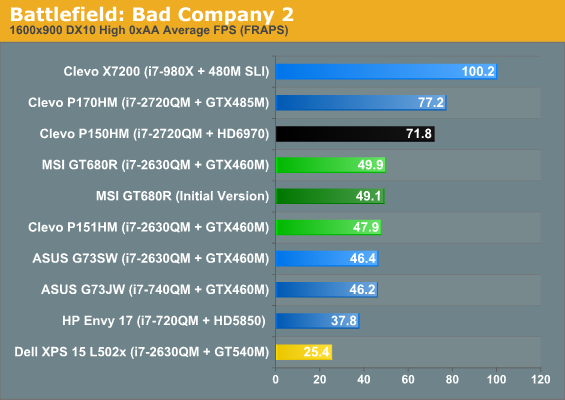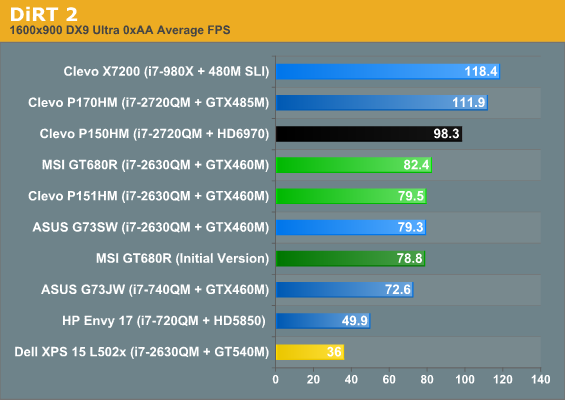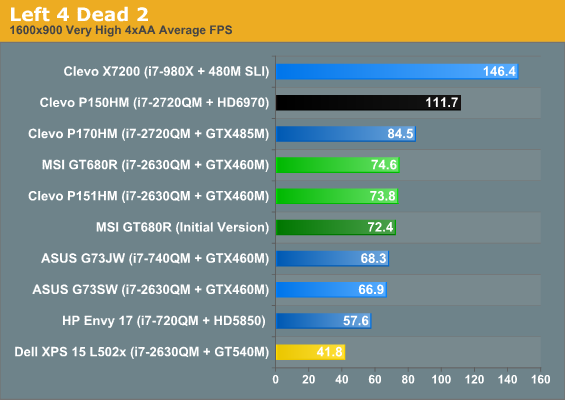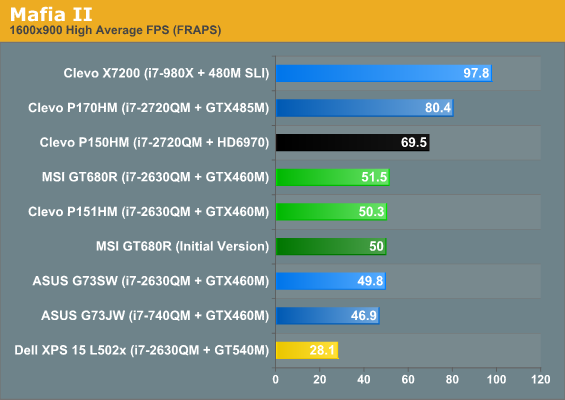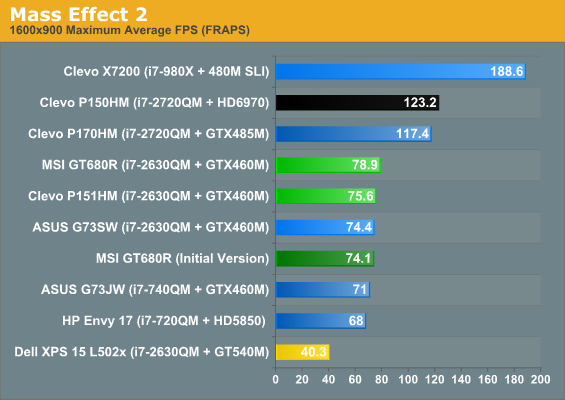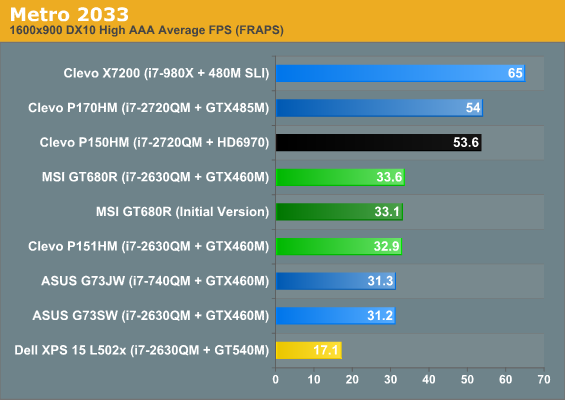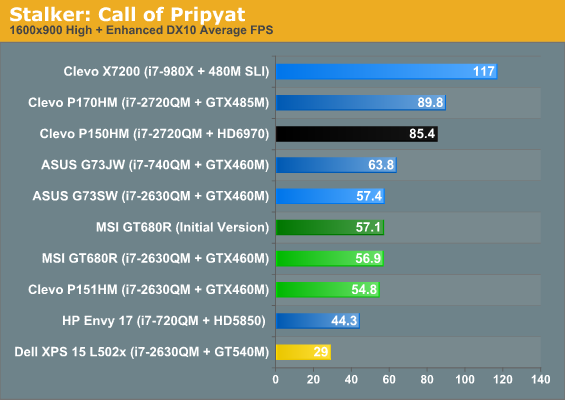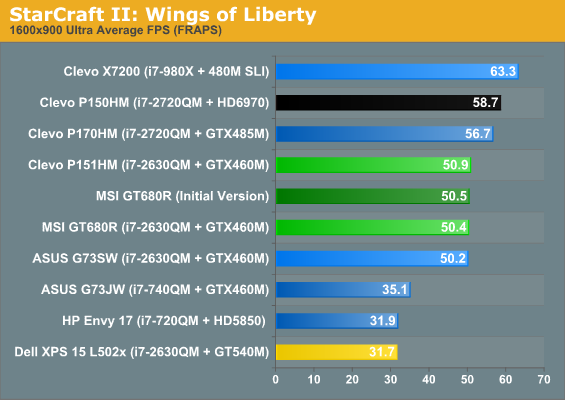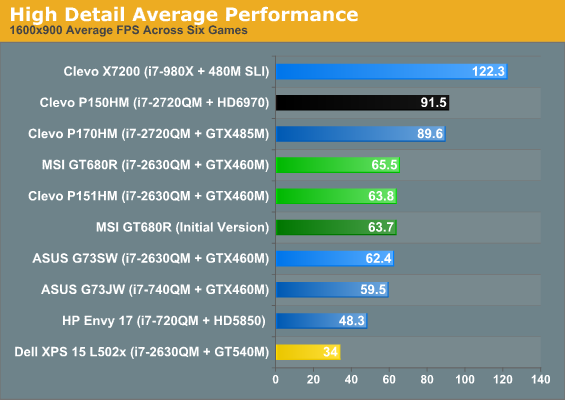 Ultra Quality Gaming Results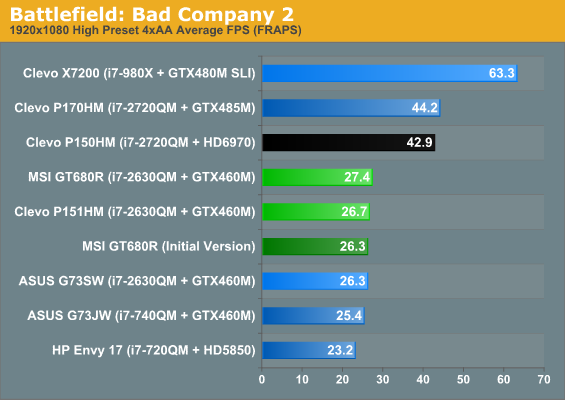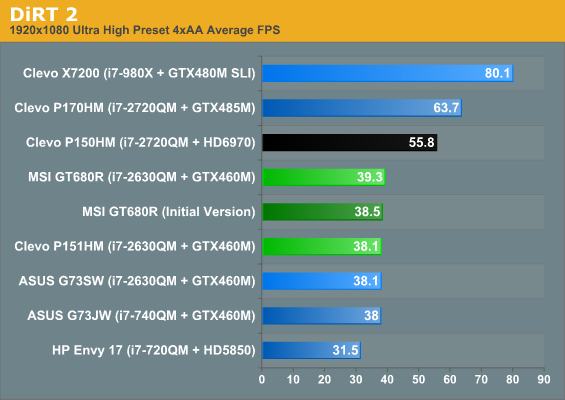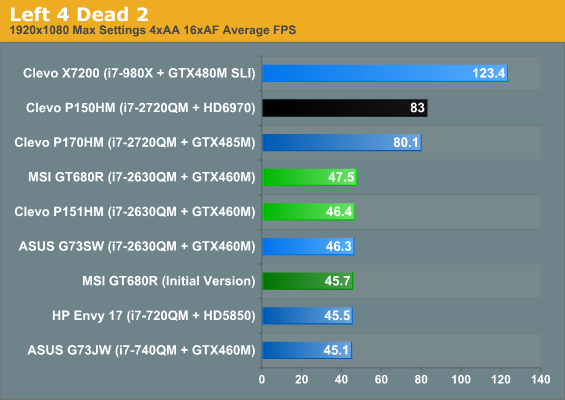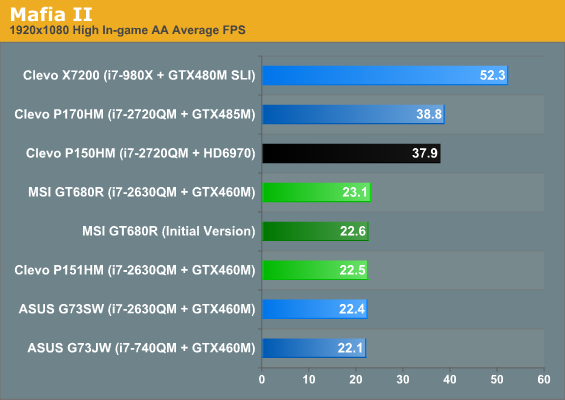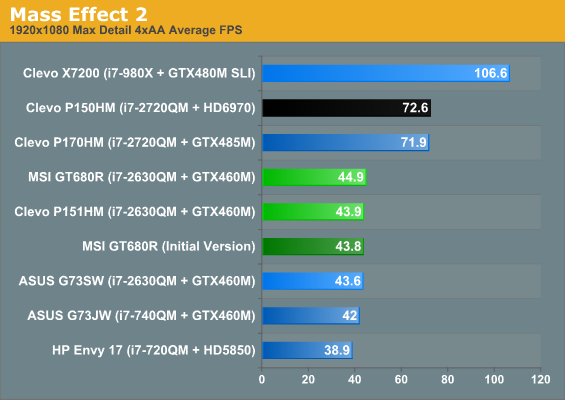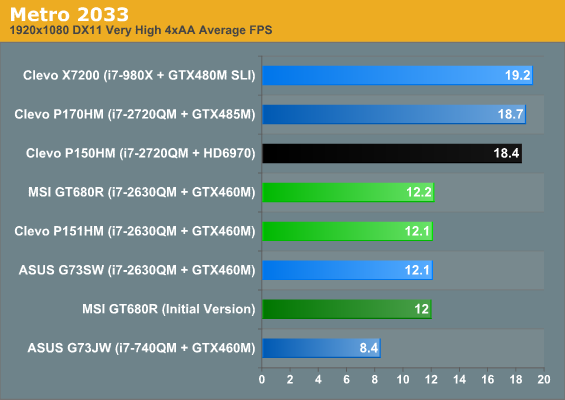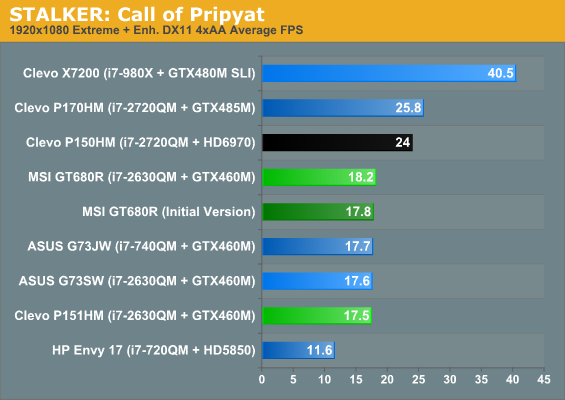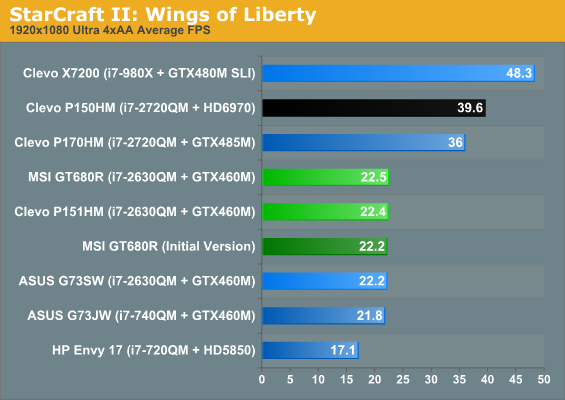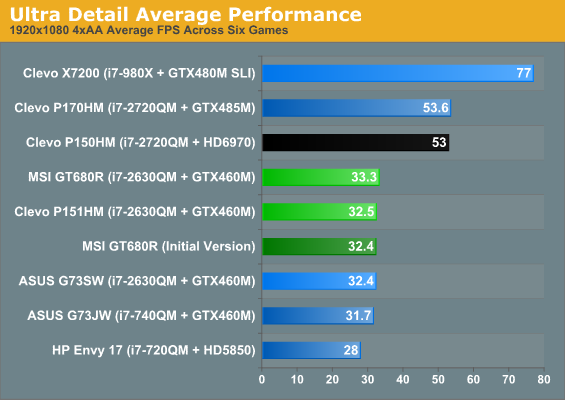 Say what you will about the GT680R's GPU overclock, if nothing else it's at least consistently a few percent faster than the competition. We wouldn't pay extra for the feature, and we aren't recommending other manufacturers follow a similar path, but it's there if you want it. Outside of that little performance bonus, the other GTX 460M notebooks (including the older ASUS G73JW with a Clarksfield CPU) are all clumped together. It appears NVIDIA's 270 series driver also provides a consistent if small increase in performance.
As for other options, we currently have three faster mobile GPUs that we've benchmarked (though there are others). 480M SLI (and 485M SLI) come at the top of the pecking order, but you can only get those GPUs right now with a desktop CPU in the form of the Clevo X7200. A single GTX 485M is also a sizeable jump in performance relative to 460M, but don't forget the HD 6970M, which is nipping at the heels of 485M for quite a bit less money. GTX 470M and HD 6950M will also outperform the 460M, as would any CrossFire 5800M or 6900M setup.
Of course, if you want a reasonably priced notebook that can run current games at high detail settings (but generally not with antialiasing), the GTX 460M is a great place to start. Faster mobile GPUs certainly exist, but the price premium to get those is quite high.