Build, Noise, Heat, and Power Consumption
Happily, we're now in the disciplines where a machine like the Dell Precision T1600 is designed to excel. One of the nicer things I've found in working with a lot of Dell desktops, and it's something I'm pleased to see has very much carried over to the T1600, is how easy they are to service. The T1600's chassis is extremely easy to open and work inside, and for a small tower it's remarkably spacious and well-organized.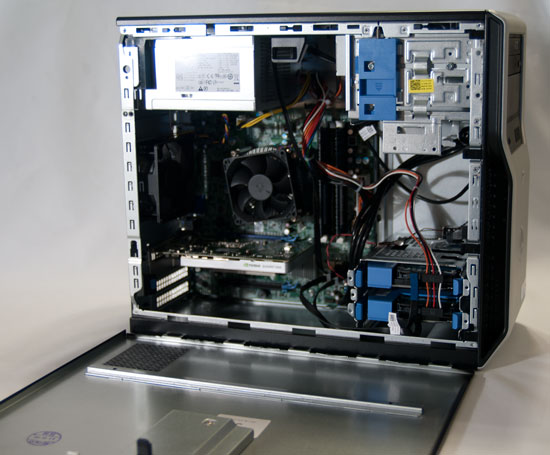 The side panel is held on with a latch that's both secure and simple to use. Once you're inside, you're met with a very basic assembly and a traditional ATX enclosure style. Cabling could be neater but generally speaking I found the Precision T1600 easy enough to get into and work with.
Given the combined power of the processor and graphics card at just 142 watts, Dell doesn't have to do much work to keep the chassis cool. As a result, even under heavy load the T1600 was whisper quiet and inaudible under ambient noise. The stock cooler on the Xeon E3-1270 doesn't have to work very hard, and as you'll see the heatsink/fan unit on the Quadro 2000 is more than adequate for keeping it cool.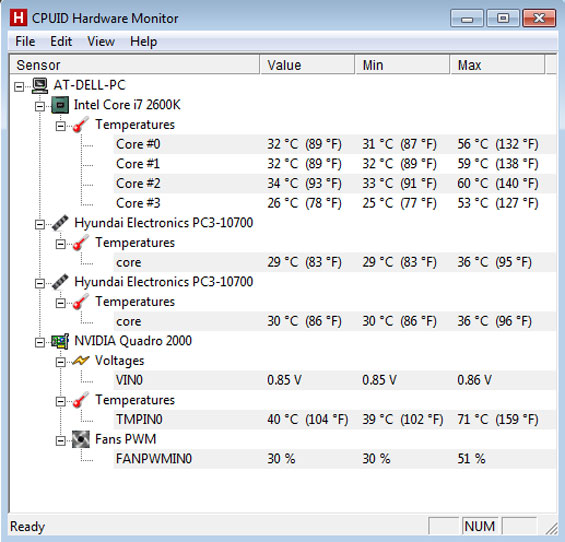 Idle and load temperatures are relatively frosty. The peak temperature of the Quadro 2000 is reasonable and even somewhat low, while the E3-1270 (read in HWMonitor as an i7-2600K) stays very cool even under the stock fan. The readings on the ECC memory are also telling: idle and load temps are quite low, and the DIMMs have no trouble cooling off once the system idles.
UPDATE: Power consumption listed below.