The Vertex 3 120GB
Whenever we review a new SSD many of you comment asking for performance of lower capacity drives. While we typically publish the specs for all of the drives in the lineup, we're usually only sampled a single capacity at launch. It's not usually the largest, but generally the second largest and definitely an indicator of the best performance you can expect to see from the family.
Just look at the reviews we've published this year alone:
Intel SSD 510 (240GB)
Intel SSD 320 (300GB)
Crucial m4 (256GB)
While we always request multiple capacities, it normally takes a little while for us to get those drives in.
When OCZ started manufacturing Vertex 3s for sale the first drives off of the line were 120GB, and thus the first shipping Vertex 3 we got our hands on was a more popular capacity. Sweet.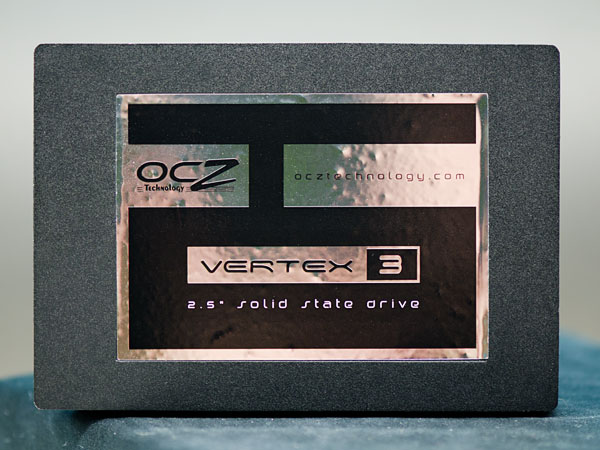 Let's first look at the expected performance differences between the 120GB Vertex 3 and the 240GB drive we previewed earlier this year:
OCZ Vertex 3 Lineup
Specs (6Gbps)
120GB
240GB
480GB
Max Read
Up to 550MB/s
Up to 550MB/s
Up to 530MB/s
Max Write
Up to 500MB/s
Up to 520MB/s
Up to 450MB/s
4KB Random Read
20K IOPS
40K IOPS
50K IOPS
4KB Random Write
60K IOPS
60K IOPS
40K IOPS
MSRP
$249.99
$499.99
$1799.99
There's a slight drop in peak sequential performance and a big drop in random read speed. Remember our discussion of ratings from earlier? The Vertex 3 was of course rated before my recent conversations with OCZ, so we may not be getting the full picture here.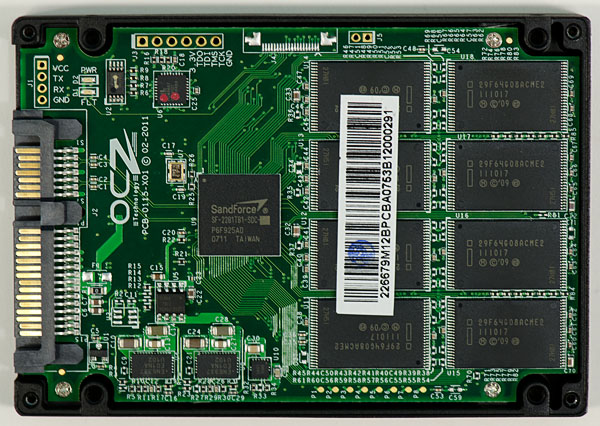 Inside the 120GB Vertex 3 are 16 Intel 25nm 64Gbit (8GB) NAND devices. Each device has a single 25nm 64Gbit die inside it, with the capacity of a single die reserved for RAISE in addition to the typical ~7% spare area.
The 240GB pre-production drive we previewed by comparison had twice as many 25nm die per package (2 x 64Gbit per NAND device vs. 1 x 64Gbit). If you read our SF-2000 launch article one of the major advantages of the SF-2000 controller has over its predecessor is the ability to activate twice as many NAND die at the same time. What does all of this mean for performance? We're about to find out.
RC or MP Firmware?
When the first SF-1500/1200 drives shipped last year they actually shipped with SandForce's release candidate (RC) firmware. Those who read initial coverage of the Corsair Force F100 drives learned that the hard way. Mass production (MP) firmware followed with bug fixes and threatened to change performance on some drives (the latter was resolved without anyone losing any performance thankfully).
Before we get to the Vertex 3 we have to talk a bit about how validation works with SandForce and its partners. Keep in mind that SandForce is still a pretty small company, so while it does a lot of testing and validation internally the company leans heavily on its partners to also shoulder the burden of validation. As a result drive/firmware validation is split among both SandForce and its partners. This approach allows SF drives to be validated heavier than if only one of the sides did all of the testing. While SandForce provides the original firmware, it's the partner's decision whether or not to ship drives based on how comfortable they feel with their validation. SandForce's validation suite includes both client and enterprise tests, which lengthens the validation time.
The shipping Vertex 3s are using RC firmware from SandForce, the MP label can't be assigned to anything that hasn't completely gone through SandForce's validation suite. However, SF assured me that there are no known issues that would preclude the Vertex 3 from being released today. From OCZ's perspective, the Vertex 3 is fully validated for client use (not enterprise). Some features (such as 0% over provisioning) aren't fully validated and thus are disabled in this release of the firmware. OCZ and SandForce both assure me that the SF-2200 has been through a much more strenuous validation process than anything before it.
Apparently the reason for OCZ missing the March launch timeframe for the Vertex 3 was a firmware bug that was discovered in validation that impacted 2011 MacBook Pro owners. Admittedly this has probably been the smoothest testing experience I've encountered with any newly launched SandForce drive, but there's still a lot of work to be done. Regardless of the performance results, if you want to be safe you'll want to wait before pulling the trigger on the Vertex 3. SandForce tells me that the only difference between RC and MP firmware this round is purely the amount of time spend in testing - there are no known issues for client drives. Even knowing that, these are still unproven drives - approach with caution.
The Test
CPU

Intel Core i7 965 running at 3.2GHz (Turbo & EIST Disabled)

Intel Core i7 2600K running at 3.4GHz (Turbo & EIST Disabled) - for AT SB 2011, AS SSD & ATTO

Motherboard:

Intel DX58SO (Intel X58)

Intel H67 Motherboard

Chipset:

Intel X58 + Marvell SATA 6Gbps PCIe

Intel H67
Chipset Drivers:

Intel 9.1.1.1015 + Intel IMSM 8.9

Intel 9.1.1.1015 + Intel RST 10.2

Memory:
Qimonda DDR3-1333 4 x 1GB (7-7-7-20)
Video Card:
eVGA GeForce GTX 285
Video Drivers:
NVIDIA ForceWare 190.38 64-bit
Desktop Resolution:
1920 x 1200
OS:
Windows 7 x64