HDMI Mirroring
One of Tegra 2's most interesting features is support for multiple displays—HDMI 1.3 at 1080p mirroring is supported. The implementation on the 2X is how other Android phones with HDMI ports should have worked, you plug the HDMI cable in, and everything on the phone is instantly mirrored on the connected display. Android isn't suddenly rendered at higher resolution, it's just scaled up to whatever resolution of HDMI device you connect to, but that looks surprisingly good.
In portrait mode, there are black bars at the left and right, but rotate to landscape and the WVGA Android screen fills 1080P displays. WVGA (800x480) isn't exactly 16:9, but it's close, so there's a little stretching in landscape but nothing noticeable.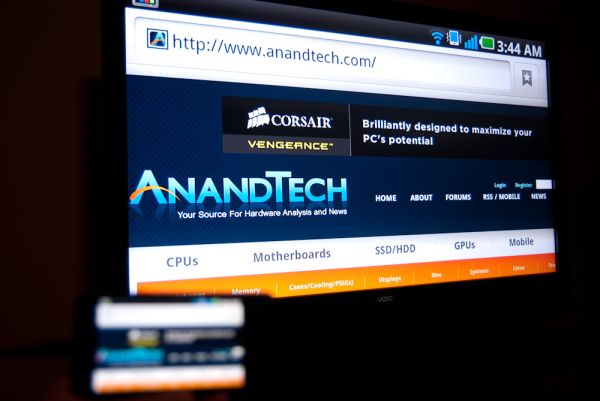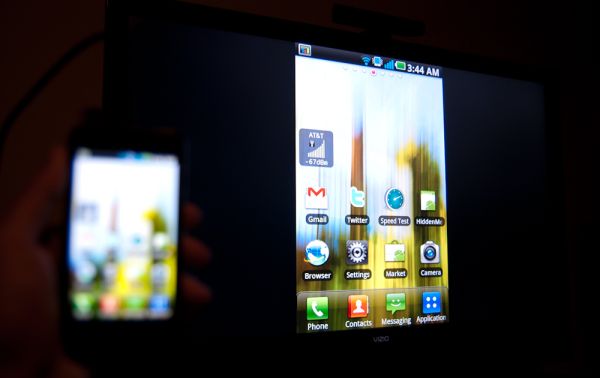 The result is that you can use the 2X to play angry birds on a 55" TV without waiting for the console version, browse the web, give a PDF or PPT presentation, or do anything you'd do on the phone on a different screen. I put together a reasonably comprehensive video showing off HDMI mirroring.
There's a tiny bit of input lag. In the video I shot showing off HDMI mirroring, it's entirely possible some of that is just the result of my Onkyo TX-SR608 A/V receiver which seems to add a consistent 100ms of lag to almost everything, even in game mode. The supplied microHDMI cable is just long enough to stretch from the receiver to my couch, I could use a few more feet to be comfortable however.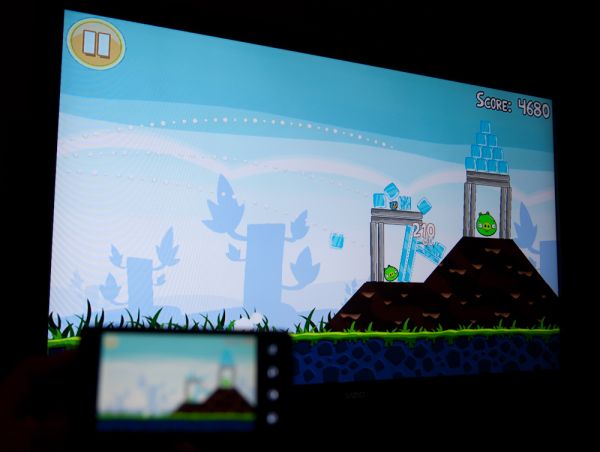 You can also play videos over the HDMI connection, while doing so the 2X shows a "showing on second display" message: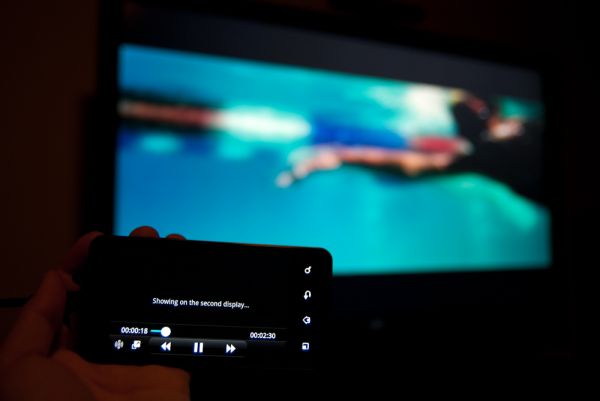 HDMI mirroring works shockingly well, and sends all audio over HDMI. It's a bit difficult to look at the TV and interact with the phone's touchscreen, but not impossible. WebOS and others have drawn circles on the screen to show where fingers are. The tradeoff there is that it's one more element to clutter display.
Video Playback
The big question is how well the X2 (or any Tegra 2 smartphone) could work as a mini-HTPC. NVIDIA advertises a big long list of codecs that Tegra 2 can decode: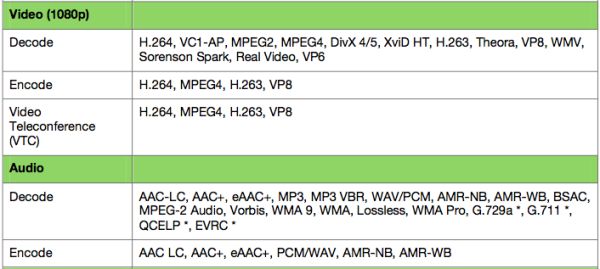 LG's own spec list (what's below is actually for the Korean version, but the video codec support is the same) is much closer to the truth for the X2 because of Android's player framework and other limitations.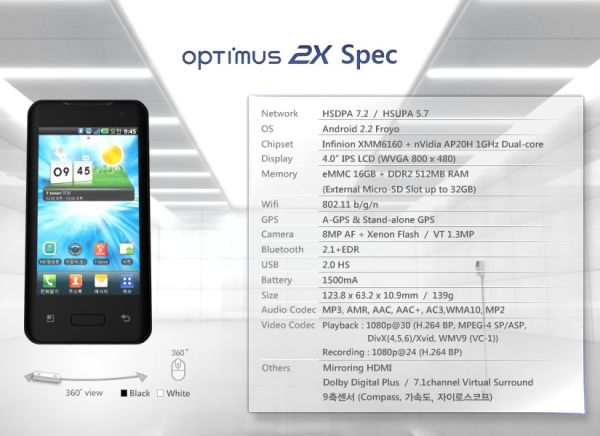 You can play back H.264 1080p30 content, but it has to be Baseline profile—no B frames, two reference frames. I used handbrake and messed around with a variety of other encode profiles and eventually settled on a bitrate of around 10 Mbps. That puts a 2 hour movie at around 8 GB total, which is too big to fit on a FAT32 microSD card. If you're going to fit 2 hours of video on that SD card and stay under 4 GB, bitrate should be around 4 Mbps. Tegra 2 can decode H.264 1080P baseline at a maximum of 20 Mbps.
Interestingly enough, I tried the iPhone 4 preset in handbrake which is H.264 960x400 High profile and noticed some stuttering and dropped frames. Media playback on Tegra 2 as it stands definitely works best with H.264 baseline, it's just a matter of having gobs of storage to park video on.
The 2X didn't do very well in our media streamer test suite. Some of that is because the software lacks the ability to open mkvs and a huge number of our files. The two that did open and playback successfully were test 3, an 8 Mbps 1080p WMV9 video with 5.1 WMA audio, and file 19, a simple m4v container test. Unfortunately we're still not at the point where you can dump just about anything you'd stick on an HTPC on your mobile device without a transcode in-between, it's no pirate phone.