Mobile Sandy Bridge Application Performance
We'll start off with a bang and show application performance, along with media encoding performance comparing Intel's QuickSync technology with CUDA video encoding. We've got a variety of laptops and notebooks in our charts for comparison, including dual-core and quad-core AMD (not their fastest mobile chips, unfortunately), plenty of Arrandale options, and a few Clarksfield notebooks as well. And just for good measure, we've included results from a desktop Core i7-920 as a point of comparison. Normally that would be raining on Intel's parade by showing how previous generation desktop hardware is still quite a bit faster; this time, however… well, I'll let the charts tell the story.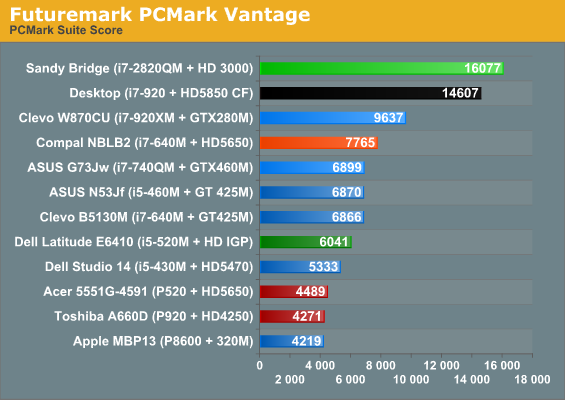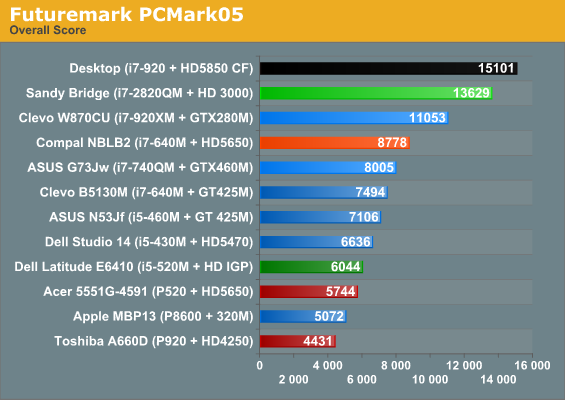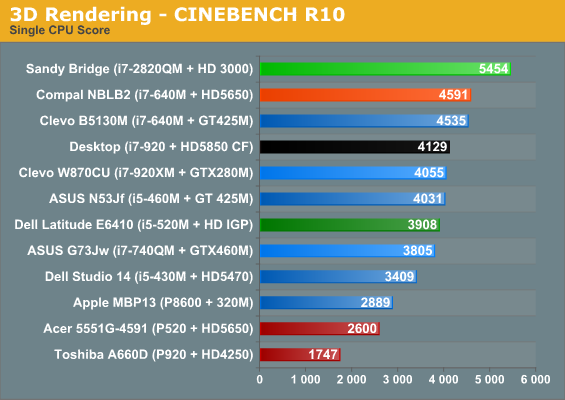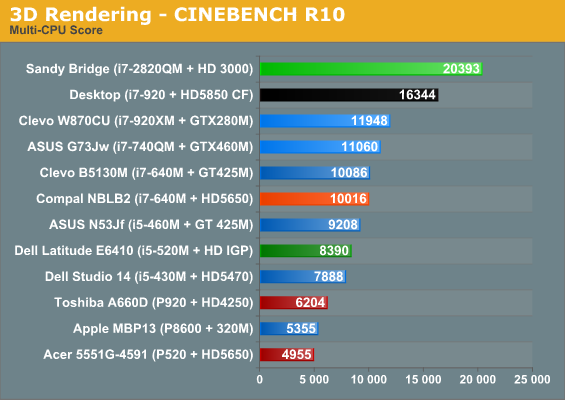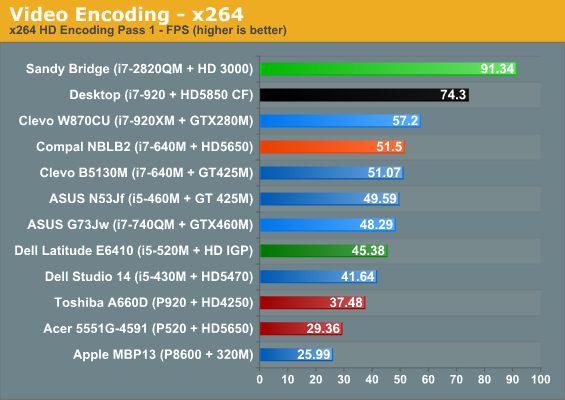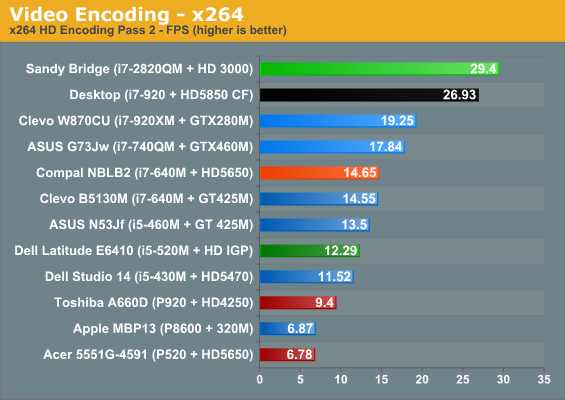 So, is anyone as impressed as I am? Sure, hex-core Gulftown is still the fastest game in town, and the desktop Sandy Bridge chips are obviously going to beat the mobile chips, but check out the scores relative to the i7-920 in my own "for play" system. (Incidentally, my "for work" system is actually running QX6700 still, and it does even worse! But all I do there is type documents and surf the web.) Let's talk percentages here just to put it all into perspective.
Since PCMark Vantage and 05 are susceptible to heavy SSD influence, we'll just skip those scores; suffice it to say that Sandy Bridge is no slouch there. Turn to CPU-intensive benchmarks, however, and we can really see the changes. Starting with single-threaded Cinebench, the new i7-2820QM checks in 35% faster than the outgoing i7-920XM, 32% faster than a desktop i7-920, 43% faster than the i7-740QM, and 19% faster than the previous generation's fastest dual-core part.
Use applications that are thread-friendly and the gap widens even more. In Cinebench SMP, the closest competitor in our charts is the desktop i7-920, and 2820QM maintains a healthy 23% lead—in fact, looking at our desktop reviews, the stock (but with Turbo) 2820QM is roughly equal to an i7-930 overclocked to 3.5GHz. It also leads the i7-920XM by 84%, and an i7-640M by 104% (!). x264 encoding tells a similar story: the second pass is 9% faster than i7-920 desktop, 65% faster than i7-920XM, and twice as fast as i7-640M—and that's without using the new QuickSync technology! [Whoa, nice segue Batman!]