The Final Piece of the Puzzle: SR-IOV
The final step is to add a few buffers and Rx/Tx descriptors to each queue of your multi-queued device, and a single NIC can pretend to be a collection of tens of "small" NICs. That is what PCI SIG did, and they call each small NIC a virtual function. According to the PCI SIG SR-IOV specification you can have up to 256 (!) virtual functions per NIC. (Note: the SR-IOV specification is not limited to NICs; other I/O devices can be SR-IOV capable too.)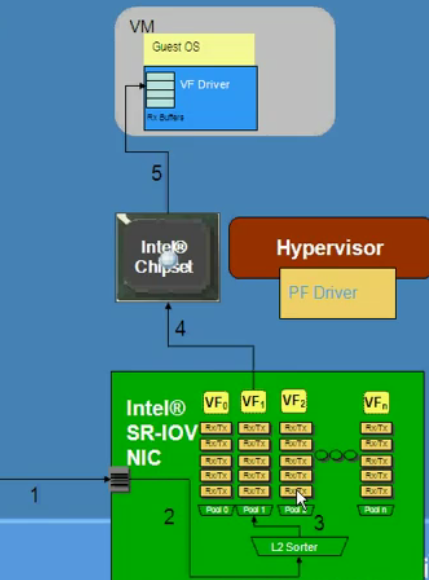 Courtesy of the excellent Youtube movie: "Intel SR-IOV"
Make sure there is a chipset with IOMMU/VT-d inside the system. The end result: each of those virtual functions can DMA packets in and out without any help of the hypervisor. That means that it is not necessary anymore for the CPU to copy the packages from the memory space of the NIC to the memory space of the VM. The VT-d/IOMMU capable chipset ensures that the DMA transfers of the virtual functions happen and do not interfere with each other. The beauty is that the VMs are connecting to these virtual functions by a standard paravirtualized driver (such as VMXnet in VMware), and as a result you should be able to migrate VMs without any trouble.
There you have it: all puzzles pieces are there. Multiple queues, virtual to physical address translation for DMA transfers, and a multi-headed NIC offer you higher throughput, lower latency, and lower CPU overhead than emulated hardware. At the same time, they offer the two advantages that made virtualized emulated hardware so popular: the ability to share one hardware device across several VMs and the ability to decouple the virtual machine from the underlying hardware.
SR-IOV Support
Of course, this is all theory until all software and hardware layers work together to support this. You need a VT-d or IOMMU chipset, the motherboard's BIOS has to adapted to recognize all those virtual functions, and each virtual function must get memory mapped IO space like other PCI devices. A hypervisor that supports SR-IOV is also necessary. Last but not least, the NIC vendor has to provide you with an SR-IOV capable driver for the operating system and hypervisor of your choice.
With some help of mighty Intel, the opensource hypervisors (Xen, KVM) and the commercial product derivatives (Redhat, Citrix) were first to market with SR-IOV. At the end of 2009, both Xen and KVM had support for SR-IOV, more specifically for Intel 10G Ethernet 82599 controller. The Intel 82599 can offer up to 64 VFs. Citrix announced support for SR-IOV in Xenserver 5.6, so the only ones missing in action are VMware's ESX and Microsoft's Hyper-V.