The Chipset err...Fusion Controller Hub
The Zacate/Ontario APUs have an integrated PCIe interface sporting 8 lanes. Four of those lanes are used for AMD's Universal Media Interface (UMI) - a bus that links the APU to the Hudson FCH. The remaining four can be used for discrete graphics or a combination of discrete graphics and other PCIe controllers. Both PCIe interfaces can run at gen 1 or gen 2 transfer rates.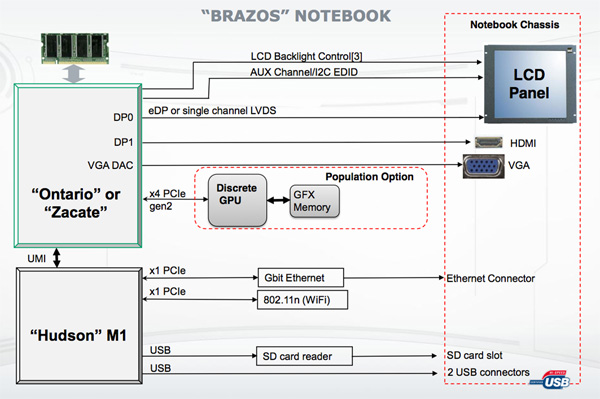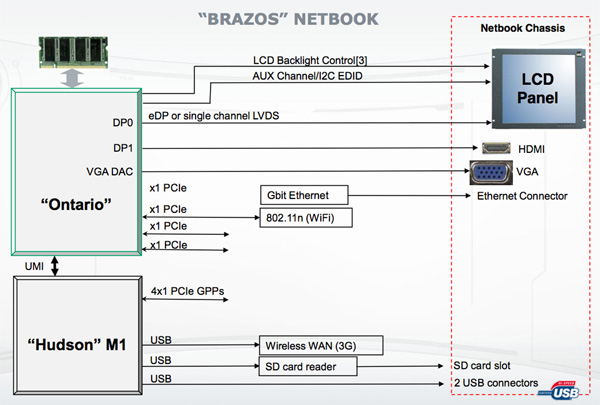 Display output naturally stems off of the APU. You can drive two displays in tandem over any combination of VGA or Display Port/DVI/HDMI/LVDS.
As I mentioned earlier, the APU sports a single channel memory controller - but you can install up to two DIMMs on that channel. Speeds are down from the 1333MHz system we tested at IDF, DDR3-1066 is the max you'll officially see on a Brazos system.
The Hudson FCH supplies up to 14 USB 2.0 ports, 6 x 6Gbps SATA ports and another 4 PCIe lanes. The FCH is based on AMD's SB800 series of South Bridges. Despite the small size, this is a full featured platform.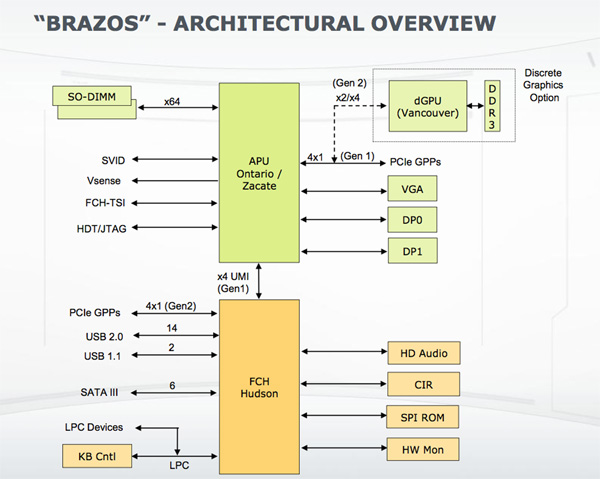 From the looks of it, AMD has all of the right ingredients for some very competitive entries in the mainstream and ultraportable notebook markets. Now it's just up to the OEMs to build something cool out of it.
Check back in about a week for the full rundown on Zacate performance.