ASUS G73Jw: Application Results
We've already seen i7-740QM in the Toshiba A665-3DV, so there's not much new here. Intel's quad-core Clarksfield chips are the fastest mobile processors in the market for the time being—at least until Sandy Bridge arrives. The flipside is that Clarksfield isn't particularly power-friendly, so with the high performance comes poor battery life. ASUS does tend to tweak their systems a bit better than other vendors, so general performance (even with a conventional hard drive) is quite good.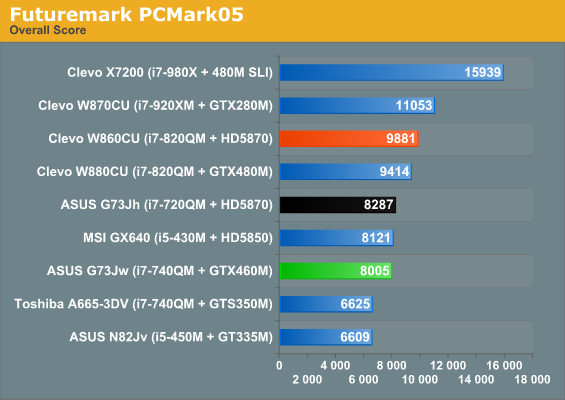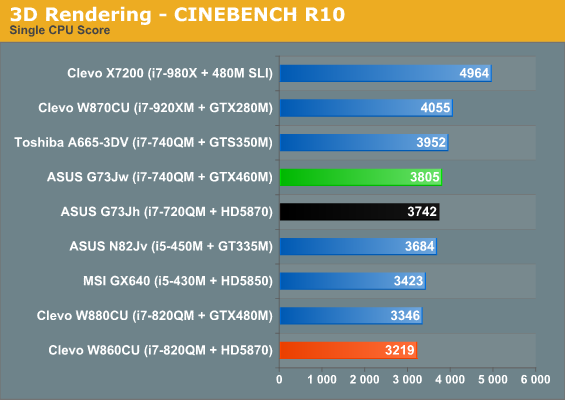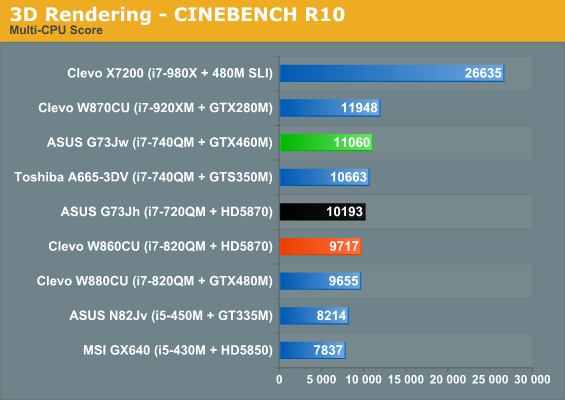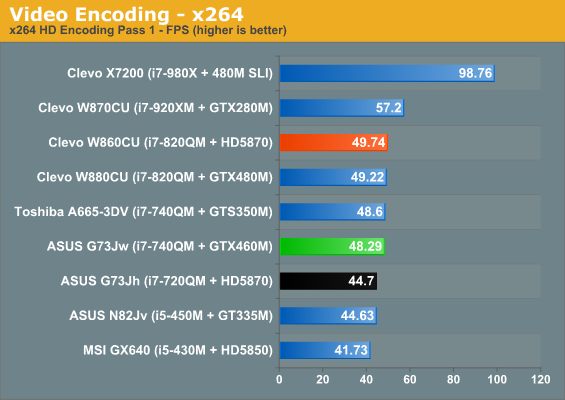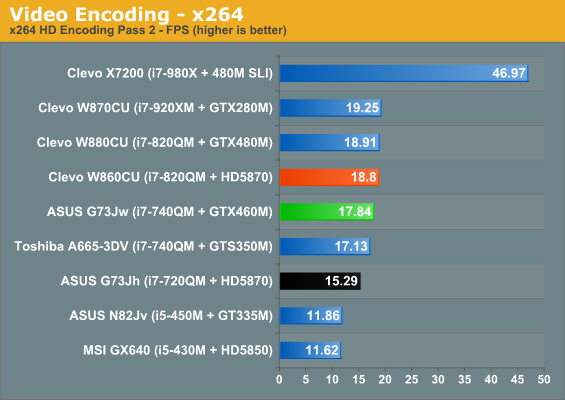 The G73Jw is faster than the similarly equipped A665-3DV in nearly every test, with a particularly large gap in PCMark05. The SSDs in some of the other notebooks provide a massive boost to performance in PCMark, but otherwise the G73Jw falls right in line where we'd expect. It's also clearly faster than the original G73Jh (8% faster on average, right in line with the clock speed improvement), though the updated version should be the same. Turbo Boost means the i7-740QM is faster in virtually every instance relative to the dual-core Arrandale parts. We don't have all the parts in the above charts, but even an i5-540M (2.53GHz with up to 3.07GHz Turbo) struggles to establish a clear lead over the 740QM in lightly thread applications; switch to heavily threaded applications and there's simply no contest.
The only ingredient really missing from the G73 right now is a good SSD to help improve overall responsiveness. With two 500GB hard drives, there's room for a ton of games, movies, pictures, etc., but we could say the same of a single 500GB drive. Had ASUS gone with a reasonable 80GB SSD for the OS and applications, the price wouldn't be substantially higher but many tasks would be snappier. Maybe when we get the next generation SSDs with 25nm NAND, prices will reach the point where a decent 80GB SSD will cost as much as a 500GB 7200RPM and ASUS can make the switch. Time will tell, but as far as general performance goes an SSD is the next logical step.