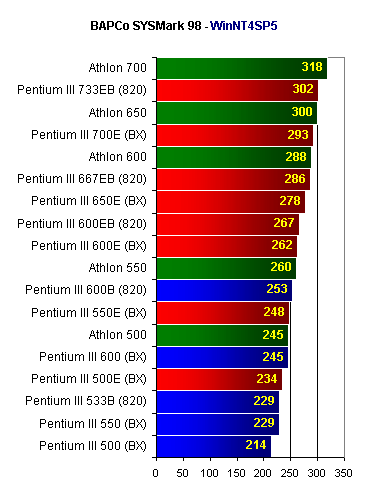 By concentrating on a wide variety of applications, SYSMark 98 is a very good tool for talking about the overall performance of a system. If you use applications that would primarily be considered to be "high-end" (i.e. CAD Drafting, Software Development, Image Editing, etc…) then High End Winstone 99 is the benchmark you need to focus in on. And if you're primarily a business application user, then Business Winstone 99 would make the most sense for your needs. But as an indication of performance in all arenas (with the exception of games), SYSMark 98 is perfect.
And overall, judging from the SYSMark 98 scores, the Athlon is the faster CPU. At 700MHz, the Athlon weighs in 7% faster than the Pentium III E at 733MHz. This advantage comes mainly from the FPU intensive applications that are a part of the SYSMark 98 suite.
There is also a clearly defined division between the Pentium III EB and the Pentium III E running on the i820 and BX platforms respectively. This supports the argument that the 133MHz FSB & RDRAM do make a difference in overall system performance.
| | |
| --- | --- |
| | SYSMark 98 |
| Athlon 500 | 245 |
| Athlon 550 | 260 |
| Athlon 600 | 288 |
| Athlon 650 | 300 |
| Athlon 700 | 318 |
| Pentium III 500 (BX) | 214 |
| Pentium III 500E (BX) | 234 |
| Pentium III 533B (820) | 229 |
| Pentium III 550 (BX) | 229 |
| Pentium III 550E (BX) | 248 |
| Pentium III 600 (BX) | 245 |
| Pentium III 600B (820) | 253 |
| Pentium III 600E (BX) | 262 |
| Pentium III 600EB (820) | 267 |
| Pentium III 650E (BX) | 278 |
| Pentium III 667EB (820) | 286 |
| Pentium III 700E (BX) | 293 |
| Pentium III 733EB (820) | 302 |