Let's Go Outside: My Book Essential
Western Digital also sent along the My Book Essential, an external version of the 3TB Caviar Green. Unlike Seagate's GoFlex Desk, the My Book Essential doesn't have an option for interfaces: USB 3.0 is all you get. Obviously USB 3.0 is backwards compatible with USB 2.0 on the host connector side.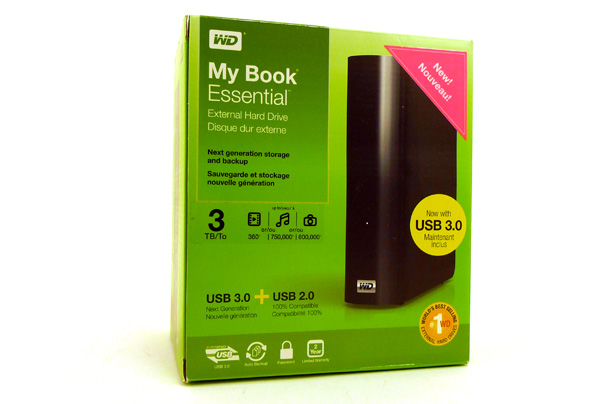 The first thing I wanted to test with the My Book Essential was how well it kept the drive cool. Remember the Caviar Green is a 4 platter sub-6000 RPM drive compared to the 5-platter 7200 RPM design in the GoFlex Desk, so temperatures should inherently be lower. To make sure the drive never gets too hot Western Digital has a grate that runs along the top, spine and bottom of the My Book Essential. A pair of rubber feet prop the drive up a few millimeters off of the ground to allow air in from below.The ventilation story is a lot better than what I encountered with the GoFlex Desk.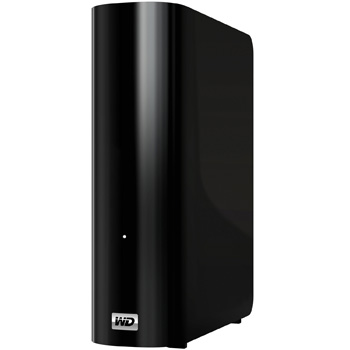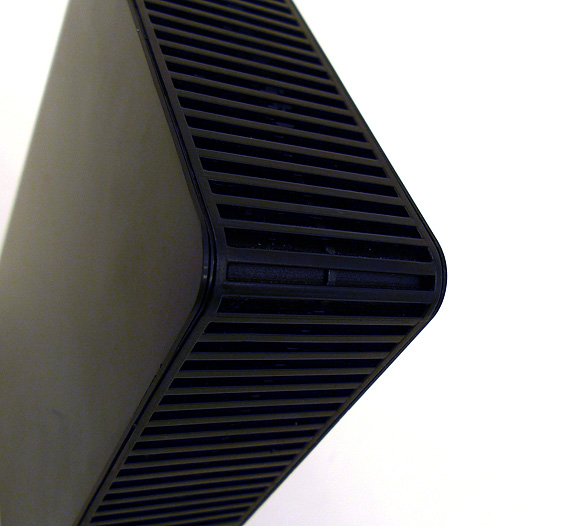 As a result, temperature is a non-issue. Here's the drive at idle and after over an hour of use:
Thermal/Power Comparison
Idle
Load
Power Consumption (Idle/Load)
Western Digital My Book Essential 3TB
34C
49C
5.30W / 9.60W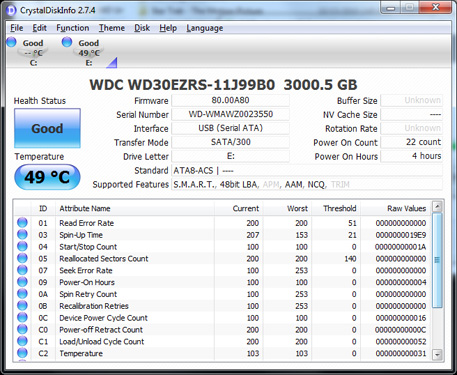 Like Seagate, Western Digital supplies software with the drive to manage the drive and backups. Western Digital doesn't bundle a NTFS Mac driver so you'll need to reformat the NTFS formatted drive for write use on a Mac (or supply your own NTFS driver for OS X).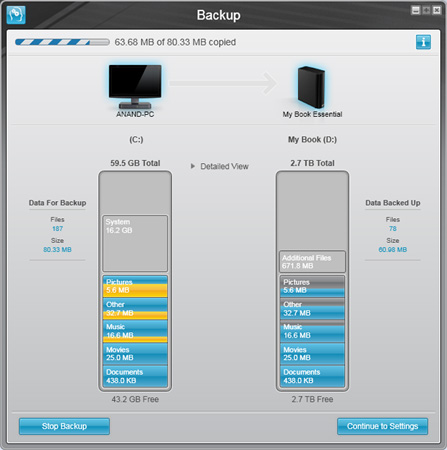 WD's SmartWare utility does let you seamlessly lock and unlock the drive across both Windows and OS X however.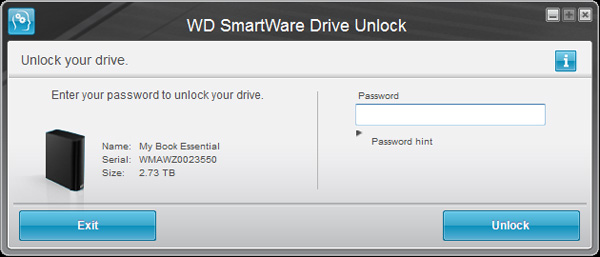 The performance of the My Book Essential isn't nearly as good as what we saw with the GoFlex Desk. Seagate is over 25% faster for sequential reads and writes over USB 3.0. I'd say the tradeoff is worth it given the tremendous difference in heat however.
External 3TB Performance Comparison
Seagate GoFlex Desk 3TB (USB 3.0)
Western Digital My Book Essential 3TB (USB 3.0)
Western Digital My Book Essential 3TB (USB 2.0)
Sequential Read
151.9 MB/s
120.6 MB/s
37.8 MB/s
Sequential Write
151.2 MB/s
119.7 MB/s
32.9 MB/s
Random Read
0.30 MB/s
0.18 MB/s
0.17 MB/s
Random Write
0.93 MB/s
0.84 MB/s
0.82 MB/s
USB 3.0 continues to be a great interface for external storage. There's very little sequential performance difference between the 3TB My Book Essential and the desktop Caviar Green. Random performance is significantly lower, presumably because of the translation that happens at the USB controller level. As an external drive, you're more likely to be writing to the My Book Essential sequentially rather than throwing a more random workload at it.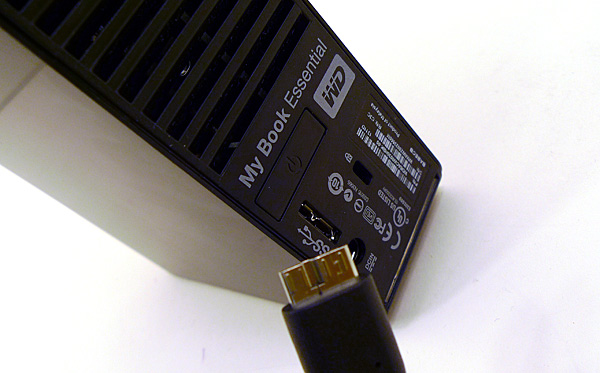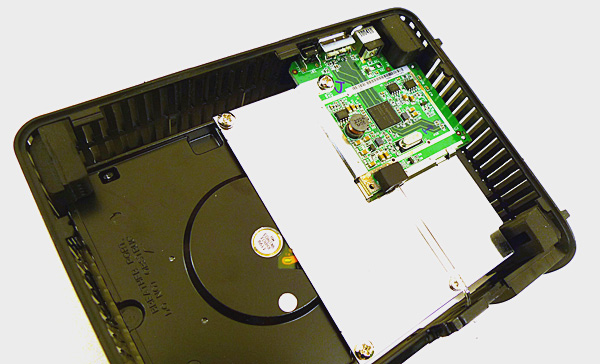 The only problem I had in testing the My Book Essential was very erratic read performance at the beginning of my testing. Here's a shot of the first sequential read pass on the drive: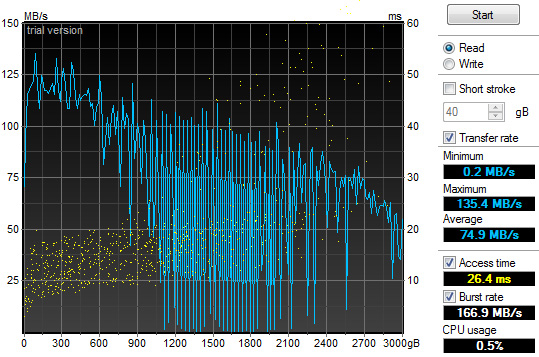 The problem mostly resolved itself after further passes, although there were always some strange performance blips aross various LBAs: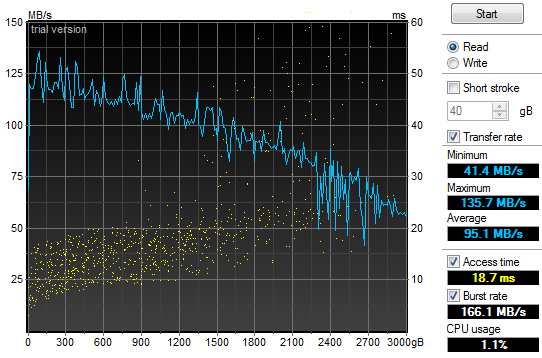 Write performance is also impacted: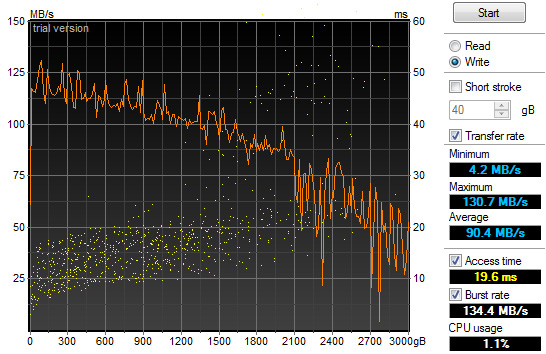 You'll notice that I didn't see these problems with the internal drive, which leads me to believe that this is either a problem with my review sample or with the USB 3 to SATA bridge in the My Book Essential itself. The variable performance also isn't consistent between runs or benchmarks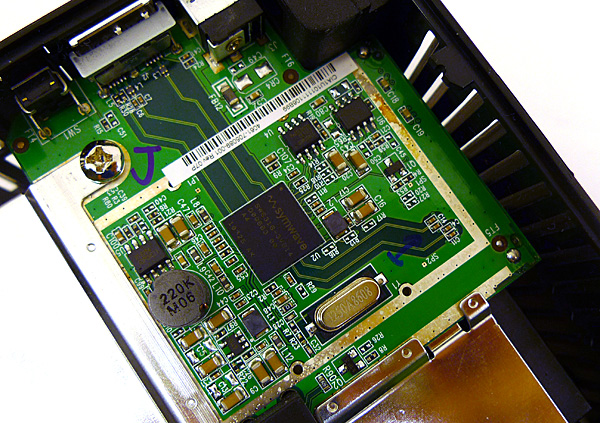 The move to USB 3 adds about a 3+ ms latency penalty compared to the internal drive. This is ok for backups and large file storage, but it's not something you'd want to use as an application drive.