The best of two worlds
Most existing companies have already invested quite a bit of money and time in deploying their own infrastructure and building up expertise. Also, thinking smartly out of the box in infrastructure land pays off in most cases. And lastly, few people will place their sensitive IP related data somewhere in an external datacenter.
It will be no surprise that the "hybrid cloud" is the ideal model for most companies out there. Just like in the business world, you outsource some of your processes (HR, Facility management etc.) but things related to your core business stay inside. If you are an engineering company, your engineering data should stay inside the walls of your own datacenter.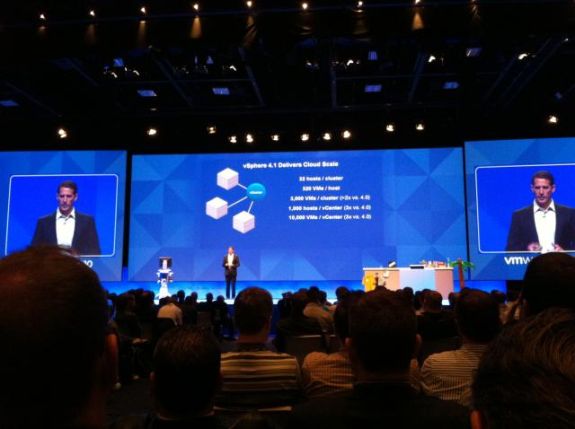 Click to enlarge
vSphere 4.1 and vCloud Director, one of the possible building blocks of a hybrid cloud"
The Hybrid cloud model means you should be able to move VMs from your own datacenter to a public cloud and back. The reality is that it is not that simple to upload a VM to a public cloud service, and that it pretty hard to import the work that you have done in a public cloud back in to your own datacenter. If you want to get idea what it really involves, look here and here.
Many public cloud vendors, formely hosting providers, are now adding up and download capabilities to their self service portals. Being able to quickly download and upload virtual machine between your own infrastructure and that of a hosting provider is the first step towards the "hybrid cloud". Let it be clear: the fully automated hybrid cloud where you manage all your VMs through one interface, moving VMs easily and quickly from your private to a public cloud is not here yet.
So what do we need besides management software such as vCloud Director? You have probably guessed it already: a storage and networking bridge between datacenters.