Performance: Welcome to the 500 Club
Let's talk peak performance specs. I must preface this with a warning, all of the numbers you're about to see are SandForce's estimates and projections for how the SF-2000 series will perform. Next week you'll see some basic functionality and performance testing but as far as I know, these numbers haven't been reached yet. SandForce is confident that it will hit them once drives start shipping, but until then take what you are about to see with a grain of salt.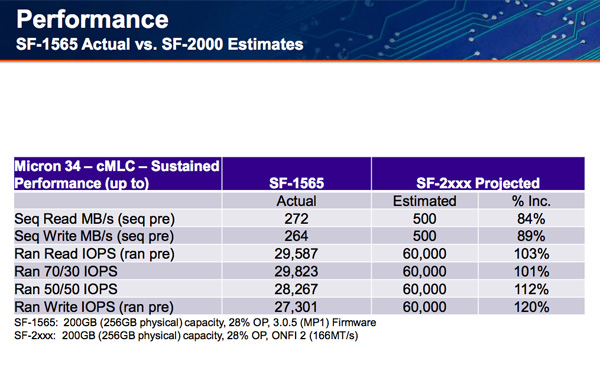 Random read and write performance goes up significantly over the SF-1200/1500. We are at 40K IOPS today, and SandForce is promising 60K IOPS with the SF-2000. Note that this is not only higher than anything shipping today, it's even higher than what we recently found out about Intel's 3rd generation X25-M/X25-E SSDs.
Now the shocker. Thanks to 6Gbps and ONFI 2/Toggle support, the SF-2000 will support up to 500MB/s sequential read and write speeds. On an 8 channel device that's actually only 62.5MB/s per channel but the combined bandwidth is just ridiculous for a single drive. At full speed you could copy 1GB of data from a SF-2000 drive to another SF-2000 drive in 2 seconds. If SandForce can actually deliver this sort of performance I will be blown away.
Let's talk about reality for a second. SandForce quotes standard iometer numbers, which are usually quite optimistic for SandForce's controllers. I'd expect real world performance to be a bit below these figures but not by a lot for many workloads.
In the SF-1200/1500 series, SandForce used enterprise features to differentiate the two controllers. You got some improved reliability and a giant capacitor with the SF-1500 designs, but you didn't really get any added performance. With the SF-2000 series, we will see more differentiation between the enterprise and consumer parts. SandForce indicated that the consumer version of the SF-2000 would have a different level of performance. I get the impression that the specifics of the consumer drive haven't been determined yet. I've already started campaigning to see a full spec version in the consumer market but it's still far too early to tell what will be shipped. If the 3rd generation X25-M is really only capable of 270MB/s reads and 170MB/s writes, I'm not sure if there will be the motivation to deliver a 500/500MBps part into the enthusiast market.