One of the main challenges faced by ASRock in designing the Vision 3D was to handle the extra heat generated by the GeForce 425M. While the Core i3-370M has a TDP of 35W only, the GPU has a TDP of 27W. While the Core 100 had a fan on top of the CPU and another fan to keep up the air circulation / ventilation within the unit. While a similar solution could have been used in the Vision 3D, it would have made it necessary to have fans with higher noise potential. In this section, we will try to analyze the thermal design of the Vision 3D.

The GeForce 425M MXM module has a TDP of 27W, and it is passively cooled. The MXM card is fully covered by a thermal copper pad and this is connected to a heat sink of sorts with a thick copper heat pipe, as can be seen in the picture below.
The Vision 3D uses a pure blower solution and gets rid of the case fan altogether. The blower and a thermal pad are placed above the processor and the H55 chipset as shown in the picture below.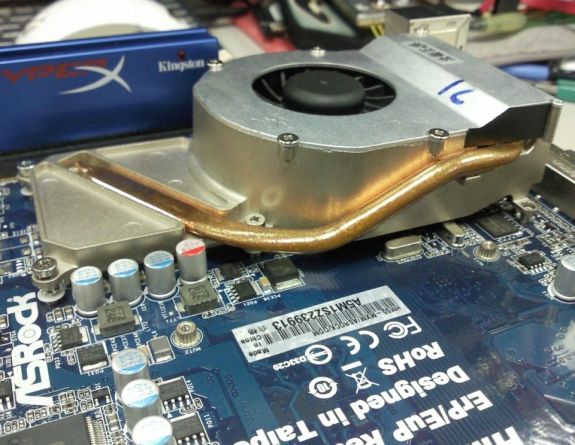 The above two thermal solutions are combined together as shown in the picture below.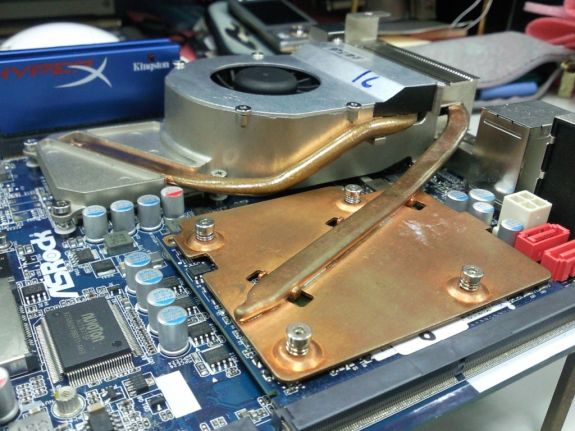 The single blower solution replaces the blower and fan solution of the Core 100. However, the single blower solution requires ventilation slots around the bottom panel to taken in the cooler air from the surroundings. It is advisable to place the unit on a hard surface so that the bushes at the bottom keep the unit raised. This allows for better airflow.

Though blowers are often thought of as being noisier than fans, the elimination of one of the fans (when compared with the Core 100) results in a quieter solution, as we will see further on in the review.