BlackBerry 6 Web Browser - Continued
So how does actual browsing fare then? Not too bad for RIM's first attempt, but like any first revision there are a number of rough spots that need to be smoothed out with future updates to the platform.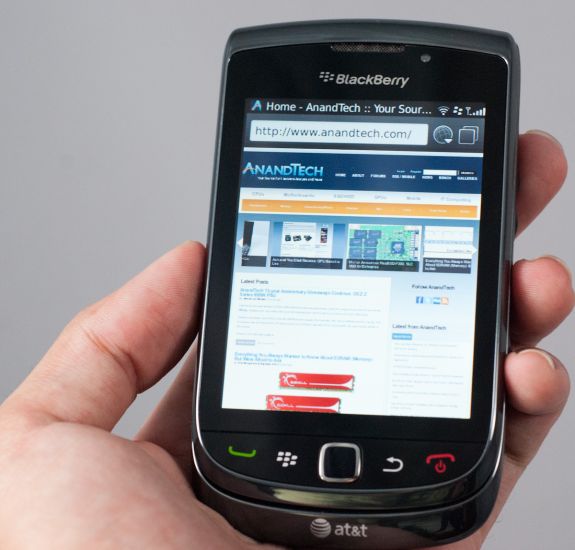 First off, Iris Browser was chosen probably because it was one of the first mobile browsers to score 100/100 on the ever controversial and challenging ACID 3 test. For comparison's sake, here's how BlackBerry 6, Android 2.2, iOS 4.0.2, and WebOS 1.4.2 look when running the ACID3 test:
Clockwise: BlackBerry Torch 9800, Nexus One (2.2), iOS 4.0.2, webOS 1.4.2

The new browser on BlackBerry 6 scores 100/100 but technically doesn't pass perfectly due to a small rendering error in the top right, and being below 30 FPS for most of the test. That said, it does do an exceedingly better job than the old browser. By comparison, the old browser scores a 93/100 but takes minutes to complete the test, and is rife with rendering errors from failed tests.
It's interesting to note that Android 2.2 still doesn't quite make it. On all the Froyo devices I've tested, it fails a number of tests as evidenced by silver and grey boxes in positions 3 and 5, indicating failure of some DOM2 views and ACID3 competition tests. iOS now passes, but also has a few rendering errors in the top right which technically diminish the score. WebOS arguably does the worst of the four, scoring a 92 with a number of very obvious rendering and XML errors. Hopefully HPalm get together and update WebOS to a much newer version of WebKit with their next major platform update, because it's starting to look like the browser that needs the most help.
But ACID tests aren't everything, especially the tests that essentially see how well browsers render obfuscated or intentionally broken code. I used the Torch for a solid two weeks, and virtually every website I visited rendered faithfully on the Torch's new browser, something I can't say for the old OS 5 browser on other BlackBerries. Previously, if you wanted to browse things, you'd have to resort to Opera Mini.
Responsiveness and Speed
When it comes to browsing speed, the Torch is kind of all over the place. Loading times are generally longer than the competition, for reasons I'll discuss in a second, but pinch zoom gestures and scrolling both are fast enough to make the Torch feel like it's something from this decade. There's occasionally a bit of an unsavory delay when you've double-tapped to zoom while text is reflowed and rendered, but nowhere near the level of being annoying. The only time I had problems with multitouch zoom was ironically while trying to record a demonstration - ironic how that always happens.
Even though the Torch has a capacitive screen, I found myself using the trackpad for translating around webpages more. In fact, same for zooming. There's something about the balance and way the Torch feels when open that really makes you want to hold it with one hand and use your thumb on the trackpad rather than with the keyboard closed and use the touchscreen like you would an iPhone or Android slate device.
Regardless, there's just no getting around the fact that the Torch does load pages slower than the competition, but the reason is ironic - it's slower because of time spent waiting for content to be compressed and sent down over BlackBerry internet services. Watching the Tx and Rx indicators on the Torch and taking some times down, it's obvious that on average, about 10 seconds is spent waiting for the first real page data to load. This is entirely just overhead time spent waiting for BlackBerry's servers to load the page, compress images and data, and then send it down.
If you're not familiar, BlackBerry devices transact virtually all data over their own encrypted and compressed link to either RIM with BIS, or BES for enterprise customers. Think of it like a VPN, and you'll understand. The result is that carriers can't snoop on your traffic, and things like BBM (PIN) messages are given a level of encryption and security that plain SMS isn't, but the downside is that the added latency makes loading things over 3G or WiFi slower than devices that connect directly to the internet. You can see how BIS compresses images when looking at things with gradients like PNG graph images from our benchmarks, for example.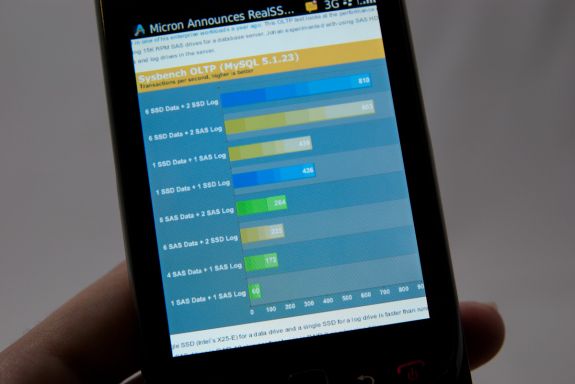 See that banding in our graphs? It's from compression due to the BIS link.
The webpage loading time results are pretty self explanatory. What we've done here is load the AnandTech.com homepage over WiFi a few times, average, and throw away any outliers: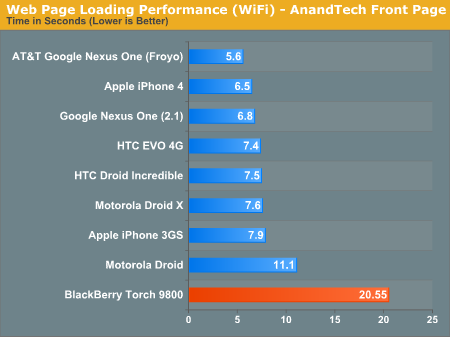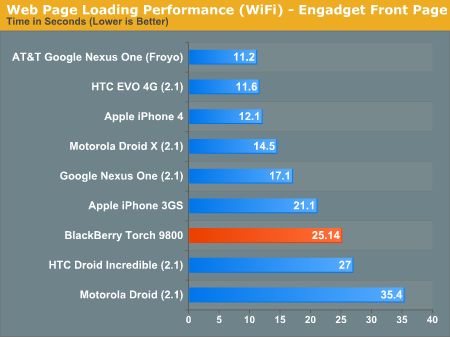 So normally when you've got lots of bandwidth and either a stable 3G or WiFi connection, BIS ends up hurting you. But what about when you're starved for bandwidth? The story is quite different.
For this test, I forced a Droid 2 and HTC EVO 4G to use CDMA 1xRTT, the slowest kind of 2G connection you'll see on Sprint or Verizon when you don't have EV-DO coverage. 1x is also what all voice currently goes over on CDMA plants. In theory, 1xRTT supports a maximum of 153 kilobits/s of data, in practice speeds are typically around 100 kilobits/s.
As an aside, it's frustrating that on both the Droid 2 and HTC EVO, there's no simple way to toggle use of 2G networks, something that prolongs battery life. On the Droid 2, I had to use the *#*#4636#*#* dialer code, and toggle CDMA only, and on the EVO, I had to use any-cut and create a direct link to HTC's proprietary CDMA management interface. Even with the HTC EVO forced on 1x, the phone still curiously displays 3G as well - even though I know it was on 1x from speeds and other methods.
Similarly, I put a Nexus One, iPhone 4 and BlackBerry torch on 2G EDGE. In theory, EDGE can support downstream speeds of up to 237 kilobits/s, but bitrates of around 150 kilobits/s are more typical. Thankfully the Torch does include an easy menu to select from "2G & 3G" or "2G" connectivity without forcing you to hack through special menus. Likewise, the iPhone 4 and Nexus One have easy ways to toggle 2G over 3G.
Admittedly, on GSM/UMTS plants like AT&T and T-Mobile, there's an even slower, though increasingly rare and dreaded means of data connectivity - GPRS. GPRS is generally around 40 kilobits/s, so basically dial-up modem territory. If you're on GPRS, nothing is going to feel fast. It's surprising, but I've encountered GPRS a number of times driving through parts of New Mexico and Colorado.
When you're on 2G connections, BIS compression makes browsing a much faster experience, as shown below.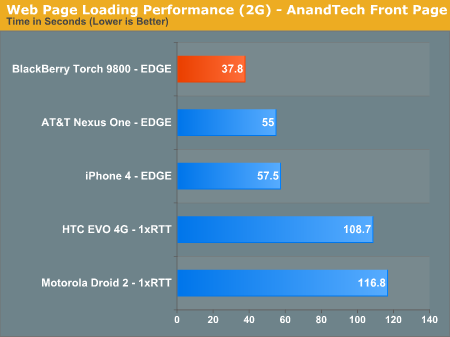 It's hard not to see that this architecture of loading pages over a compressed, encrypted connection makes sense when you're dealing with limited bandwidth. Carriers love BlackBerry subscribers because of compression, which translates into less congestion on their networks. On the other side, devices that load pages directly over the internet will always seem to finish faster, at least on faster WiFi and 3G connections. That's where this BIS centric topology feels a bit dated. You do gain encryption though.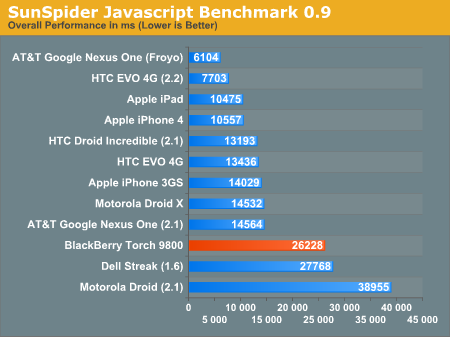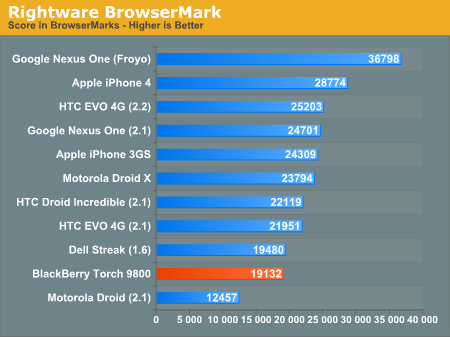 So what about the rest of the browser? Well, Sunspider 0.9 and BrowserMark do run on the Torch, but the results aren't quite as fast as the leaders like Android 2.2 devices and the iPhone 4. I think browsermark tells the story, as it's supposed to be more of an all around benchmark than SunSpider which purely measures JavaScript. I liken the Torch to feeling somewhere between an iPhone 3G and 3GS, and certainly faster than the Palm Pre.
I mentioned I put together a small demonstration video:
Is the BlackBerry 6's new web browser blazingly fast? No. Is it fast enough to be usable? Absolutely. Is it a mind-shattering step beyond the browser in BlackBerry OS 5? Completely.