Final Words
I like the design of the GoFlex Desk line. The drives look cool and the docking system is functional. I like the capacity lights on the docks as well. I would've preferred it if Seagate had made the SATA data/power connectors on the drive more accessible so you could plug directly into a system if you wanted to. I love the performance of the GoFlex Desk over USB 3.0. While you can get better performance out of an external SSD, you have to pay much more.
Unfortunately, despite the performance USB 3.0 offers and the compact design of the GoFlex Desk, the penalty you pay in heat may not be worth it. The temperatures I reached in my testing were unacceptably high for prolonged use. While Seagate insists that even my peak 69C value was ok, I'm concerned about how long a drive would last at those temperatures. To Seagate's credit, many external 3.5" drives aren't well designed from a cooling standpoint - but that doesn't mean we should be ok with it.
It's really the initial copy to the drive that's the most concerning. If you've got several hundred GB of data that you want to load on this thing at the start, you should plan on spacing the copy out at least as to not run into the heat issues I did. For light use it wasn't a problem - the drive usually hovered around 54C, but while copying hundreds of GB the drive got far too warm.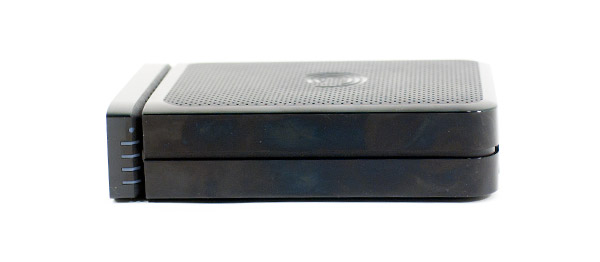 Even if you go to a cooler drive I'm just not comfortable with Seagate's enclosure design, there's not enough ventilation for a hot 3.5" drive. While the design keeps the GoFlex Desk as compact as possible, I don't believe the tradeoff is worth it.
For light use it may be acceptable, but I'm not convinced users who need 3TB of external storage intend to use it lightly.