Performance vs. Capacity
I typically turn to HDTach for my performance vs. capacity graphs. Normally they are used to show SSD performance degradation without TRIM but in this case I genuinely wanted to see what the performance falloff was as you filled the drive up. HDTach had issues with the > 2TB of addresses on this drive so I used HD Tune instead.
Hard drives store data in circular patterns. Reading/writing to the outermost LBAs is faster (that's just how circles work, you can cover more area in a single rotation on the outer track vs. the inner track). As a result, HDDs write data at the outmost part of the platters first and as the drive fills performance drops.
Sequential Read Performance vs. LBA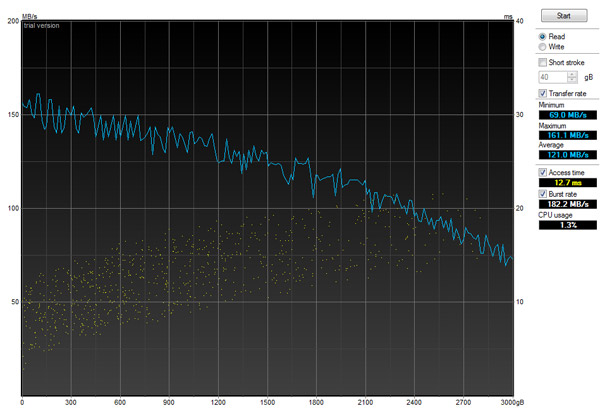 Sequential Write Performance vs. LBA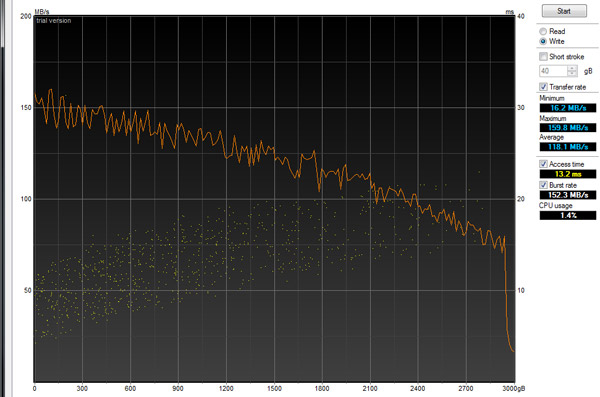 Peak performance, we've already discussed is at around 150MB/s over USB 3.0. Sequential performance at the highest LBAs drops to around 75MB/s. There's one anomaly that I saw in my tests which you can see in the graph above. Performance drops down to 16.2MB/s for sequential writes in the last 100GB of the drive. This could be a problem with my particular drive or an issue related to the early nature of these 3TB drives.