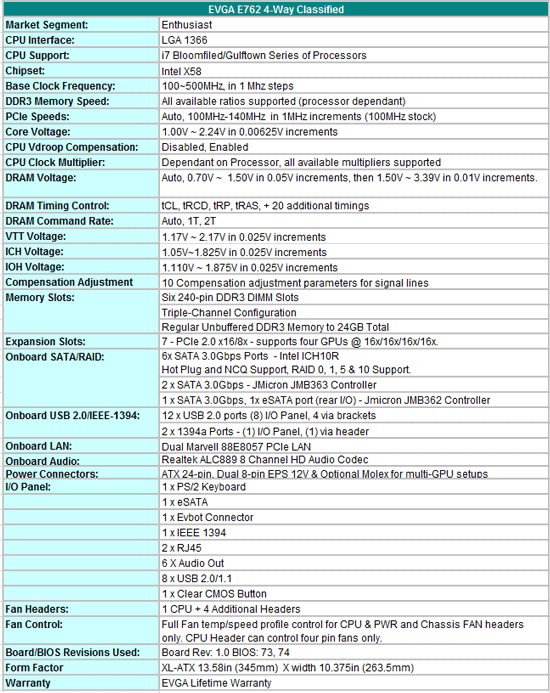 The E762 was released earlier this year, just before Marvell and NEC obtained a footing in the market with SATA 6G and USB 3. That means the E762 misses out on two features that vendors have used as a spearhead for the second generation of X58 motherboards. That's going to be a big hurdle to jump at the asking price (~$420)
On-board audio capabilities are supplied by Realtek's ALC889 and work fine for the most part barring the omission of optical or coax S/PDIF on the rear I/O panel. We see this as a crippling blow, leaving the only option to stick with analog out or purchase a dedicated soundcard. Considering MSI are able to bundle a plug in soundcard and Creative driver package with their board at around $300, we don't think it's too much to ask to have something of similar ilk on the E762.
EVGA are selling a plug in USB 3 card as an optional extra, our advice would be for EVGA to include it in the package rather than ask users to fork out extra for something other boards are providing as standard.
Nothing special on the LAN side either, dual Marvell controllers are used to govern the two rear RJ45 ports. A few extra SATA ports are on tap, wired through JMicron's JMB362/363, very much standard stuff that we find on boards costing half the price.
What's In the Box?
1 x I/O Shield
3 x Molex to SATA power cables
1 x 2 port USB and 1 port 1394 bracket
6 x SATA cables
1 x IDE ATA 133 HDD cable
1 x 2-way SLI bridge
1 x 3-way SLI bridge
1 x 3-way SLI with Physx bridge
1 x Driver CD
1 x User manual
1 x Visual guide
1 x ECP (overclocking module)
Just about every type of cable needed is supplied by EVGA, apart from a bracket to make use of the internal S/PDIF header. The manuals are reasonable, but don't actually cover the E762 model specifically (E759/E760 layout), although the layout side of the E762 is taken care of by the supplied visual guide.
Software
The only software that EVGA bundles with their boards is E-LEET. Be sure to download the latest version from EVGA if your driver disc comes with anything older than 1.08 - older versions won't allow you to apply Vcore over 1.60V.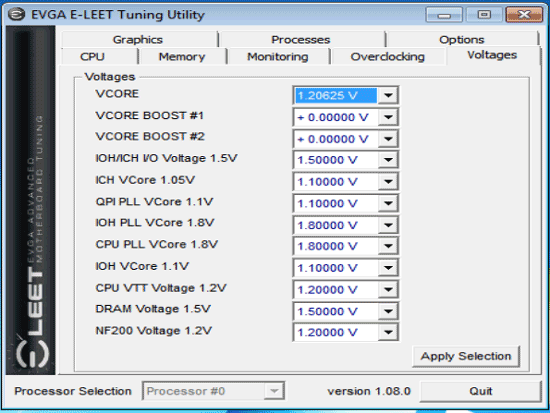 Still our favourite overclocking utility. This is one thing that EVGA do better than anyone else in the business. The standard control of BCLK and rail voltages is provided together with quick save profiles and the ability to run the software in the background of the bench without polling the SMbus. The only thing EVGA does not provide via this interface is OS level fan control (BIOS is the only way). No negatives to report elsewhere, the latest version of the utility works pretty well.
Board Layout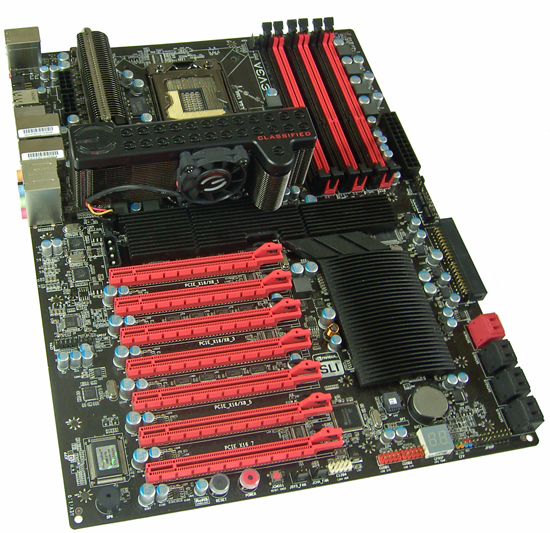 The first thing you'll need to be aware of is this boards' from factor it what EVGA refer to as XL-ATX length 13.58in (345mm) X width 10.375in (263.5mm). This obviously limits case options, for a list of compatible cases check here.
Looking past the form factor, the sheer number of PCIe slots should accommodate just about every type of multi-GPU setup. Provided you're not holding on to PCI cards, we can't see anything to complain about. The power and reset button placement can become obscure when the last PEG slot is occupied, but the supplied overclocking panel gets around this without a problem.
The IOH/ICH/NF200 heatsink is substantial in size. A small fan is fitted as standard, although idle temperatures (like the ASUS board) run rather hot; the IOH sensor reports idle temperatures of 72 Celsius in a 20 degree ambient. This is an obvious side-effect of having two NF200 chips dumping their heat into the assembly. Needless to say, extra cooling is definitely needed even at stock operating frequencies, especially if running a multi-GPU setup. If the IOH gets too hot it will throttle, causing a loss in performance and an impact on stability if the system is overclocked.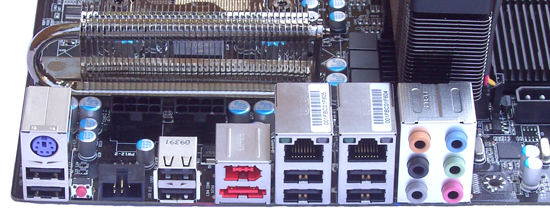 The rear I/O panel is home to all standard connections apart from a digital audio ouput. It seems the space that EVGA reserved for the S/PDIF connector has been donated to a header for EVGA's EVBot remote overclocking device. As we said earlier, be prepared to shell out for a discrete soundcard if you want to build a decent gaming rig with this board, the Realtek is okay, but won't send tingles up your spine with startling dynamics.
All of the things EVGA have now become famous for are present on the E762, low CPU inductance socket, voltage manipulation(current sourcing and sinking) control for critical receiver bias on all key signal lines, voltage measurement points, cold boot jumper (for sub-zero benchmarking conditions), PCIe disable jumpers, the list goes on. With the exception of the voltage control for receiver bias, everything else has now been adopted by ASUS in some form or another - so much of this is no longer a unique selling point. EVGA were ahead of the curve last year with this stuff, but things seldom stand still.
BIOS & User Experience


Not a great start for us on the E762; our board was shipped with an old BIOS that does not allow Gulftown processors to POST. Over the past 4 months, EVGA have released several BIOS updates for this board that support Gulftown and it seems that these updates are not filtering down to various branch offices. We've seen reports of users purchasing a brand new E762 only to find themselves in the same situation as we did. The only fix is to use a Bloomfield processor or to replace the BIOS chip. Things like this don't inspire confidence.
With that little gem out of the way, there's also a problem with revision one boards not POSTing with Westmere Xeon processors. There is a fix for this; a hardware mod and not something most users will want to attempt (even though it's relatively simple if you know how to use a soldering iron). If wanting to use a Westmere Xeon processor in this board our advice is to be sure that you to get a revision 2 motherboard. We only mention this because our sample was shipped recently from the EU EVGA office and it's a rev 1. That means there are probably a few of these floating around in retail – just a heads up.
As for the BIOS itself, it's a little more raw than what you get on an ASUS or Gigabyte board in terms of layout, and in some areas of functionality. We encountered an issue with Gulftown processors during our testing where BIOS would automatically increase the Uncore multiplier ratio to 16x from our setting of 15x upon reboot. This has been fixed now thankfully, making the board a lot more predictable to use. Be sure to flash over to the latest BIOS as soon as your board lands (assuming you can).
Almost everything the EVGA BIOS offers is relatively straight forwards to understand, the only settings users will struggle to comprehend are some of the compensation adjustments: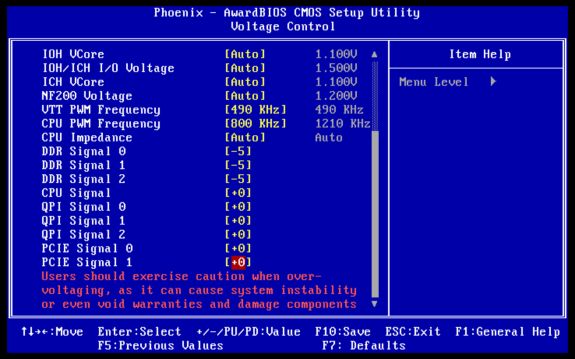 click to enlarge
Most of these can actually be left on default in most scenarios unless chasing high BCLK or QPI frequencies. At such point, sinking additional receiver bias current can help extend margins a little on some processors. The idea is to hold receiver stages in an off state while the associated data lines are not transmitting data (tri-state receivers – logic high, logic low and off), this ensures that inactive lines do not register logic (data) falsely during a bus transmit. The settings you'll want to change are QPI signal 1, and CPU signal 1. Try values between -5 and -31 at most for these – sinking too much of the receiver bias can be as bad as not sinking enough (we suspect this has something to do with slew rates). There are also sometimes small gains to be had by adjusting DRAM compensation values in a similar manner. Effects will vary from processor to processor according to substrate variance, environmental factors (noise such as RFI and EMI) and the rail voltage applied to either side of the bus.
Moving on, the rest of the BIOS is adequate although it could do with some work to make it a little more user friendly; you can't type voltage values in directly to select the value we want, instead having to scroll through the scale – direct input is a feature that ASUS, Gigabyte and MSI have in their BIOSes.
EVGA haven't gone to the trouble of adding a built-in BIOS flashing utility on their boards either. A bootable pen drive or DVD (both with DOS) is the only way to flash the BIOS. The E762 was also released before EVGA decided to start using multiple BIOS chips on their enthusiast P55 motherboards. Therefore the E762 does not have the luxury of multiple onboard BIOS chips, which is one cross in the book against ASUS and to a certain extent Gigabyte.
We did not encounter any major issues during basic functionality testing, the only thing we had to dig around with is our ASUS Xonar D2X PCIe soundcard. The E762 fails to recognize the card unless "bridge device" mapping is enabled in the PCI configuration page of BIOS. EVGA disable this by default at nVidia's behest. We're told this has something to do with nVidia's surround vision. If that's the case, this is a potential issue for people that decide to opt for such a configuration with a plug-in soundcard like the Xonar in tow.
S3 resume works fine up to 210 BCLK, which is on par with the ASUS R3E, but not quite as good as the Gigabyte UD9 which resumed after several hours at 220 BCLK with the same processor and memory. We hasten to add that 210 BCLK covers the range of interest to most overclockers, so not a huge deal breaker but something worth bearing in mind.
Fan control is on offer for three headers only, not as good as the ASUS R3E, but better than what Gigabyte are offering on the UD9. Unfortunately the CPU header is not capable of controlling three pin fans, which is a problem for certain aftermarket coolers. Even though this isn't the worst level of fan control options on the boards we're testing today, high-end boards should offer a lot more control than what we're seeing here - it seems only ASUS are getting this right at present.
The "tweakability" of the E762 may appeal to some users, although many of the extra hardware options are of little use when using conventional forms of cooling. In situations where these settings can help, the rewards on Gulftown processors are not quite as prevalent as what we found on Bloomfield last year, so not an absolute necessity. We are happy that EVGA go the extra mile on their boards though, and at least try to extend clocking margins. With what consumers are being asked to pay for high-end products, it is very disappointing to find that most vendors don't spend any extra time in R&D at all but still find a way of attaching a high price tag to their boards regardless. The end result of the extra work may be small, but that's why users buy these boards in the first place - a little credit to EVGA for trying.
However, this uniqueness is not enough to get a glowing recommendation from us this year, there are key areas that EVGA need to improve the Classified series to bring it in line with what other vendors are offering. Specifically, a little BIOS refinement, fan control, BIOS flashing options, better support in the EU and certainly better validation practices on BIOS updates - boards shipping to consumers with old BIOSes that don't support new processors is unacceptable, especially when we're not the first ones to have pointed this out.
If you haven't found any of what we've said here off-putting, chances are you're a die-hard overclocking fanatic. The lowdown is that we can't see a need for the E762 unless running three or more video cards. If that's what you intend to do for a big bad gaming rig, or if you're interested in benchmarking only; other than the cost disparity (which is a huge deal actually), the UD9 is possibly a little more efficient than the E762 in certain 2D benchmarks clock for clock. However, as you'll see later in the overclocking compares, the E762 makes up for this by managing higher stable frequencies thus gaining an overall advantage in 2D benchmarks. We're not sure if this will manifest for everyone in a similar fashion, because we did not have sufficient cooling on tap to really max out our processors, although what we've experienced is enough for us to favor the E762 over the Gigabyte UD9.