Overclocked Performance
For the purposes of this section we are focusing on the overclockability of the core, but not the memory. NVIDIA's weaker GDDR5 memory controller coupled with the tendency for memory overclocking to reduce performance through the need to use error detection and retransmission makes memory overclocking much more difficult and often a bust entirely.
As not all of our cards are exactly alike, we'll quickly run down the differences between the various cards.
1x NVIDIA GTX 460 768MB Reference
1x NVIDIA GTX 460 1GB Reference
2x EVGA GTX 460 768MB SuperClocked: Reference PCB and cooler, factory overclocked
1x Zotac GTX 460 1GB: Reference-derived PCB, custom blower-style cooler
1x Asus ENGTX460 768MB TOP: Custom PCB, custom cooler, factory overclocked, voltage tweak

| | | | | |
| --- | --- | --- | --- | --- |
| | Stock Clock | Max Overclock | Stock Voltage | Overclocked Voltage |
| GTX 460 768MB Reference | 675MHz | 840MHz | 0.987v | N/A |
| GTX 460 1GB Reference | 675MHz | 825MHz | 1.025v | N/A |
| EVGA GTX 460 768MB SuperClocked #1 | 763MHz | 850MHz | 1.000v | N/A |
| EVGA GTX 460 768MB SuperClocked #2 | 763MHz | 840MHz | 0.975v | N/A |
| Zotac GTX 460 1GB | 675MHz | 835MHz | 1.000v | N/A |
| Asus ENGTX460 768MB TOP | 700MHz | 930MHz | 0.975v | 1.062v |
| GTX 460 1GB SLI | 675MHz | 800MHz | N/A | N/A |
| EVGA GTX 460 768MB SuperClocked SLI | 763MHz | 840MHz | N/A | N/A |
Among our 3 vendor cards without voltage tweaking capabilities, all of the cards are closely clustered together in terms of the final stable overclock, with only a 25MHz difference between the top and bottom cards. The Zotac 1GB card ended up with slightly lower overclocks than the 768MB cards, which is likely a product of the 1GB cards containing further enable ROPs and L2 cache than the 768MB cards. Meanwhile the best overclock on a card we got without a voltage tweak was one of our EVGA cards, which was able to go to 850MHz, while the second EVGA card hit 840MHz, and the Zotac card hit 835MHz.
The lone standout in the group is the Asus card, which has voltage tweaking capabilities that allow us to increase the core voltage beyond the GPU's VID. In testing we found that anything over 1.062v would ultimately cause the card to fall back to 405MHz, which we believe to be the card's VRM protection kicking in after the VRMs overheated. At 1.062v we were able to get the card to up 930MHz, a 33% overclock from the factory overclocked speed of 700MHz, and 38% faster than the GTX 460 reference clock of 675MHz.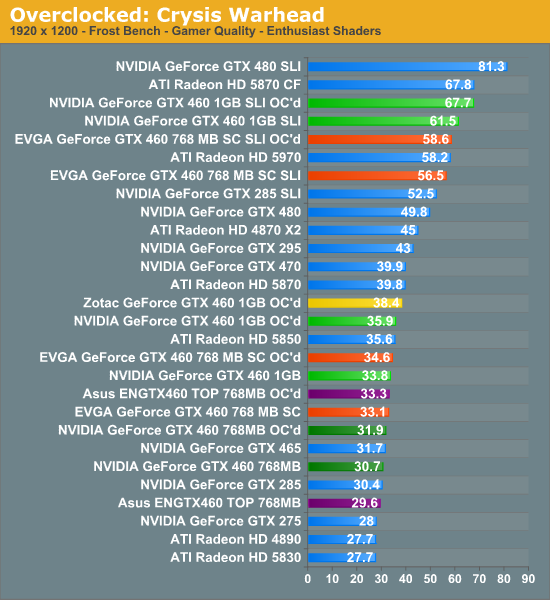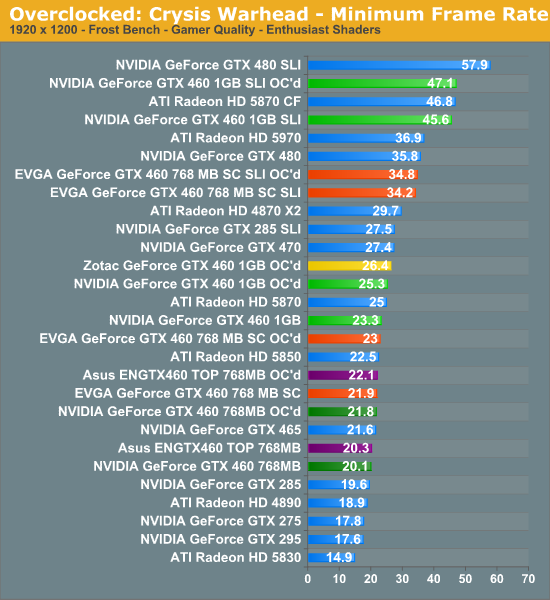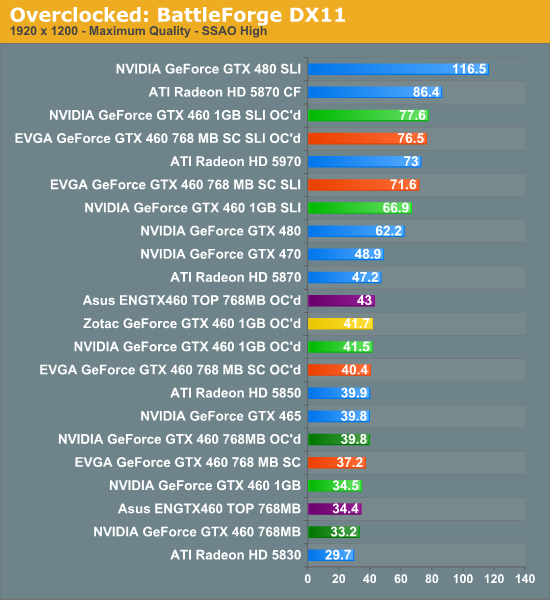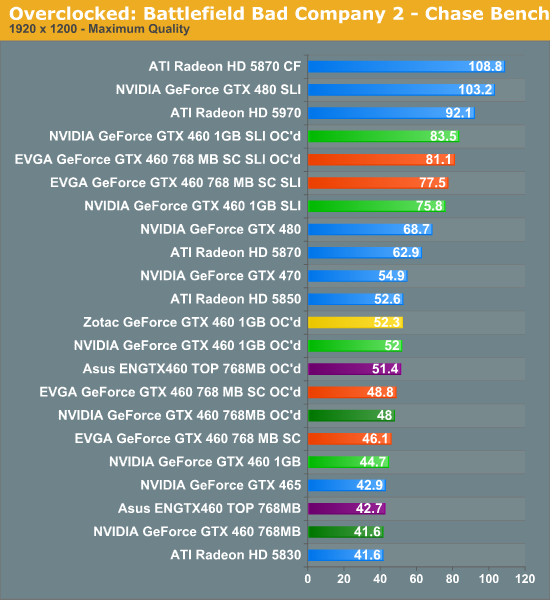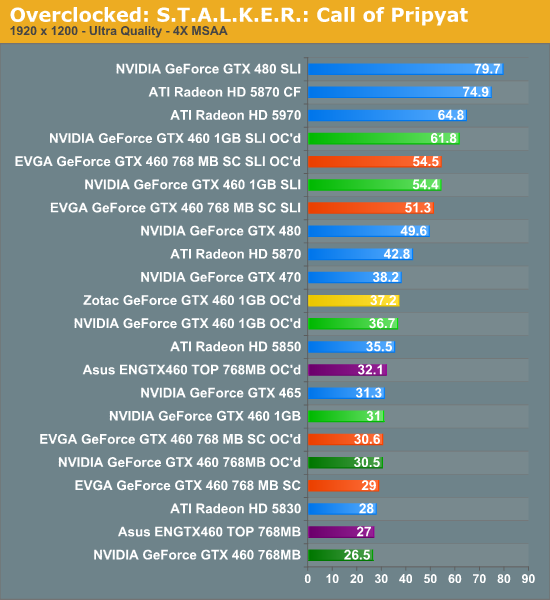 Overall the impact of overclocking is heavily game dependent. Core overclocking favors games that are ROP/shader limited and has little effectiveness on games that are limited by the total available RAM or by memory bandwidth. For this reason out of our subset of games core overclocking was most effective on Battleforge and Bad Company 2, while only moderately effective on Crysis and STALKER. On Crysis and STALKER overclocking was at best only marginally more useful than having a 1GB card.
The big winner here with respect to performance is the Zotac card, thanks almost exclusively to its 1GB configuration, affording additional RAM/L2/ROPs. Of our 768MB cards the Asus comes ahead most of the time as expected thanks to its greater core overclock, but it does manage to fall to the overclocked EVGA card under Crysis where the latter's greater stock memory clock clearly offers an advantage.
Currently the sweet spot would look to be a 1GB card with a lesser overclock, which isn't great news for the overclocking-focused EVGA and Asus cards in this roundup. While they are cheaper than a full 1GB card, they still carry a price over MSRP which cuts in to the gap between 768MB and 1GB cards. Ultimately the additional RAM/L2/ROPs more than makes up for the higher overclocks the 768MB cards can attain in most situations.