Application Performance and Battery Life
Just to be completely safe, we did run an additional three tests to see how the NVIDIA GeForce GTX 480M might affect system performance outside of gaming. The usual suspects were run: Futuremark's Peacekeeper, Cinebench R10, and our x264 video encoding test.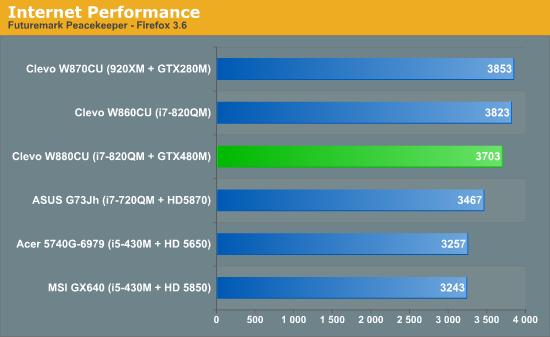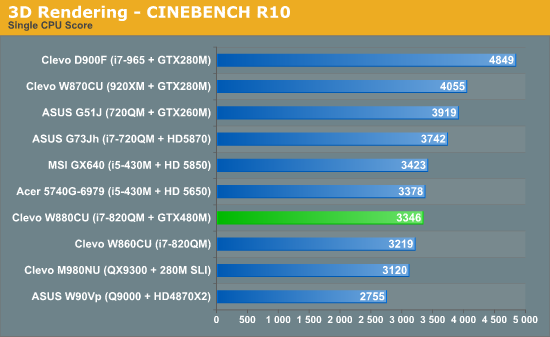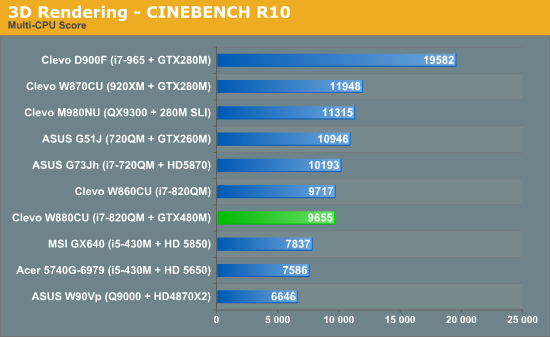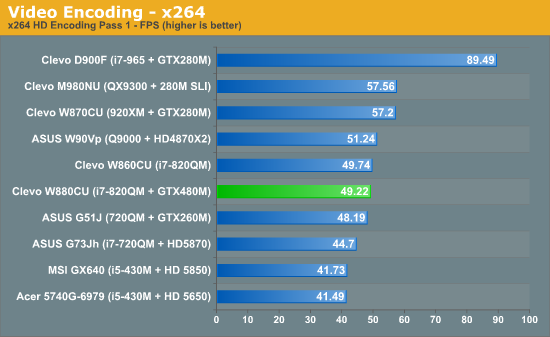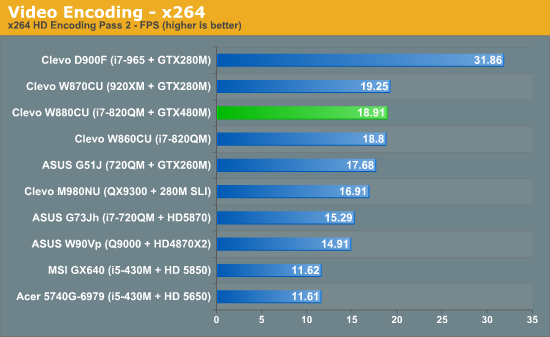 In each situation, the W880CU with its Intel Core i7-820QM falls in line with the previously tested W860CU systems.
We recently had a discussion in our forums that ultimately degenerated a bit into the old NVIDIA vs. ATI war: is NVIDIA hardware a superior option if you'll be using Adobe software? Adobe and NVIDIA both proudly tout increased GPU reliance in Creative Suite 5, culminating in what Adobe calls its "Mercury Playback Engine" in Premiere Pro CS5, a playback system supposedly accelerated by CUDA.
I personally use Premiere Pro and After Effects CS5 for video work on my own desktop, equipped with an ATI Radeon HD 5870, and in none of the CS5 applications have I ever felt like I was missing any secret sauce. It's important to note that features aren't going to be disabled if you aren't running NVIDIA kit, but we figured we'd give the GTX 480M a chance to prove itself in Premiere Pro CS5.
That didn't happen. Presently the 480M isn't supported in CS5; in fact the only NVIDIA hardware supported by the Mercury Playback Engine are the GeForce GTX 285 and several of NVIDIA's expensive workstation-class cards. NVIDIA informs us that other GPUs like the 480M are not supported at launch but Adobe is planning on increasing the number of supported GPUs in the near future. How long that will take is difficult to say (Flash 10.1 took over six months to go from Beta to final release), but at some point in the future Adobe should patch in support for additional NVIDIA hardware. For now, that means we can't make a convincing case for the GTX 480M against the competition if you're going to be using Adobe CS5 software.
If you were looking for a healthy benefit to the 480M, though, you can check out how well it sips power at idle.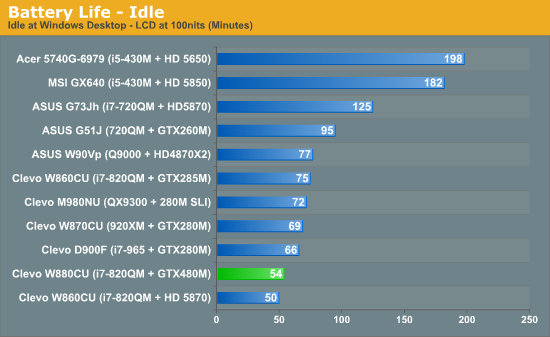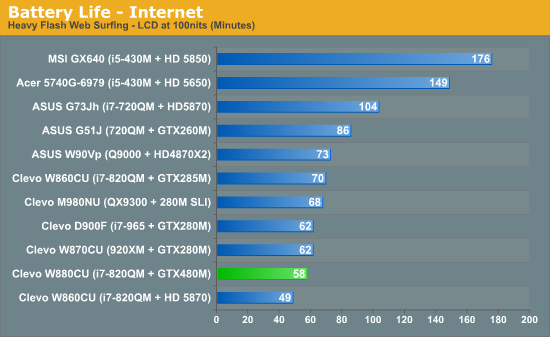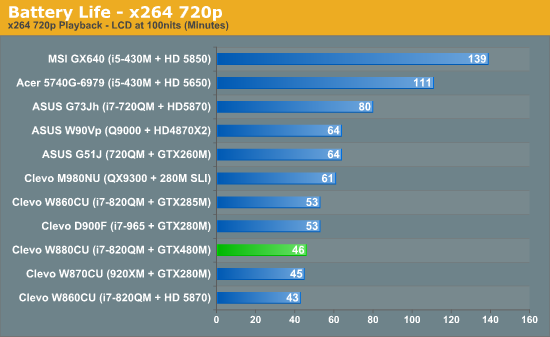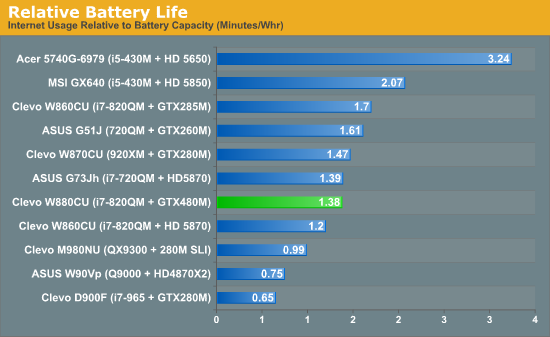 It's true the 3-cell battery in most of these Clevo notebooks is essentially a UPS system, but the ability of NVIDIA's chips to power down so much at idle (ignoring the clear benefits of Optimus in other notebooks) is nonetheless appreciated. The more power a chip draws, the more heat it's liable to produce, and thus the harder the cooling system of the notebook is going to have to work. While you would almost never take this monster off its leash, at least the GTX 480M is pulling its weight by not chugging power from the anemic battery. It essentially matches the ASUS G73Jh in power requirements when unplugged, albeit with a battery that's half the capacity.
Do note that as with other Clevo notebooks, the W880CU will kick the GPU into "limp mode" on battery power, regardless of settings, so you're not going to be playing 3D games at high detail on battery power (for 20 minutes) even if you want to.