Random Read/Write Speed
This test reads/writes 4KB in a completely random pattern over an 8GB space of the drive to simulate the sort of random access that you'd see on an OS drive (even this is more stressful than a normal desktop user would see). I perform three concurrent IOs and run the test for 3 minutes. The results reported are in average MB/s over the entire time. All requests are 4KB aligned.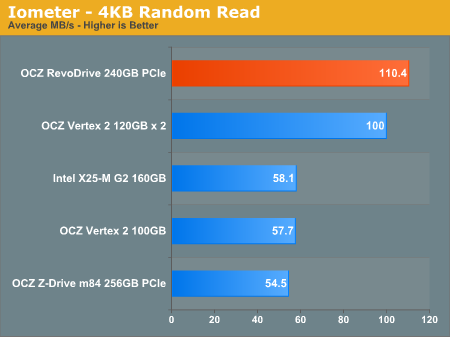 Compared to a single Vertex 2, the RevoDrive is nearly twice the performance. The Revo actually outperforms our two Vertex 2s in RAID-0 thanks to the controller on the card. This is more the exception rather than the rule however, Intel's ICH10R is one of the fastest desktop SATA 3Gbps controllers we've ever seen.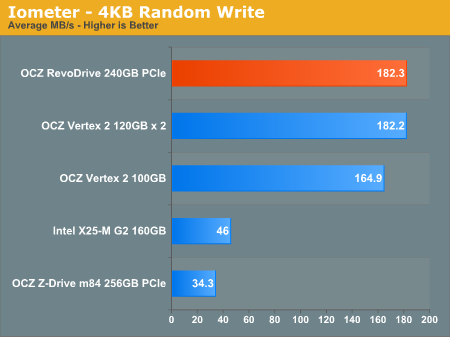 At low queue depths random write performance doesn't actually improve that much. A single Vertex 2 SSD is already running at close to peak performance here. Compared to last year's more expensive Z-Drive m84 the performance improvement is tremendous.
Crank up the queue depth for a particularly intensive workload and you'll see the RevoDrive separate itself from a single drive: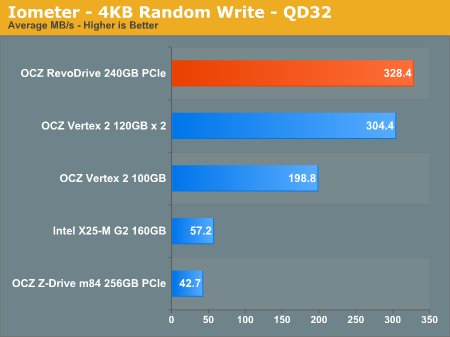 At over 300MB/s there's no single SATA 3Gbps drive that could deliver this sort of performance. And honestly it's in these high queue depth scenarios that the RevoDrive really shines. The majority of desktop users simply aren't pushing this many IOs at a given time, but if you are the Revo won't disappoint. A pair of Vertex 2s in RAID-0 won't either. It all comes down to cost and preference.