Here's the idle/full load power consumption figures at stock speeds. VCC and VTT only, with VRM switching efficiency factored out: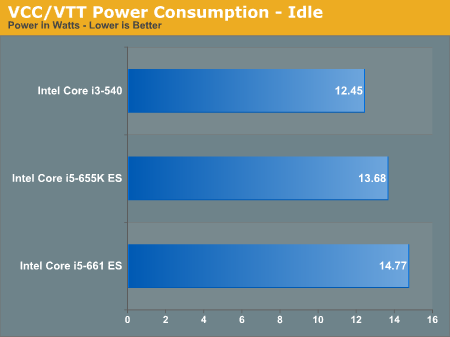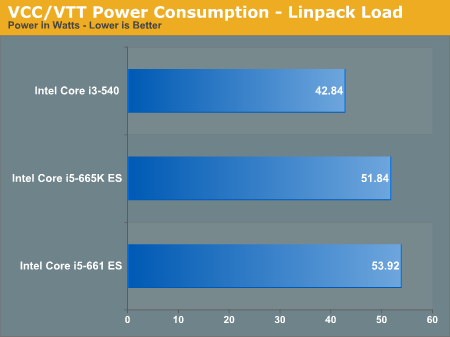 Now that we've got these figures as a reference point. We can start looking at how each processor reacts to over-frequency conditions and how this affects factors such as heat and stability.
The following graph shows processor power scaling versus frequency, using Linpack to load the cores – highlighting the maximum Stock VID overclock and the maximum overall overclock using the Intel heatsink: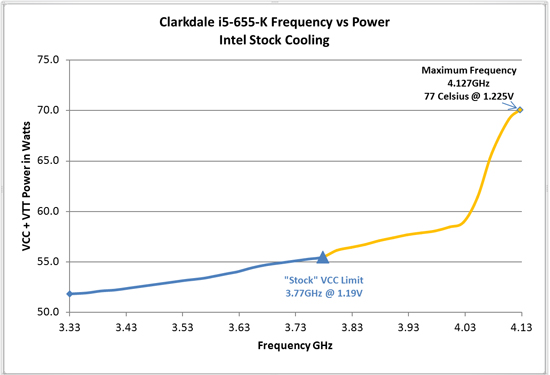 Using the BCLK method of overclocking (increasing the frequency of every associated bus), the power consumption ramp between 3.33GHz and 3.77 GHz is a mere 4 Watts at stock VID on our i5-655K – that's why overclocking at stock voltages is wise if you're working within the confines of stock cooling or concerned for processor longevity. In fact, only a small change in voltage is required to reach the 4GHz mark, coming in at a very sensible 7 Watt rise over stock power draw.
Over 4GHz, we see a sharp hike in power draw for every 20MHz increase in frequency, and by the time we get to 4.127GHz we're tapped out on the stock Intel cooler. Increasing voltage at this point does not help, and we start seeing uncorrectable errors during Linpack. At this point, we need better cooling to extend our overclocking headroom. Before we experiment with improved cooling though, its worth taking a look at how things compare to a retail i3-540 using Intel's stock heatsink.