In and Around the Acer Aspire 1410
In use, the AS1410 is similar to the 1810T. The glossy plastic exterior is somewhat cheap feeling, and aesthetically doesn't impress. This is understandably a cost-driven measure, but the amount of flex shown by the LCD lid is still disappointing nonetheless. Build quality is similar to that of the Aspire One 532h netbook.
On the inside, the faux, brushed aluminum looking plastic used for the palm rests is appreciated, mostly for its non-glossy finish. It feels good to the touch, better than the glossy plastic used on the 532h, but does exhibit some flex under stress. With that said, the palm rests are so small that you'll probably end up resting your palms on the desk you're typing on and won't ever really put pressure on the palm rests.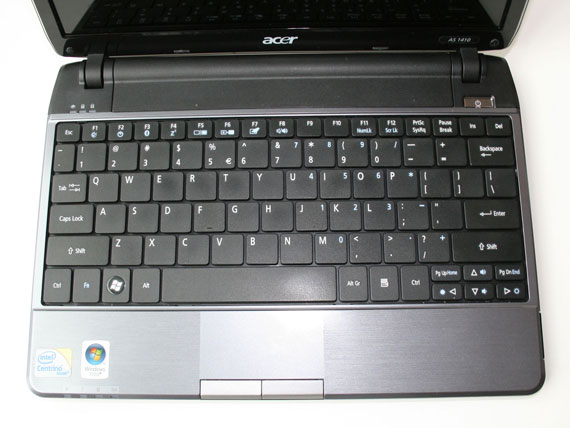 I personally like the keyboard, since it's a full sized chiclet unit that is easy to use. Jarred didn't like the keyboard that much, but I honestly have no problems with it and think it's one of the better ultraportable keyboards out there. The Dell Inspiron 11z has a smaller 92%-sized keyboard, as do all netbooks, so the key size alone makes this one better to type on. There's a slight amount of flex to it that reinforces the feeling that this is a low priced laptop. The multitouch trackpad works as advertised, though it'd be nice if the mouse buttons weren't quite so clicky.
The ports are pretty similar to most netbooks, with one major, major addition: HDMI! And because the CULV platform can actually deal with HD video playback, said HDMI port is actually usable. Other than that, we've got the standard three USB, VGA, headphone out, line in, Ethernet, Kensington lock, 1.3MP webcam, built-in mic, and a memory card slot. The webcam and mic work fine for Skype—no complaints on either end. The speakers are located at the bottom of the notebook and work okay for an ultraportable. I mean, hey, at least it's got two speakers, unlike some of the business-class 12-inchers that make do with one. But the real story here is HDMI. That and the HD video playback alone are worth the extra $50 over a netbook.