Pricing: Heard Ya Got Robbed
Let's quickly recap Apple's iPad pricing. The base model only supports WiFi and starts at $499. It also comes with 16GB of MLC NAND flash for app/photos/music/video storage. You can double that capacity for an extra $100, or take it up to 64GB for $200. Note that these two upgrades alone work out to be $6.25 and $3.13 per GB. Intel will sell you an 80GB X25-M for $2.75 per GB.
The accessories also take you for a ride. Want a case? That's $39. The case is actually more important than you think because it doubles as a stand, which is useful for typing while laying down or for watching videos on.
| | | | |
| --- | --- | --- | --- |
| Apple iPad | 16GB | 32GB | 64GB |
| WiFi | $499 | $599 | $699 |
| 3G | $629 | $729 | $829 |
Keyboard? That's $69 for the wireless version or $69 for the keyboard dock. Either way, Apple is getting its $69 from you if you want a physical keyboard. This is also useful if you want to do a lot of typing on the iPad.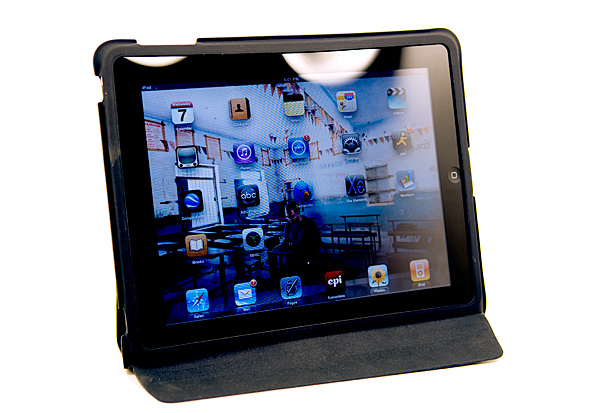 Want to put pictures on it from your camera? Apple will sell you a $29 camera connection kit with a dock-to-SD card reader and dock-to-USB port adapter. Otherwise you'll need to carry around a computer to sync your iPad to.
There's also an optional VGA output, but no digital outputs (HDMI, DVI, DP). It looks like the A4 is missing a TMDS as all of its optional outputs are analog (VGA, composite, component).
So the $499 base price is really more like $530 or $600 depending on what sort of use you want to get out of it. This is a new category of device, but I just feel that Apple is being a little too aggressive on the profiteering with the iPad (we'll get to the app store in a bit).
Later this month Apple will be shipping 3G enabled versions of the iPad. The 3G adder will set you back $130 and isn't retrofittable. AT&T is the sole provider of data service for the iPad, but the pricing is actually fairly reasonable:
| | | |
| --- | --- | --- |
| Apple iPad 3G | 250MB per Month | Unlimited |
| Monthly Data Charge | $14.99 | $29.99 |
Anyway you slice it, it costs a lot to get into this concert.
Like a netbook, the iPad isn't a Mac/PC replacement but rather something you buy as a second, third or fourth computer. The problem is unless one of those computers is a notebook, the iPad doesn't really serve as a replacement for a powerful mobile computer. It's more of a notebook alternative depending on your needs, and at times it can be a great one. If you've got a desktop and a notebook then the iPad could fit in as a third device, but if you don't have a notebook the iPad is no notebook replacement as you'll soon see.