Acer advertises the six-cell, 46Wh battery included with the Aspire 5740 as being able to produce roughly three hours of running time on the battery and in our experience, if you did absolutely nothing but leave the machine idle, you could achieve it. Very light office loads (i.e. typing in Word) should also manage close to three hours. We tested the battery with the computer's power profile set to "Power Saver" in Windows 7 and the screen brightness measured as close to 100nits as we could get it. In the case of the 5740G, a brightness setting of 40% (three steps up from minimum or six steps down from maximum) gave us 110nits, but the next step down dropped us to 80nits so we stuck with the 40% setting.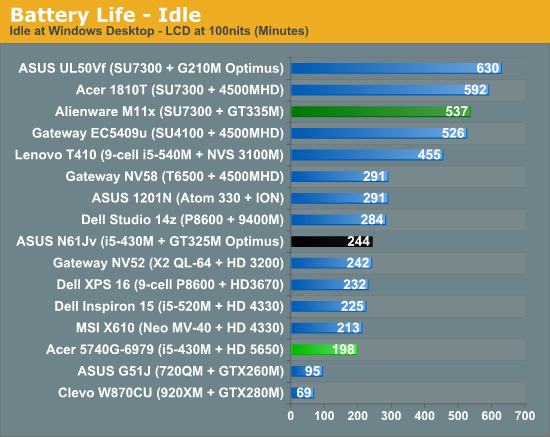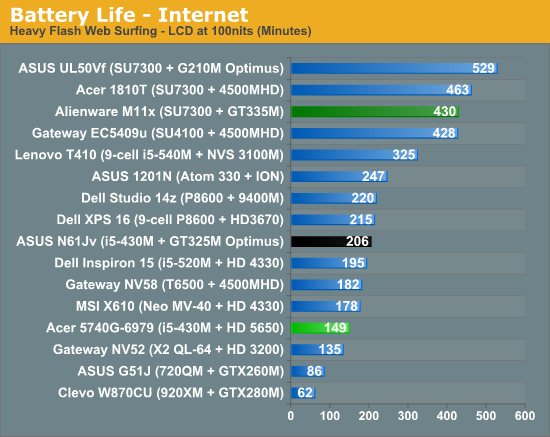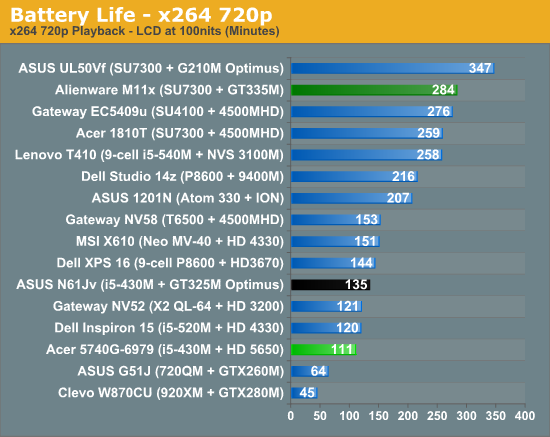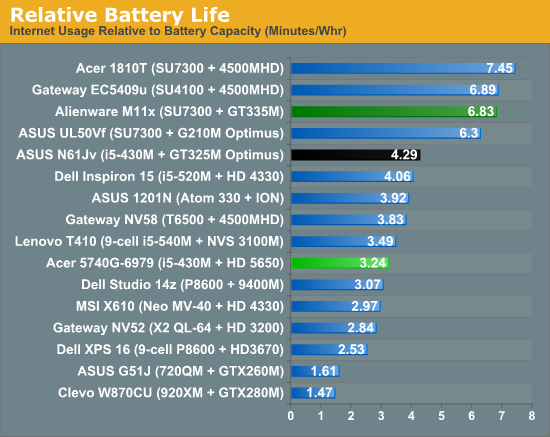 AMD may have tuned the Mobility Radeon HD 5650 to sip power at idle, but it's still consuming power. Coupling it with one of the lowest-rated batteries we've had in a review unit results in battery life that may not be along the lines of the glorified UPS systems found in big desktop replacement gaming notebooks but still isn't winning any prizes. Only our (outdated) test machines with AMD processors produce consistently lower battery life results, and even then they're still in the same ballpark as the Aspire 5740. The 46Wh battery just can't keep up, and battery life under any kind of use cuts at least a half hour to a full hour off the unit's running time.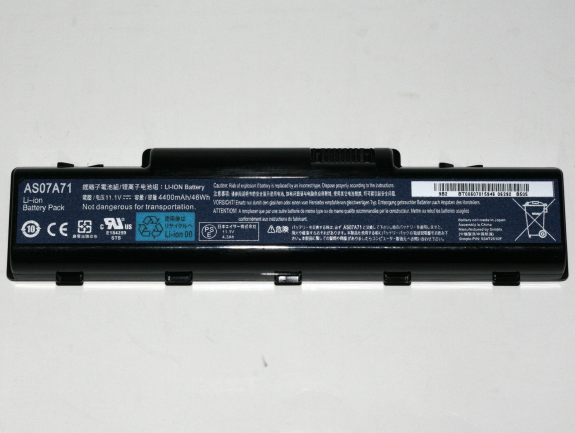 Click to enlarge
Of course, the GPU isn't the only culprit in these tests. NVIDIA's Optimus Technology allows dynamic switching between discrete and integrated graphics, and the N61Jv comes with a similar 6-cell 48Wh battery, as does the Dell Inspiron 1564. The N61Jv is a best-case result for current i5 processors, and it delivers 20% to 40% more battery life (average around 30%) than the 5740G. With an older and slower HD 4330, the Inspiron 15 also beats the 5740G, but only by 10%~30% (average ~20%). If you're looking for good battery life, short of stuffing a huge 94Wh battery into a laptop (i.e. the ThinkPad T410 results) we need a less power-hungry CPU. We have yet to test any Arrandale CULV processors, but it looks like that's what we'll really need to keep Core i5/i7 CPUs out of the red zone for battery life.