AMD reduced their pricing late yesterday on the Phenom II X4 940 from $275 to $235 and the 920 model from $235 to $195. This new pricing scheme takes effect immediately. In fact, pricing at most of the e-tailors already reflect this decrease as we burned a hole in our wallet ordering a few retail samples for upcoming articles. We discovered in recent testing that the Phenom II X4 (could we not have gotten a better name) 940 compared favorably to the Intel Core 2 Quad Q9400 and the Phenom II X4 920 was a match for the Intel Core 2 Quad Q9300 in most cases.
Intel is now pricing the Q9400 at $213, a drop from $266, while the Q9300 will remain at $266 and essentially be phased out. This means the Phenom II X4 940 will be priced slightly higher than its main competition but lower than the Core 2 Quad Q9550, which drops in price from $316 to $266 - a battle the 940 simply could not have won at similar pricing. The Phenom II X4 920 now competes directly against the Core 2 Quad Q8300, which saw its price drop from $224 to $183. On a clock for clock basis, the 920 is a better value overall than the Q8300 at this point. In the meantime, if you need a really good board for your new Phenom II X4 920 but are on a strict budget, then we suggest this 790GX model from ASRock that is selling for $105 now.
Speaking of ASRock, we met with their top management team at CES and discussed their product plans for the upcoming year. Most of them we cannot discuss yet, but let's just say they are busy designing some very interesting products that will offer excellent price to performance ratios in the coming months. ASRock is not just concentrating on performance and price either; quality improvements ranging from board components to BIOS/Software features to improved customer service are at the forefront of their business directives this year.
ASRock recently delivered their unique N7AD-SLI motherboard that is based on the NVIDIA 740i SLI chipset. Although NVIDIA does not officially list a 740i SLI chipset, it is basically the 730i design utilized in the GF9300/9400 products only without the IG section activated. This design will give current socket 775 users the ability to run NVIDIA SLI in dual x8 PCI-Express 2.0 operation on a board that should retail around $95. We will have a quick review on it shortly.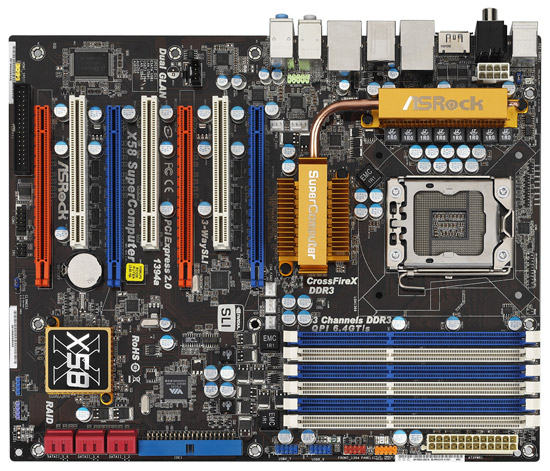 Finally, ASRock just shipped us their new X58 motherboard, the X58 SuperComputer. The board specifications are located here. In short, the board offers four PCI-Express 2.0 x16 (physical) slots that can support ATI CrossFireX and Quad CrossFireX along with NVIDIA Quad SLI, 3-Way SLI, and SLI. Support for the NVIDIA Tesla Personal Supercomputer design is provided with three Tesla and one Quadro graphics card. The board also supports 24GB of DDR3 non-ECC unbuffered memory with the current i7 processors, or ECC buffered memory with the Intel Workstation 1S Xeon 3500 processor series. The board should sell for $299 at launch.