Software & Drivers
Just like the hardware, the Storm Platinum drivers are based completely on Aureal's reference drivers with the only changes being the name in device manager and the Aureal control panel. The latest Windows 9x drivers from Xitel are the ones shipping with the card and are based on the 2016 Aureal Vortex 2 build. Aureal currently offers prerelease 2030 reference drivers on their website that fix a number of bugs, offer a bunch of new features, and improve performance. Beyond the beta label of these drivers, there is pretty much no reason to not use them as they were completely stable in our testing.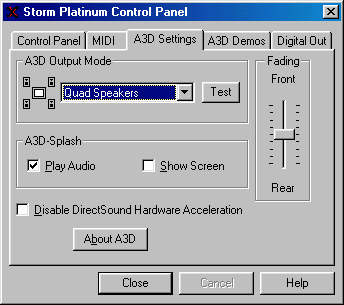 Installation went smoothly using Windows 9x plug-n-play, which detected the card. Inserting the CD and pointing it to the appropriate drivers was all that was required. In case you're not a pro yet at this sort of thing, the whole thing is covered briefly, but sufficiently, in the user manual.
The drivers add an icon to the tray that allow for quick adjustments of all card settings. Right clicking allows for quick selection of speaker type (headphones, satellite speakers, monitor speakers, or quad speakers). Double clicking on that icon brings up a window that allows quick access to a variety of multimedia settings - some of them part of Windows, others from Aureal. The A3D Settings tab offers configuration of speaker type, front to rear fading, and a test button.
The 10 band graphic equalizer is available by clicking its icon from the control panel tab. The MIDI tab allows for two effects to be applied to MIDI sound, the selection of how many wavetable voices will be used, and the ability to download new wavetable sets to the card.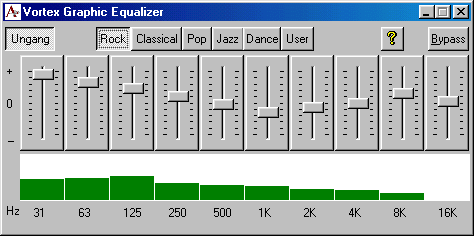 As expected, complete driver support is available under Windows 95/98. The story under NT 4.0 is a little different due to the lack of full DirectX support - there is still complete stereo support with the ability to play multiple sound streams, but no A3D or DirectSound 3D support. Fortunately, Aureal is ready with full support for the Windows Driver Model (WDM) used in Windows 2000 - expect drivers to be available immediately upon the OS' release.