Rendering: Blender 2.5 Alpha 2
Blender 2.5 Alpha 2
Operating System
Windows 2008 Enterprise R2 (64-bit)
Software
Blender 2.5 Alpha 2
Benchmark software
Built-in render engine
3dsmax 2010 crashed on almost all our servers. Granted, it is not meant to be run on a server but on a workstation. We'll try some tests with Backburner later when the 2011 version is available. In the meantime, it is time for something less bloated and especially less expensive: Blender.
Blender has been getting a lot of positive attention and judging by its very fast growing community it is on its way to become one of the most popular 3D animation packages out there. The current stable version 2.49 can only render up to 8 threads. Blender 2.5 alpha 2 can go up to 64. To our surprise, the software was pretty stable, so we went ahead and started testing.
If you like, you can perform this benchmark very easily too. We used the "metallic robot", a scene with rather complex lighting (reflections!) and raytracing. To make the benchmark more repetitive, we changed the following parameters:
The resolution was set to 2560 x 1600
Anti-alias was set to 16
We disabled compositing in post processing
Tiles were set to 8x8 (X=8, Y=8)
Threads was set to auto (one thread per CPU is set).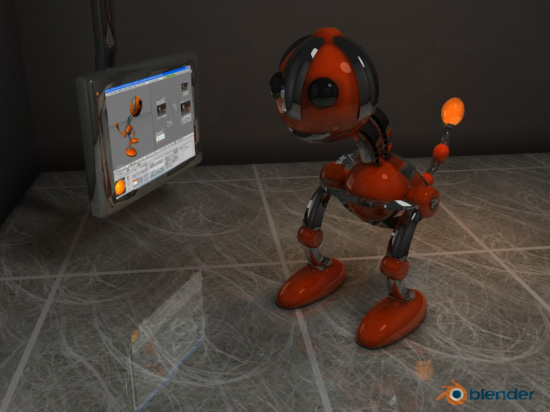 Let us first check out the results on Windows 2008 R2: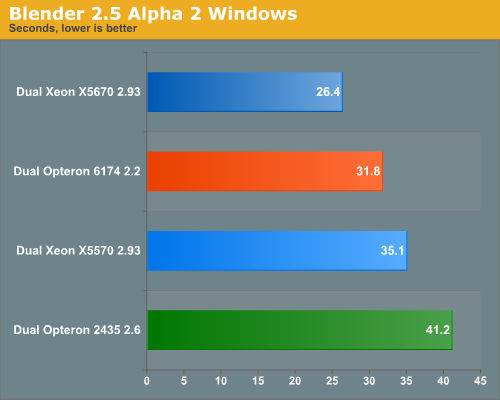 At first the Opteron 6174 results were simply horrible: 44.6 seconds, slower than the dual Opteron six-core!
Ivan Paulos Tomé, the official maintainer of the Brazilian Blender 3D Wiki, gave us some interesting advice. The default number of tiles is apparently set of 5x5. This result in a short period of 100% CPU load on the Opteron 6174 and a long period where the CPU load drops below 30%. We first assumed that 8x6, two times as many tiles as the number of CPUs would be best. After some experimenting, we found that 8x8 is the best for all machines. The Xeons and six-core Opterons gained 10%, while the 12-core Opteron became 40% (!) faster. This underlines that the more cores you have, the harder they are to make good use of.
Blender can be run on several operating systems, so let us see what happens under 64 bit Linux (Suse SLES 11).
Rendering: Blender 2.5 Alpha 2 on SLES 11
Blender 2.5 Alpha 2
Operating System
SUSE SLES 11, Linux Kernel 2.6.27.19-5-default SMP
Software
Blender 2.5 Alpha 2
Benchmark software
Built-in render engine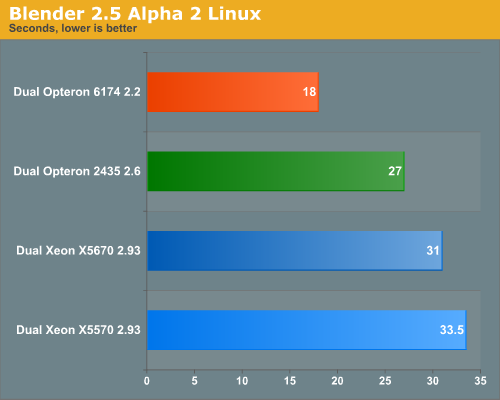 What happened here? Not only is Blender 50 to 70% faster on Linux, the tables have turned. As the software is still in Alpha 2 phase, it is good to take the results with a grain of salt, but still. For some reason, the Linux version is capable of keeping the cores fed much longer. On Windows, the first half of the benchmark is spent at 100% CPU load, and then it quickly goes down to 75, 50 and even 25% CPU load. In Linux, the CPU load, especially on the Opteron 6174 stays at 99-100% for much longer.
So is the Opteron 6174 the one to get? We are not sure. If these benchmarks are still accurate when we test with the final 2.5 version, there is a good chance that the octal-core 6136 2.4 GHz will be the Blender champion. It has a much lower price and slightly higher performance per core for less complex rendering work. We hope to follow up with new benchmarks. It is pretty amazing what Blender does with a massive number of cores. At the same time, we imagine Intel's engineers will quickly find out why the blender engine fails to make good use of the the dual Xeon X5670's 24 logical cores. This is far from over yet…