Power Consumption
The Magny-Cours Opteron arrived one week ago, which is barely enough time to do virtualization benchmarking. So we have to postpone extensive power testing to a later date. The Opteron 6174 came in a desktop reference system which is in no way comparable to our Xeon X5670 1U server. We do have an six-core Opteron based system which is very similar to the Opteron 6174 reference system: the motherboard is also equipped with the new AMD SR5670 chipset and housed in the same desktop system. We can tell you that the idle power of the Opteron 6174 is a few watts lower than the six-core Opteron 2435. Both throttle back to 800 MHz, but the Opteron 6100 series gets a real C1E mode.
C1E mode can only be entered if all CPUs are idle. In a dual socket system, both CPUs enter C1E or they don't. C1E mode is entered only after longer periods of inactivity. All cores flush their L1 and L2 caches to the L3-cache. Then all cores are clockgated (C1). Once that happens, the Hyper Transport links are put in a lower power state. This allows the chipset to enter a lower power state as well. Only when all these previous steps are done, both sockets are in C1E. DMA events will make the sockets go out of the C1E state. So C1E probably won't happen much on server systems. The C1E state is only entered if absolutely no processing is happening at all.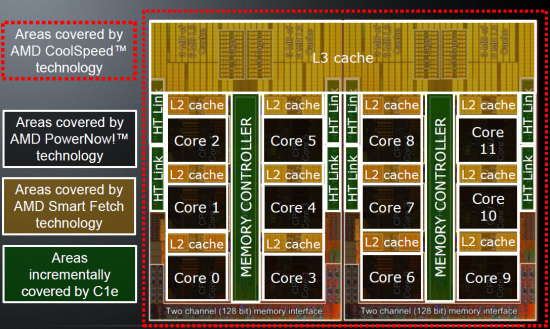 The C1E mode can reduce power quite a bit:
Core clocks are turned off (Clockgate C1 state)
L3, North Bridge, and memory controller all divide their clock frequencies (but are not clockgated!)
All HyperTranspor links transition to LS2 low power state (LDT_STOP_L)
DRAM DLL's disabled
Memory Transitions from precharge power down mode to self refresh mode (low power)
According to AMD, at full load a 1.7GHz 65W ACP Opteron 6164 HEwould consume about 4% more power than a 2.1 GHz 55W ACP 6-core Opteron 2425 HE. AMD measured 225W for the former, 215W for the latter. We measured 263W on the same system at full load with an Opteron 6174. That's 48W more, or about 24W per CPU. Assuming that the low power CPUs were running at their ACP (65W), we can conclude that the 2.2 GHz Magny-Cours needs about 89W. While the new twelve-core Opteron clearly needs a bit more power than the six-core Opteron, it's not a dramatic increase.