Overclocking
If all you're after is a stable stock HTPC build, then you're probably better off ignoring this section of the article and skipping over to the performance results or conclusion. Differences between boards are generally small and only manifest under conditions that are either unnecessary or unlikely in an everyday PC build.
Out of the eight boards we've tested in this two-part series, three boards stand out as the most consistent performers for overclocking given a range of peripherals and operating parameters. Spearheading the charge is Gigabyte's H55M-USB3; memory clocking is its main strength, delivering class leading memory speeds on the H55 chipset with 8GB of RAM in place (with or without the IGP active).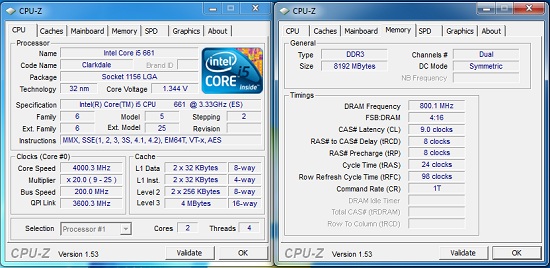 Gigabyte's H55M-USB3 is a "Jack of all trades" when it comes to overclocking.
The other two contenders are ASUS' P7H55D-M EVO and ASRock's H55M Pro. Both come a close second with 8GB, while ASRock's H55M-Pro pips the ASUS and Gigabyte boards to the post by a few MHz with 4GB of memory and a high QPI multiplier ratio. At higher BCLKs the Gigabyte board seems to be the best overall bet, handling all of our memory kits in a resolute manner.
IGP clocking—Oops!
One area we goofed up on in part one was our report of IGP related overclocking. Our mistake was believing that IGP frequency remained static while we increased BCLK; this was fueled by the frequency we'd set in the BIOS and also by the fact that there are no operating system tools that report the true IGP clock frequency correctly. Anyway, cutting to the chase, Massman from MADSHRIMPS released an article shortly after our first piece highlighting our error.
As soon as that article was posted, I slapped myself on the forehead for missing the glaring obvious. The tell-tale signs were all there: IGP voltage needed to be increased in tandem with BCLK, reflecting a hike in operating frequency. Further, Intel have never been known to embrace completely free-ranging asynchronous bus architectures, which is exactly what would be needed to maintain a static IGP frequency vs. adjustable clock frequencies of related domains. Such topologies overcomplicate chipsets and usually carry a latency penalty, thus degrading system performance.
Unfortunately, board vendors have not included any kind of corrective algorithm in current BIOS releases to show true IGP operating frequency as the BCLK changes. Despite the Chinese New year break we managed to ask ASUS about this, and they've confirmed a BCLK to IGP clock multiplier relationship and told us that the formula shown in the MADHRIMPS article is "very close" to determining true IGP operating frequency.
What this all adds up to is that processor and memory overclocking is not really hindered much by an active IGP at all—provided you can offset the IGP clock multiplier to keep its bus frequency within bounds. While we wait for vendors to get BIOS releases up to scratch, we've put together a simple Excel-based calculator based upon Massman's findings that allows you to work things out with minimal fuss—download it here.
Out of all the boards we've tested, Gigabyte's H55M-USB3 comes out on top with 8GB of memory in place while the IGP is active. The CPU-Z screenshot posted above at 200BCLK and DDR3-1600MHz holds true with an active IGP. Boards from ASUS and ASRock come a close second, hampered only by an inability to overclock memory as well as the Gigabyte board. The only lemon when it comes to IGP overclocking is the ECS H55H-V1, because you can't change IGP frequency at all on the current BIOS release.
Interestingly enough, ASUS seems to have hit on a performance register or two behind the scenes and deliver slightly better clock for clock IGP performance in the older Futuremark 3D benchmarks. In the real world though, the Clarkdale IGP is best suited for video playback (HTPC) use; you're not going to get a blistering "high-definition" gaming experience, even with elevated IGP clock frequencies and clock for clock performance enhancements.