ECS H55H-M V1
The ECS H55H-M (V1) is the cheapest board in our lineup today, costing around $80 at various e-tailors.
ECS H55H-M V1
Market Segment
H55 General Use/HTPC
CPU Interface
LGA-1156
CPU Support
LGA-1156 i3/i5/i7 Series of Processors
Chipset
Intel H55 Express Chipset
BCLK Speeds
133-600MHz in 1MHz increments
DDR3 Memory Speed
800, 1067, 1333 Frequency Ratios (Dependant on processor)
QPI Frequency
No multiplier ratio control offered
Core Voltage
Stock voltage ~ +0.315V in .005V increments
CPU Vdroop Compensation
N/A
CPU Clock Multiplier
CPU Clock Multiplier Ratio - changes do not work on H5M126A BIOS
DRAM Voltage DDR3
Auto (disabled), 1.536V ~ 2.166V in 0.01V increments (1.536V base)
DRAM Timing Control
tCL, tRCD, tRP, tRAS, + 5 Additional Timings
DRAM Command Rate
Auto, 1T, 2T and 3T
PCH Voltage
N/A
CPU VTT (Uncore) Voltage
Auto (Disabled) 1.05V ~ 1.68V in 0.05V in 0.01V increments
CPU PLL Voltage
N/A
IGD VID
Stock ~ +0.3V in 0.1V increments
Memory Slots
Two 240-pin DDR3 DIMM Slots
Dual-Channel Configuration
Regular Unbuffered DDR3 Memory to 8GB Total
Expansion Slots
1 x PCIe 2.0 x16 Slot
2 x PCIe 1 x Slots
1 x PCI slots
Onboard SATA/RAID
6 x SATA 3.0GB/s (Support NCQ, AHCI and Hot Plug)
Onboard USB 2.0
10 USB 2.0 ports (6) I/O Panel (one SATA combo), 4 via brackets
Onboard LAN
Atheros AR8131/M GbE LAN (PCIe)
Onboard Audio
VIA VT1705 6-ch HD Audio
Other Onboard Connectors
1 x S/PDIF Out, 1 x FP Audio, 1 x FP connector
Power Connectors
ATX 24-pin, 4-pin EPS 12V
I/O Panel
1 x PS/2 Keyboard/Mouse Combo Port
1 x RJ45
6 x USB 2.0/1.1
1 x Serial Port
1 x DVI-D
1 x VGA/D-sub
3 Audio I/O jacks (Line in, Microphone and Line out)
Fan Headers
1 CPU + 1 Additional Header
Fan Control
Full temp/speed fan control for CPU header via BIOS
No control offered for SYS-FAN header
Package Contents
2 x SATA cables, 2 x User Guides, 1 x Driver/software DVD, 1 x I/O Shield
Board/BIOS Revisions Used
Board Rev: 1.0
BIOS Files Used: H5M126A
Form Factor
uATX (9.6 in. x 9.6 in.)
Warranty
3 year standard (First 24 months = parts/labor, last 12 months = parts only)
The ECS H55H-M V1 feature set is best described as basic. There are no onboard HDMI output, eSATA or Firewire ports on offer. Further concessions are made in the choice of onboard components with VIA's VT1705 codec for audio duty and the Atheros AR8131/M supplying onboard PCI-E LAN. Naturally, the costs cutting extends to package contents too; like all the other vendors featured in our roundup, you get 2 SATA cables, a couple of manuals, support DVD and a rear I/O shield included—the bare minimum to get you up and running.
We understand some of ECS' feature set choices, although we feel that the omission of an onboard HDMI port is a step too far. One of the key attractions of the H55 chipset is the ability to run IGP video/audio out for HTPC use, but you can't do that on this board unless you use a DVI-to-HDMI adaptor. Analog audio output is limited to 2-channel, meaning a DVD-to-HDMI connector is a must if you want to experience 6 channel sound from this motherboard (unless you use a discrete soundcard).
The H55H-M V1 is also limited to a maximum of 8GB (4GB realistically) of memory due to having only two DIMM slots. Perhaps one would have been a little more forgiving of ECS' choices if boards like ASRock's H55M-Pro were not available at the sub $100 mark, offering almost everything missing on the ECS model.
Software
There's nothing fancy or exciting in the bundled software department; ECS includes a single tool called eJiffy (similar to ASUS' Express Gate).
eJiffy features a web browser, photo editing and chat functionality without having to boot into your primary OS. Before eJiffy can be used though, you have to install it onto your hard drive via your primary OS. Once you've done that, you'll find it takes just as long to boot into Windows 7 as it does to boot eJiffy—we fail to see the appeal of this software.
The Board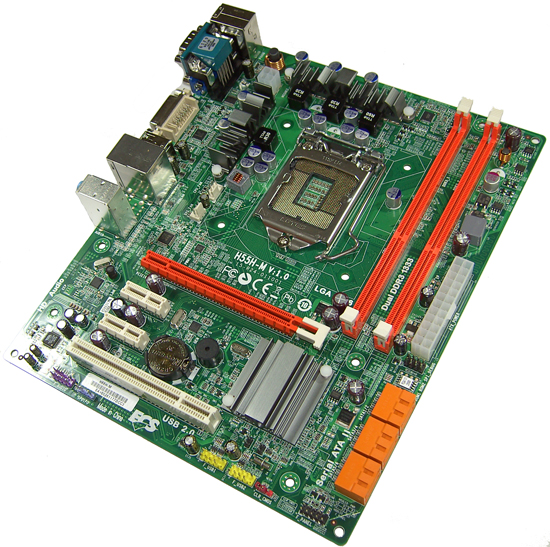 Slot layout on the ECS H55H-M V1 is reasonable, there's always a PCI-E x1 slot available regardless of slot loading. SATA ports are all right angled allowing access when longer peripheral cards are inserted into any of the slots.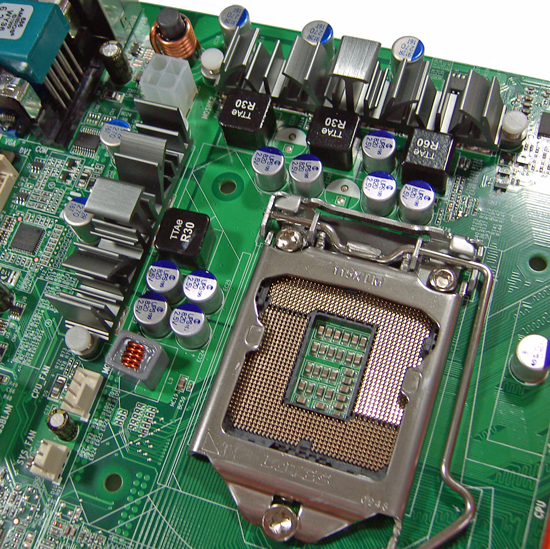 The onboard EPS 12V 4-pin connector is placed very close to the 12V input inductor coil and PWM heatsink, leaving no room for an overhanging 8-pin EPS 12V connector to be inserted if that's all your PSU has. The only way to use an 8-pin EPS 12V connector is to bend the leads of the 12V input coil to make enough room—not exactly ideal.
CPU VCC power is supplied by uPI's 6206 in what looks to be a 3-phase implementation. We'd guess that max current handling is likely to be under 110 amps, enough to handle the swagger of a Clarkdale CPU at 4GHz and just about enough to sustain HT enabled Lynnfield processors at stock operating frequency.
A couple of onboard fan headers are provided for use and comprehensive fan control is offered for the CPU fan header via the BIOS. Unfortunately there are no control options for the SYS fan whatsoever. ECS do not provide OS level fan control or monitoring software with the H55H-M V1, and third party tools like SpeedFan don't work with this board either. The CMOS jumper is placed at the lower right hand corner of the board, something that you'll be reaching for frequently on the current release BIOS if overclocking this board (more on that subject in the overclocking section below).
Overclocking
The current BIOS release is limited to using the stock CPU multiplier ratio only—there is a function to change the CPU multiplier ratio but it doesn't work. Anything other than stock and the board won't POST, requiring a CMOS clear to get things working again.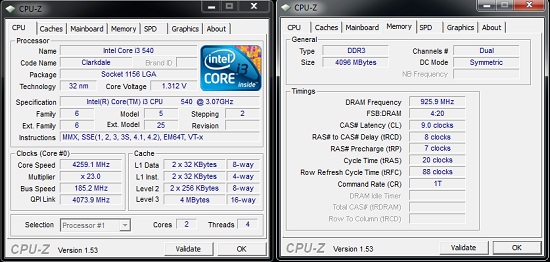 Sticking with the stock CPU multiplier ratio, we did manage to obtain a quick 4.25GHz from our retail i5-540 CPU using the 2:10 memory ratio (DDR3 -1850MHz), fully stable and capable of resuming from longer S3 sleep mode too. We had planned apples to apples comparisons with other boards using our i5-661 CPU, but the lack of CPU multiplier control would have placed us in the 4.6GHz+ region for stress testing, something we did not feel comfortable subjecting the board to.
BIOS
The "basic functionality" trend also extends into the realms of overclocking; the BIOS provides a coarse control of key voltage rails and no control of QPI or IGP clock frequency control/multipliers, limiting overclocking flexibility in certain scenarios. Under-voltage fans will also be disappointed to find out that there are no options to set the CPU core voltage below stock on the current BIOS.
There is certainly room for improvement in the memory timing department too; there are no individual AUTO functions for any of the DRAM sub-timings; you either leave them all on AUTO as a group or have to set all of them manually. Individual AUTO settings allow users to experiment with one setting at a time while they get to grips with how things work—we always encourage board vendors to provide such options.
If you do overclock this board, one of the things that will irk you is that if the board fails to POST, the only way to get back into the BIOS again is to clear CMOS. There is no automated overclocking recovery feature in the BIOS and there are no profile save locations to fall back on, so you'll have to re-enter all of your settings again from scratch. The simple inclusion of a watchdog timer or POST attempt counter would make this board far more overclocking friendly.
ECS do not provide a built in BIOS flash routine either. You'll have to use a bootable USB stick with DOS installed or use AMI's OS level BIOS flashing utility to complete the task instead.
As we pointed out above in the overclocking section, the current BIOS also has an issue with changing CPU multiplier ratios; the board won't POST at anything other than the stock CPU multiplier. Like most other vendors, this is a sure sign that ECS need to step up their in-house beta testing before releasing boards and BIOSes into the wild. While the H55H-M V1 is the cheapest board in our roundup, there's no excuse for having a partially functional BIOS, or holding back on user-friendly options that require some additional BIOS code to make the board competitive with other vendor products.