General Performance: Atom Gets Dusted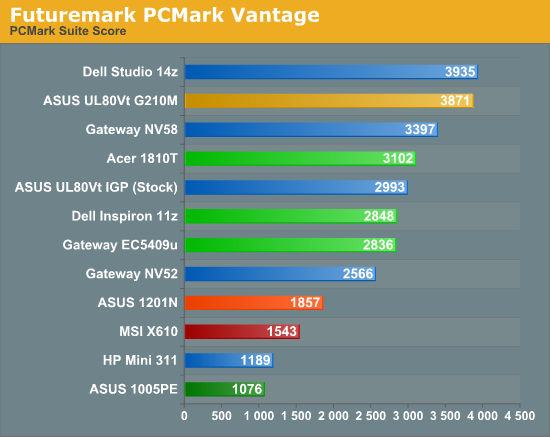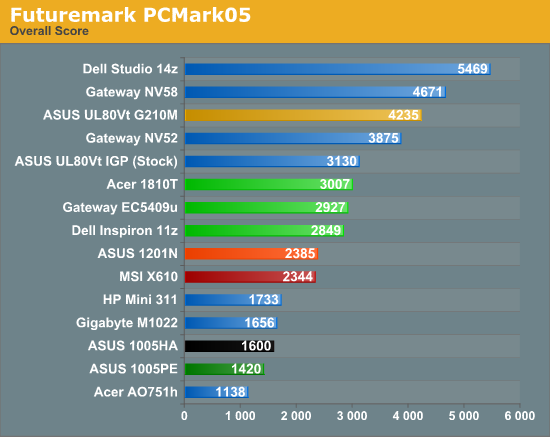 We've shown most of these results in our ASUS 1201N review, but where we were comparing dual-core Atom 330 to Atom N280 and N450, let's now focus on CULV performance. Starting with PCMark, we immediately see a very large performance gap. This isn't some synthetic divide, either: you will very much notice the performance boost moving from Atom N450 to the 1201N, and you'll feel it even more if you compare CULV to Atom N450. Even the Atom 330 is still a big drop in PCMark Vantage, where it's 35% slower than the EC5409u. PCMark05 shows a smaller difference of around 17%, but PCMark05 is relatively outdated now (as the 2005 year indicates).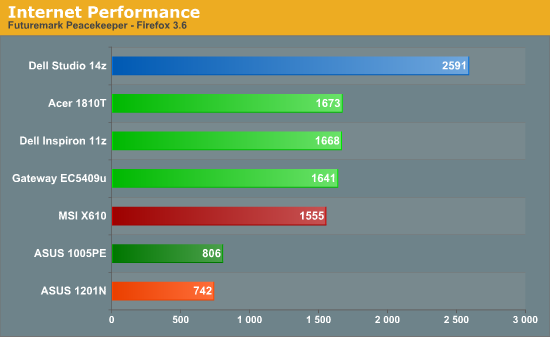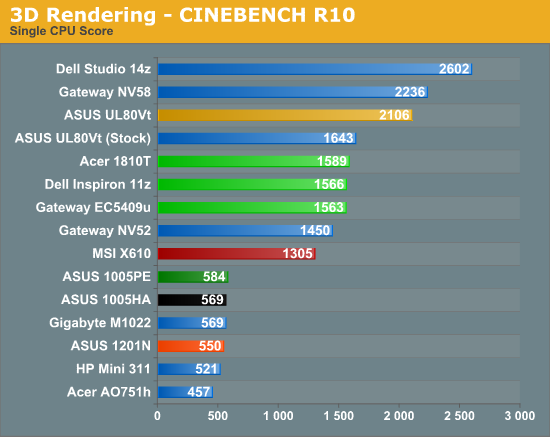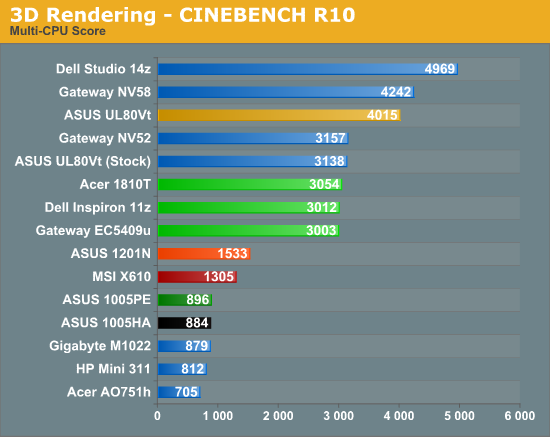 Next up we have Internet Surfing performance measured by the Futuremark Peacekeeper benchmark using Firefox 3.6. Peacekeeper is single-threaded in nature, taxing only one CPU core, but this is quite realistic for many non-video websites. Here the Atom 330 is hurt by its lower clock speed relative to N280/N450, and the jump to CULV roughly doubles performance. If you tend to surf simple text/image sites, the gulf may not be quite so large, but on most modern websites there's a clear difference between rendering times on Atom compared to CULV.
Similarly, CINEBENCH allows us to show quite clearly the difference between single-threaded and multi-threaded tasks. In single CPU mode, the CULV laptops are about 2.5 times as fast as Atom - N280, N450, or 330 doesn't matter. In tasks that can use multiple threads efficiently, the gap between CULV and Atom 330 closes a bit. CULV is still nearly twice as fast as the 330, but it's also 3.35 times as fast as N450. Remember that the multi-threading on N450 is actually Hyper-Threading (SMT) rather than two complete CPU cores, so this is expected.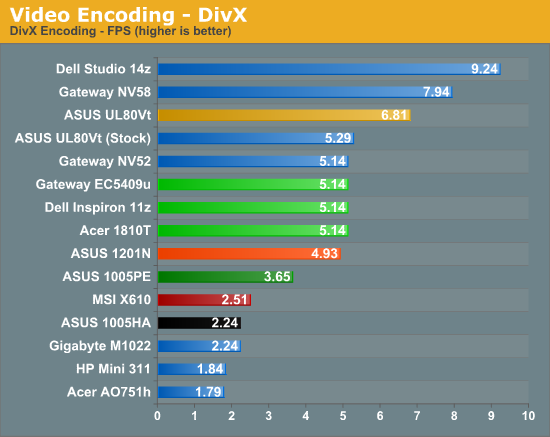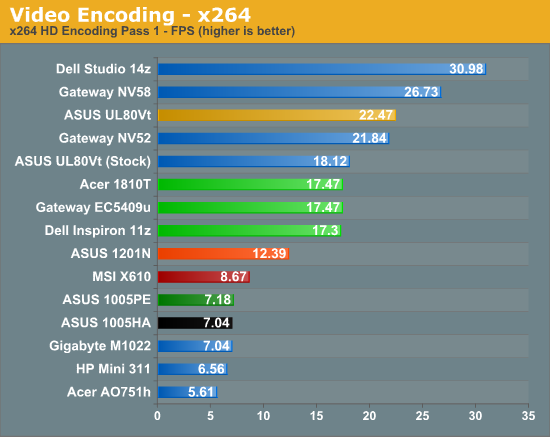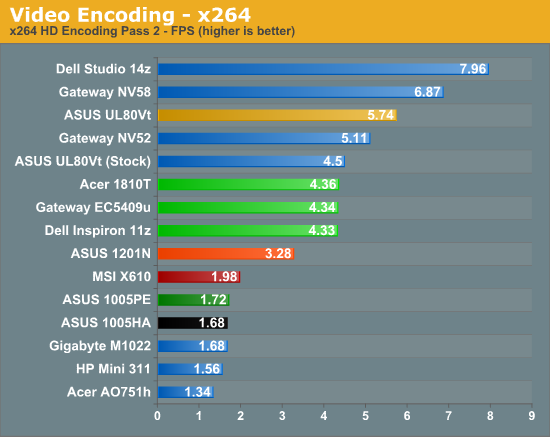 Wrapping things up with some heavily threaded video encoding tests, the four threads on 330 can at times come close to a 1.3GHz CULV. The best result is in DivX encoding where the 330 is only 4% slower than the various CULV laptops. x264 is more strenuous and the CULV offerings are 30~40% faster than Atom 330. Meanwhile, the "new and improved" Atom N450 shows only a very small improvement relative to N280, with CULV still delivering about 2.5 times the performance.
So as you would expect, the performance comparison between Atom and CULV is a lopsided affair. Atom is about keeping costs and power requirements low, and performance just isn't a major concern. Yes, it can run Windows 7, but you wouldn't want an Atom-based system to be your primary computer if at all possible. Given the pricing, you also wouldn't want to spend much over $300 unless you really like some of the other features on an Atom netbook (e.g. perhaps the chassis and build quality are a lot better than the competition). For the most part, Atom wins the price wars, but what about power and battery life?