Clarkdale: The Perfect Home Theater PC
AMD was first to achieve it - the Radeon HD 5000 series support Dolby TrueHD and DTS HD-MA bitstreaming over HDMI. With Clarkdale, Intel is the first to achieve the same with integrated graphics.
If you have a Clarkdale CPU and a H55, H57 or Q57 motherboard, you can bitstream Dolby TrueHD and DTS HD-MA over HDMI. Outputting 8-channel LPCM over HDMI is also supported.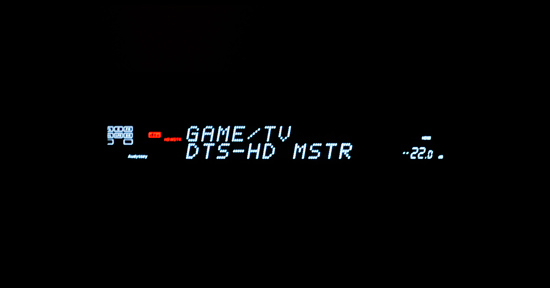 I've tested it and it just works. Using an Intel supplied build of PowerDVD 9 I had no problems bitstreaming either codec from a variety of BDs. My only complaints actually have to do with the PowerDVD software itself.
The PowerDVD Media Center interface for Windows 7 is much improved over the last time I used it. You can even select to bitstream the high definition audio codecs from within the interface: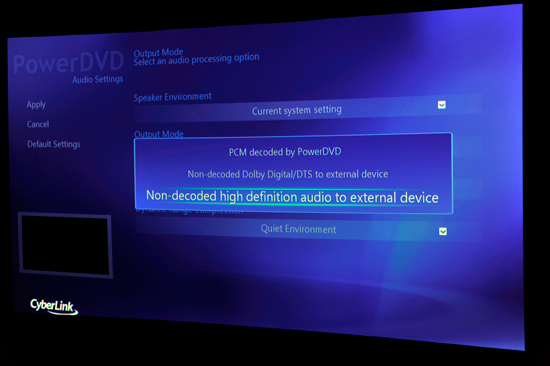 The setting doesn't remember itself unfortunately. There's no way to always force/prefer the use of TrueHD/DTS-HD MA where available. You always need to select it manually.
It continues to be easier to play pirated/unencrypted Blu-ray content than legitimate content on the PC. While PowerDVD 9 has worked fine for me over the past few months, I have noticed strange behavior if you stop a movie in the middle of its playback and/or exit the MCE interface and attempt to later resume. Sometimes the software won't recognize that you have a valid HDCP link between your PC and display and you'll get a black screen instead of actual video output. The only way to recover in this situation is to reboot the whole machine.
Clarkdale is just perfect for an HTPC. You get the benefits of integrated graphics without sacrificing any features at all. It's taken entirely too long but we now have the ability to have the same functionality from a PC as we get from a set-top Blu-ray player. Err, hooray?