Laptop Performance
With the different power and performance characteristics of a laptop (not to mention the battery!) we're going to break out our laptop results from the rest of our desktop data.
If you have seen our OS Mobility Explored article, where we compared laptop usage across Windows and Linux, then you should have a pretty good idea of what you're about to see. The following is a selection of the most relevant data from that article, using Gateway's very similar Intel and AMD power laptops: the NV5807u and NV5214u respectively.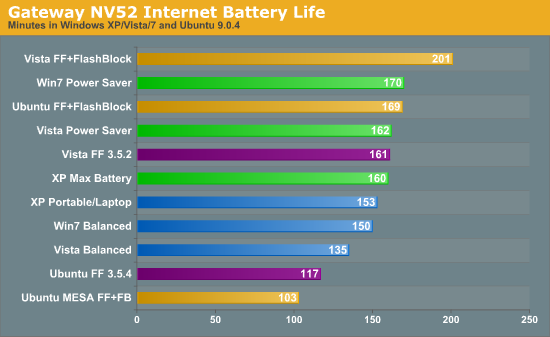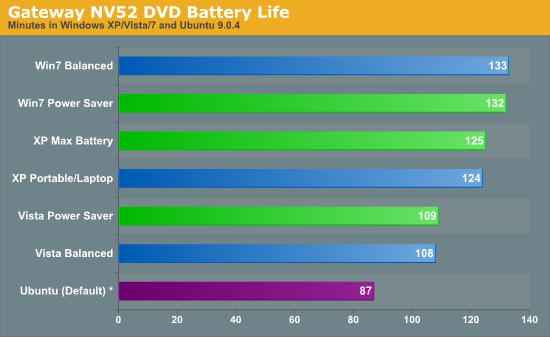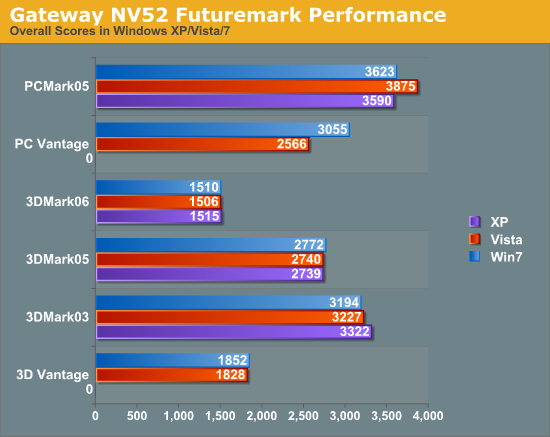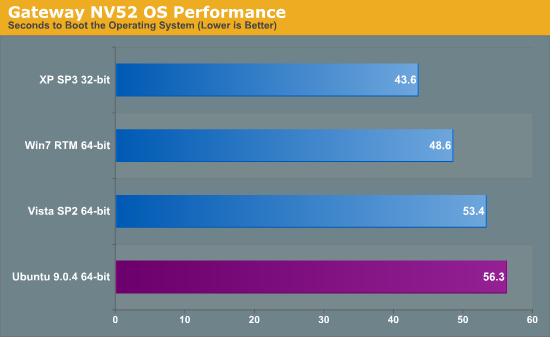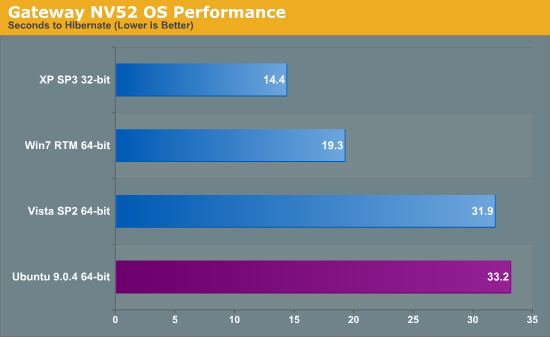 Starting with the NV52, our Athlon 64 X2 laptop, we see some immediate advantages for Windows 7. In terms of battery life it edges out Windows XP in all situations, and clearly surpasses Vista, particularly in DVD playback. As laptops have been one of Vista's most troublesome areas, it's here where Microsoft needed to see some real improvement, and they have delivered.
Meanwhile performance in our limited suite of benchmarks is largely tied. Vista wins in PCMark 05 only due to higher scores in the transparent windows test (something we suspect is a product of the WDDM 1.1 memory optimizations), XP takes 3DMark 03, and Win7 takes PCMark Vantage. Our tendency is to put more weight in to PCMark Vantage, since it's quantifying the improved laptop performance that we've been experiencing, but aren't necessarily seeing in other benchmarks.
Finally we have boot and hibernation times. Microsoft has been putting some effort in to bringing down the boot times of Vista, and it shows here, although XP is too tough to beat. Hibernation is a similar story – it's easier to resume from hibernation when you have less stuff to load.
The NV52 paints what's probably going to be the average picture for Windows 7 on laptops. It's as fast (if not faster) than XP and can pull off a slightly better battery life, but it's not going to be able to beat XP in booting/hibernating.
Next we have the NV58, our Intel C2D laptop.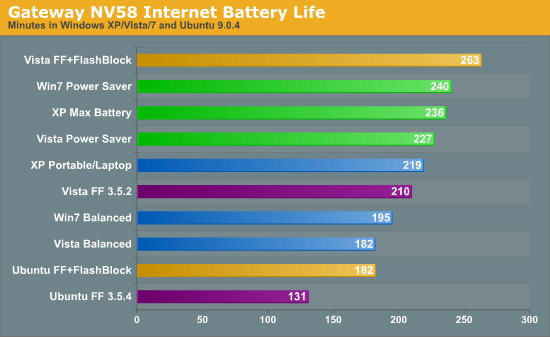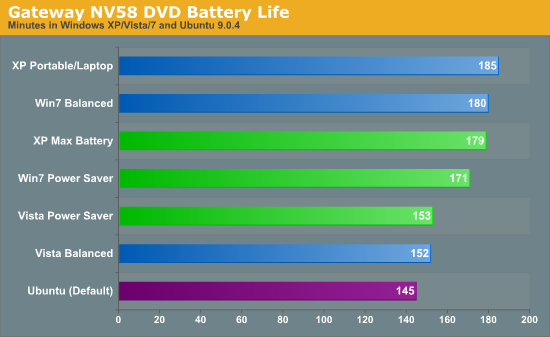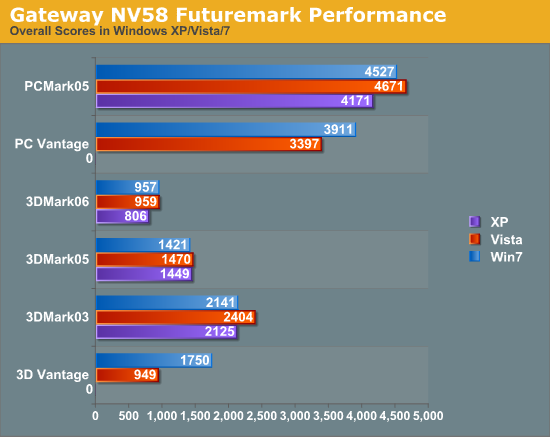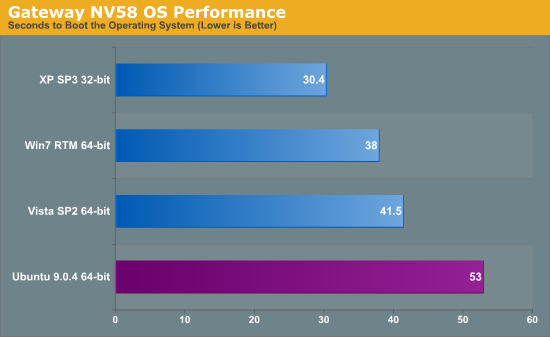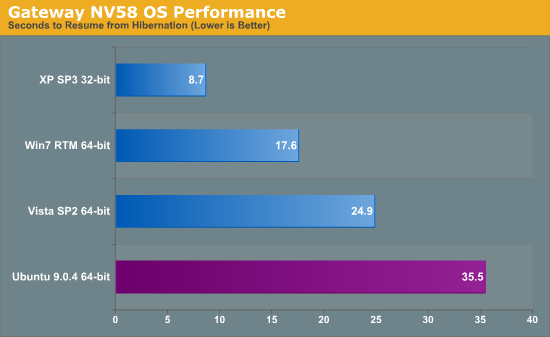 With battery life, we see some things similar to the AMD based NV52, and some things are different. Vista is still a loser, but Win7 doesn't manage to build any kind of lead over XP in DVD playback, letting XP take it by a small margin. Battery life in our internet testing does go to Win7 however, once again with a small margin.
As for performance, we largely have the same results as with the NV52. Win7 wins PCMark Vantage, the test we care the most about, and pulls near-even elsewhere. 3DMark Vantage is an outlier this time, but this seems to be related to the Intel integrated graphics in this laptop.
Finally boot and hibernation times are similar to what we saw with the NV52. XP is still faster to boot and faster to return from hibernation, the benefit of an older, lighter-weight operating system. Win7 does handily beat Vista in all cases, however.