The Race is Over: 8-channel LPCM, TrueHD & DTS-HD MA Bitstreaming
It's now been over a year since I first explained the horrible state of Blu-ray audio on the PC. I'm not talking about music discs, but rather the audio component of any Blu-ray movie. It boils down to this: without an expensive sound card it's impossible to send compressed Dolby TrueHD or DTS-HD Master Audio streams from your HTPC to an AV receiver or pre-processor. Thankfully AMD, Intel and later NVIDIA gave us a stopgap solution that allowed HTPCs, when equipped with the right IGP/GPU, to decode those high-definition audio streams and send them uncompressed over HDMI. The feature is commonly known as 8-channel LPCM support and without it all high end HTPC users would be forced into spending another $150 - $250 on a sound card like the Auzentech HomeTheater HD I just recently reviewed.
For a while I'd heard that ATI was dropping 8-channel LPCM support from RV870 because of cost issues. Thankfully, those rumors turned out to be completely untrue. Not only does the Radeon HD 5870 support 8-channel LPCM output over HDMI like its predecessor, but it can now also bitstream Dolby TrueHD and DTS-HD MA. It is the first and only video card to be able to do this, but I expect others to follow over the next year.
The Radeon HD 5870 is first and foremost a card for gamers, so unless you're building a dual-purpose HTPC, this isn't the one you're going to want to use. If you can wait, the smaller derivatives of the RV870 core will also have bitstreaming support for TrueHD/DTS-HD MA. If you can't and have a deep enough HTPC case, the 5870 will work.
In addition to full bitstreaming support, the 5870 also features ATI's UVD2 (Universal Video Decoder). The engine allows for complete hardware offload of all H.264, MPEG-2 and VC1 decoding. There haven't been many changes to the UVD2 engine; you can still run all of the color adjusting post-processing effects and accelerate a maximum of two 1080p streams at the same time.
ATI claims that the GPU now supports Blu-ray playback/acceleration in Aero mode, but I found that in my testing the UI still defaulted to basic mode.
To take advantage of the 5870's bitstreaming support I had to use a pre-release version of Cyberlink's PowerDVD 9. The public version of the software should be out in another week or so. To enable TrueHD/DTS-HD MA bitstreaming you have to select the "Non-decoded high-definition audio to external device" option in the audio settings panel: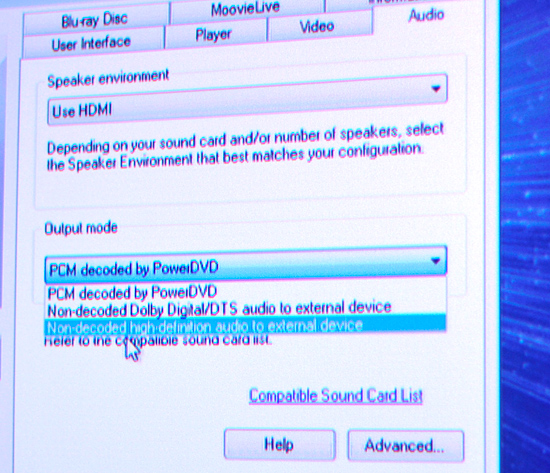 With that selected the player won't attempt to decode any audio but rather pass the encoded stream over HDMI to your receiver. In this case I had an Integra DTC-9.8 on the other end of the cable and my first test was Bolt, a DTS-HD MA title. Much to my amazement, it worked on the first try: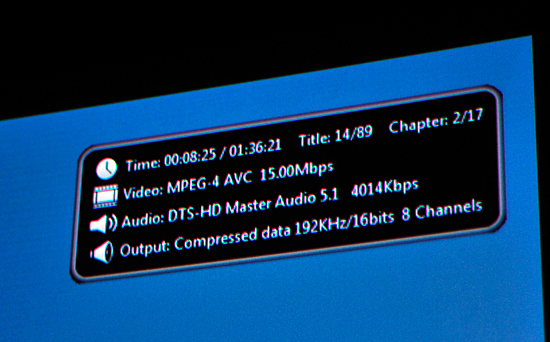 No HDPC errors, no strange player issues, nothing - it just worked.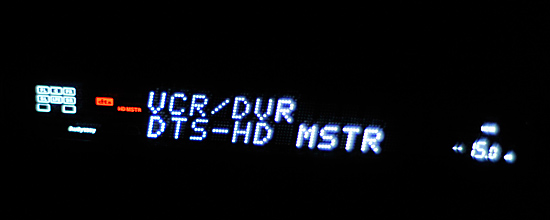 Next up was Dolby TrueHD. I tried American History X first but the best I could get out of it was Dolby Digital. I swapped in Transformers and found the same. This ended up being an issue with the early PowerDVD 9 build, similar to issues with the version of the player needed for the Auzentech HomeTheater HD. Switching audio output modes a couple of times seemed to fix the problem, I now had both DTS-HD MA and Dolby TrueHD bitstreaming from the Radeon HD 5870 to my receiver.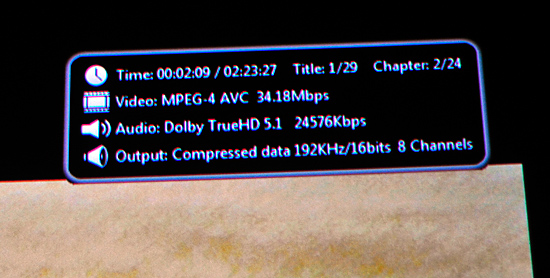 One strange artifact during my testing was the 5870 apparently delivered 1080i output to my JVC RS2 projector. I'm not exactly sure what went wrong here as 1080p wasn't an issue on any other display I used. I ran out of time before I could figure out the cause of the problem but I expect it's an early compatibility issue.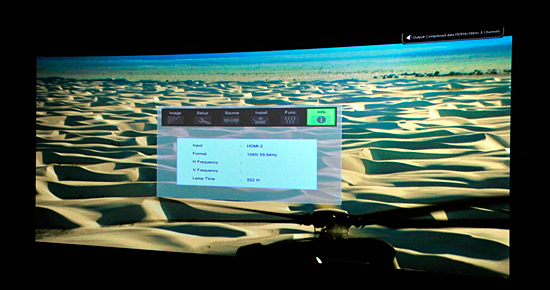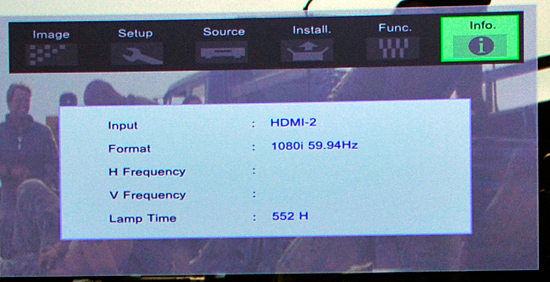 I can't begin to express how relieving it is to finally have GPUs that implement a protected audio path capable of handling these overly encrypted audio streams. Within a year everything from high end GPUs to chipsets with integrated graphics will have this functionality.