SYSMark 2007 Performance
Our journey starts with SYSMark 2007, the only all-encompassing performance suite in our review today. The idea here is simple: one benchmark to indicate the overall performance of your machine.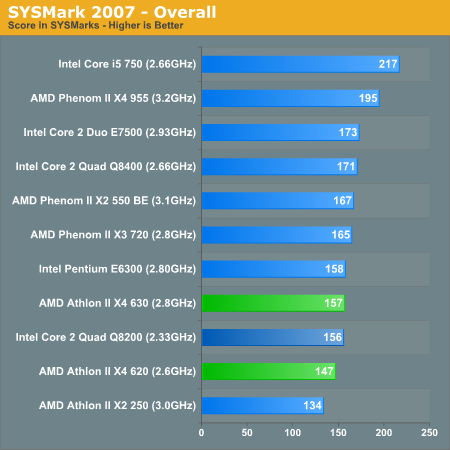 If we only look at the AMD numbers in this chart, there's a pretty nice lineup going on here. The Athlon II X2 250 is slower than the Athlon II X4 620/630, which is slower than the Phenom II X3 730 and all are slower than the Phenom II X4 955. The performance lines up with the pricing, so all is good.
The problem with these cheap quad-cores has always been that you give up a lot in order to get four cores at a low price. The Athlon II X4 appears to break the mold however. The Athlon II X4 620 is priced at $99 and it performs like a $99 CPU. With the exception of the Core 2 Duo E7500 whose high clock speed makes it do unsually well here, the 620 is balanced. You get a reasonably high clock speed and enough cache to be competitive, both at a good price.
You'll see in the individual tests below that performance varies between competitive and underwhelming depending on the task. Anything that can take advantage of four cores does well, otherwise the smaller L2s of the Athlon II X4 hurt it a bit.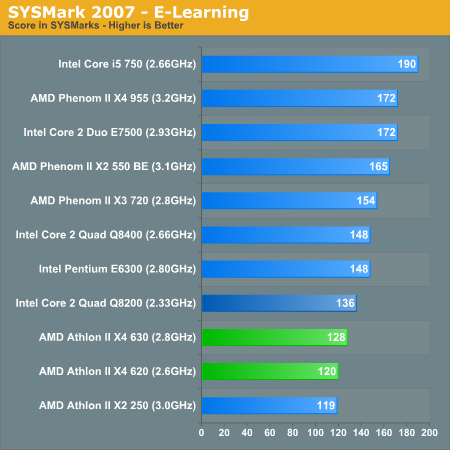 In applications that aren't well threaded, you'll see the Athlon II X4 perform less than stellar - but the same is true for all lower end quad-core CPUs. Even the Q8200 is outperformed by the E6300 here. Situations like this are validation for Intel's aggressive turbo modes on Lynnfield.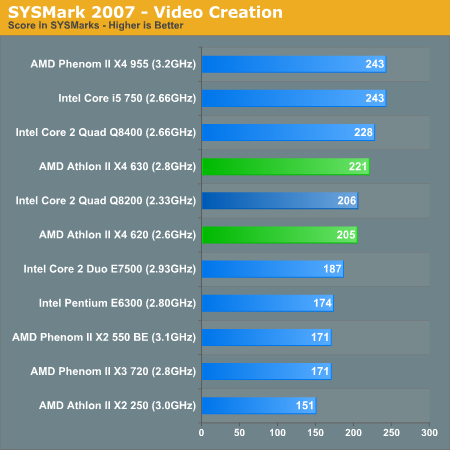 Any strenuous video encoding however will seriously favor the Athlon II X4. Here we find the $99 620 tying the Core 2 Quad Q8200, and the 630 outperforming it - all at a lower price.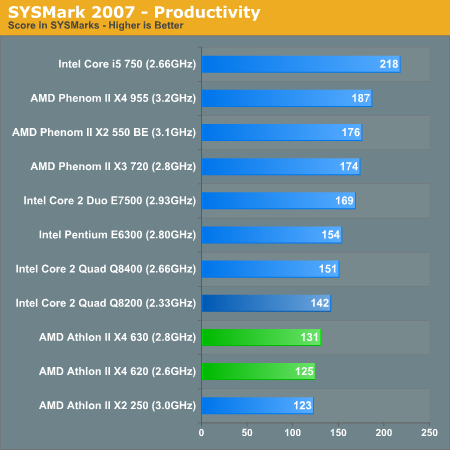 We're back to needing higher clock speeds and larger caches to compete. Being a quad-core processor isn't easy.