AMD Browser Battery Life
We stuck to the most recent versions of the most popular web browsers for testing. Our list includes Apple Safari (version 4.0.3), Google Chrome (version 2.0.172.43), Mozilla Firefox (version 3.5.2), Microsoft Internet Explorer (version 8.0.6001.18813), and Opera (versions 9.6.4 and 10 Beta 3). We included two versions of Opera simply because version 10 wasn't final during testing, although it appears there's little difference between the two when it comes to battery life. We also ran a test using Firefox with the AdBlock Plus add-on, which means the Flash advertisements didn't show up. The compromise there is that AdBlock requires more processing time up front in order to parse the HTML. Each test was done (at least) twice, taking the higher score of the runs.
Here are the results of our testing, starting with the Gateway NV52, a laptop based on the AMD RS780MN platform. Please note that unlike our normal battery life tests, we set the laptop on the Vista "Power Saver" profile instead of "Balanced", with the hard drive set to power down after 3 minutes and the maximum CPU performance set at 50%. This improves battery life on all laptops, sometimes by a significant amount.

Gateway NV5214u Specifications
Processor
AMD Athlon 64 X2 QL-64 (Dual-core, 2.1GHz, 2x512KB L2, 65nm, 35W, 667MHz FSB)
Chipset
AMD RS780MN + SB700
Memory
2x2048MB DDR2-667
Graphics
Integrated ATI Radeon HD 3200
Display
15.6" Glossy LED-Backlit 16:9 WXGA (1366x768)
Hard Drive
320GB 5400RPM
Optical Drive
8x DVDR SuperMulti
Networking
Gigabit Ethernet
802.11n WiFi
56K Modem
Audio
2-Channel HD Audio (2.0 Speakers with headphone/microphone jacks)
Battery
6-Cell 10.8V, 4400mAhr, 47.5Whr
Front Side
None
Left Side
SD/MMC/MS/MS Pro/xD reader
Microphone/Headphone Jacks (2.0 audio with S/PDIF support)
2 x USB 2.0
HDMI
VGA
Gigabit Ethernet
AC Power Connection
Kensington Lock
Right Side
DVDRW Optical Drive
2 x USB 2.0
56K Modem
Power Button
Back Side
Heat Exhaust Port
Operating System
Windows Vista Home Premium 64-bit
Dimensions
14.6" x 9.8" x 1.0"-1.5" (WxDxH)
Weight
5.8 lbs (with 6-cell battery)
Extras
Webcam
Alternate colors/models available
Blue: NV5213u
Black: NV5215u
Red: NV5216u
Warranty
1-year standard Gateway warranty
Extended warranties available
Price
NV5214u available at Best Buy for $500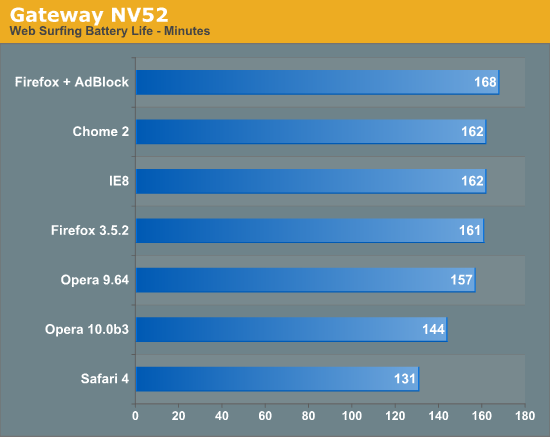 There are a few interesting tidbits to point out. First, the margin of error between runs is around 3% because of network issues, website content, and fluctuation in battery discharging rates. That's why we ran each test at least twice, so the results above should be accurate to within around 1%, for the best-case results. That said, the best battery life on the NV52 ends up coming from what most consider the slowest browser, Internet Explorer 8. Google's Chrome browser matches IE8 at 162 minutes, so there's something to be said for the lightweight newcomer being fast and lean. (Note that we reran the IE8 test one more time to verify the result, and it came out quite a bit lower the second time. We think there was a network glitch with the originally reported score of 175 minutes -- sorry for the confusion.) Our thought is that Microsoft has optimized IE8 better than most of the competition, since it's a major part of the OS.
Firefox with Adblock Plus places at the top, since Flash content can dramatically increase CPU usage relative to static images; most probably assumed AdBlock would help more, but it only improved battery life with Firefox by 4.3%. Opera 9.6.4 comes in after Chrome and IE8, followed by the first major gap: Opera 9 beat Opera 10 by 9%. At the back of the pack, Apple's Safari 4 web browser trails Opera 10 by 10% -- or if you prefer, IE8 and Chrome give you 24% more battery life under Windows Vista than Safari 4. As much as some people might like Apple's products, clearly Safari 4 isn't the best web browser when it comes to battery life.