Why SSDs Care About What You Write: Fragmentation & Write Combining
PC Perspective's Allyn Malventano is a smart dude, just read one of his articles to figure that out. He pieced together a big aspect of how the X25-M worked on his own, a major key to how to improve SSD performance.
You'll remember from the Anthology that SSDs get their high performance by being able to write to multiple flash die across multiple channels in parallel. This works very well for very large files since you can easily split the reads and writes across multiple die/channels.
Here we go to write a 128KB file, it's split up and written across multiple channels in our tiny mock SSD: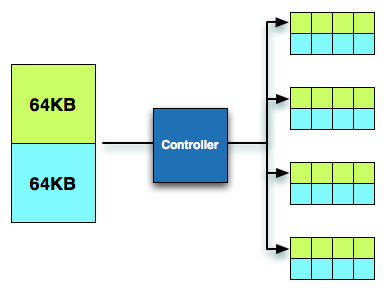 When we go to read the file, it's read across multiple channels and performance is once again, excellent.
Remember what we talked about before however: small file random read/write performance is actually what ends up being slowest on hard drives. It's what often happens on a PC and thus we run into a problem when performing such an IO. Here we go to write a 4KB file. The smallest size we can write is 4KB and thus it's not split up at all, it can only be written to a single channel: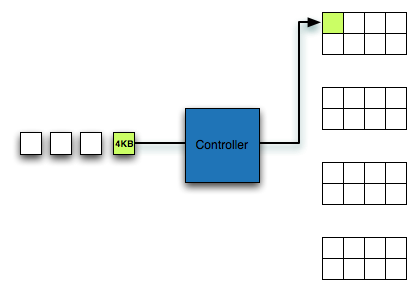 As Alyn discovered, Intel and other manufacturers get around this issue by combining small writes into larger groups. Random writes rarely happen in a separated manner, they come in bursts with many at a time. A write combining controller will take a group of 4KB writes, arrange them in parallel, and then write them together at the same time.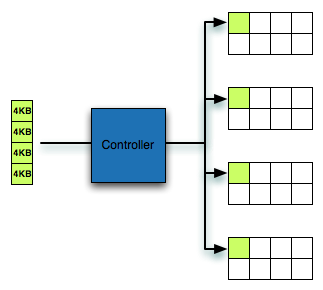 This does wonders for improving random small file write performance, as everything completes as fast as a larger sequential write would. What it hurts is what happens when you overwrite data.
In the first example where we wrote a 128KB file, look what happens if we delete the file: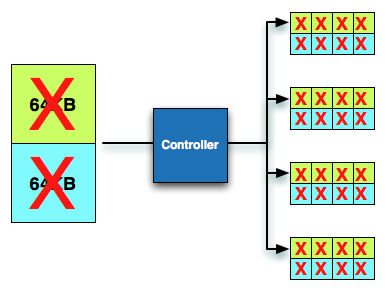 Entire blocks are invalidated. Every single LBA in these blocks will come back invalid and can quickly be cleaned.
Look at what happens in the second example. These 4KB fragments are unrelated, so when one is overwritten, the rest aren't. A few deletes and now we're left with this sort of a situation: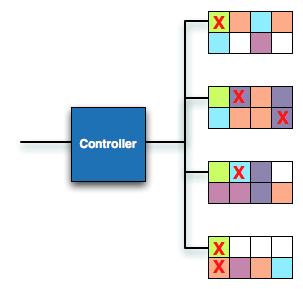 Ugh. These fragmented blocks are a pain to deal with. Try to write to it now and you have to do a read-modify-write. Without TRIM support, nearly every write to these blocks will require a read-modify-write and send write amplification through the roof. This is the downside of write combining.
Intel's controller does its best to recover from these situations. That's why its used random write performance is still very good. Samsung's controller isn't very good at recovering from these situations.
Now you can see why performing a sequential write over the span of the drive fixes a fragmented drive. It turns the overly fragmented case into one that's easy to deal with, hooray. You can also see why SSD degradation happens over time. You don't spend all day writing large sequential files to your disk. Instead you write a combination of random and sequential, large and small files to the disk.