Networking
The Windows 2000 Driver Development Kit (DDK) includes a useful LAN testing utility called NTttcp. We used the NTttcp tool to test Ethernet throughput and the CPU utilization of the various Ethernet controllers used on the Intel motherboards. We set up one machine as the server; in this test, an Intel X58 system with an Intel EXPI9402PT (PRO/1000 PT) Gigabit LAN card. Intel's Gigabit LAN solutions have a reputation for providing fast throughput and is a logical choice for our Gigabit LAN server.
On the server side, we used the following Command Line as suggested by the VIA whitepaper on LAN testing:
Ntttcpr -m 4,0,‹server IP› -a 4 -l 256000 -n 30000
On the client side (the motherboard under test), we used the following Command Line:
Ntttcps -m 4,0,‹client IP› -a 4 -l 256000 -n 30000
At the conclusion of the test, we captured the throughput and CPU utilization figures from the client screen.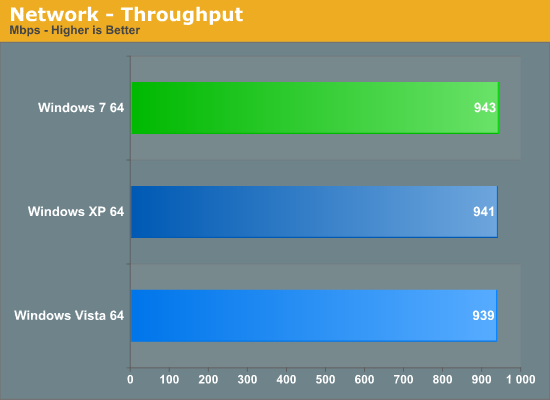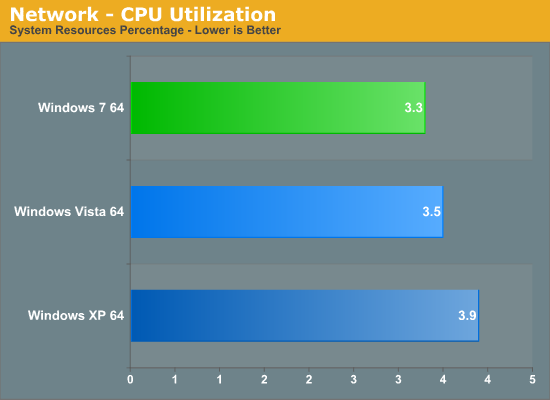 Our network throughput test indicates how well a particular controller design from Realtek, Marvell, or Intel performs instead of being indicative of true chipset performance. This also holds true for the CPU utilization results, though this test can also be influenced to certain degree by the BIOS code and chipset interconnect design.
The CPU utilization and throughput results slightly favor Windows 7. The good news is that we did not see the horrible networking performance that plagued Vista up until Service Pack 1. In actual transfer tests of various file sizes across the network, Windows 7 was the fastest, with XP Pro x64 very close behind and Vista usually trailing by a percent or two. In practice, few if any users will notice a difference, even if they have the requisite Gigabit hub, as storage performance frequently bottlenecks the actual transfer rates.