So what is VMware releasing?
While vSphere 4 is technically an upgrade to the existing VMware Infrastructure (the latest version being ESX 3.5), they are now opening up the product to allow management of both the internal and external clouds. This allows users to extend the existing company infrastructure with that of IT service providers all over the world. (Here is a list of providers that are currently ready to offer these services.)
VMware is looking to merge these two worlds with vSphere, but while still acknowledging the key differences between the two: Internal company clouds should be deployed in a non-disruptive, evolutionary way. Any data center that has already been virtualized should be able to move to the cloud without a glitch, and it should remain as trusted, reliable, and secure as expected from an internal infrastructure.
External clouds are to be put to work for extra capacity, and quite possibly high availability and disaster recovery as well. Migrating VMs from the internal to the external cloud should work seamlessly through Storage VMotion (we believe this should work, provided that the VM is on a LUN by itself).Think of this environment as a large-scale VPN, independent of your own infrastructure, which is paid for not in terms of infrastructure costs, but per unit of actual work completed. This environment can be as large or small as is required at the time, and should add a lot of flexibility to existing data centers in an efficient way.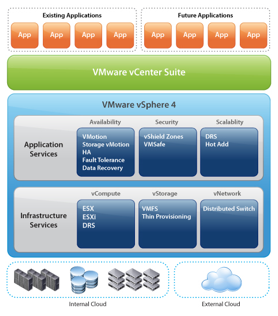 vSphere is truly meant to be the very first "Cloud-OS", a system that can break up separate hardware platforms into what they offer in terms of resources, and use these resources as building blocks for what is, essentially, a supercomputer that encompasses the entire virtualized data center and beyond. VMware aims to make vSphere compatible with any existing or future applications and maintain strict security, even in the external cloud, while keeping the technology as non-intrusive as possible. Ideally, there should be no lock into specific service providers, or locks into irreversible decisions. As long as a company's intent is not to make their entire infrastructure irreversibly dependent on the external cloud, it should always be able to fall back on its internal infrastructure.