OLTP: Dell DVD Store on MS SQL Server 2005
Operating System
Windows 2008 Enterprise RTM (64-bit)
Software
SQL Server 2005 Enterprise x64 SP3 (64-bit)
Benchmark software
Dell DVDStore 2
Database Size
3.5 GB
Typical error margin
2-4%
DVD Store is a project that the Linux department of Dell developed in 2005 as a test for its internal server laboratory. The DVD Store database schema consists of only eight tables, but it does include stored procedures and transactions. The beauty is that it is available as open source software. This allowed us to turn this into a custom benchmark. With the default settings, the database can only be three sizes: 10MB, 1GB, or 100GB. A 10MB database size is simply too small. A 1GB size does not allow us to scale well, as too much locking contention happens. Those two options are out, but to run DVD Store with a 100GB database as a CPU benchmark, we need to take out a second mortgage on all the houses of our team to pay for the necessary storage racks.
We decided to recompile the test, allowing us to use a 3.5GB database. A 3.5GB database proved to be a good compromise between not needing too much storage speed and making the database scale well to eight cores and beyond. As you can read on our benchmark configuration page, we used a RAID 0 set of six SSDs for the data, and four 15000RPM SAS disks for the logs. We monitored the DQL (Disk Queue Length) to ensure our test was not bottlenecked by the storage subsystem.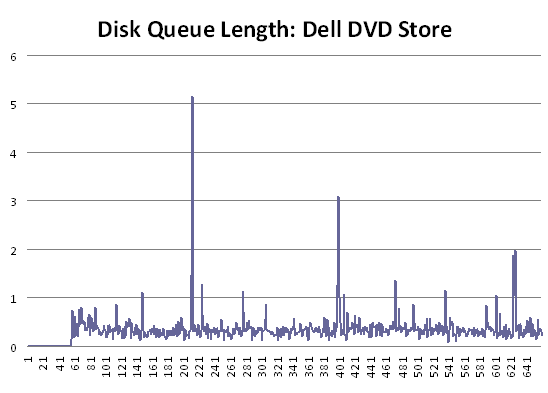 Most of the time, our storage subsystem copes well with the transactions (DQL <1), but there are a few brief spikes where the disks are limiting throughput. This means that our fastest CPUs are running at a slightly lower CPU load (Xeon X5570 is at slightly less than 80%) than the slowest CPU (85%). Giving our fastest CPUs an even faster storage system hardly improved performance despite somewhat higher CPU load levels. In reality, it is very unlikely that you will add a few drives because you wish to run your CPU at an 82% instead of 78% CPU load, so we feel this small variation in CPU load is acceptable. This is especially true as the resulting variation in performance is much smaller: we are talking about 2-3% performance variations, well within the error margin of our test.
You can test this OLTP database via a very thin web tier or directly. As the web tier only added noise (it uses the slow ODBC driver!) to our results, we tested directly. All servers were tested in a dual CPU configuration.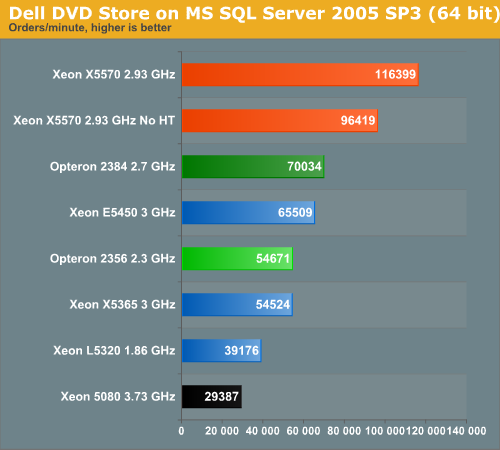 The AMD Shanghai has no trouble leaving the older Xeons behind, even at a lower clock speed. The Xeon 5570 does not play in the same class. Thanks to SMT, it is capable of outperforming its older brother by 78% and the competition by 66%. Hyper-Threading gives the Xeon 5570 a 21% performance boost.
One Xeon 5570 server is capable of replacing 3 to 4 older server systems based on the Xeon 50xx series.