Comparison: Acoustic Noise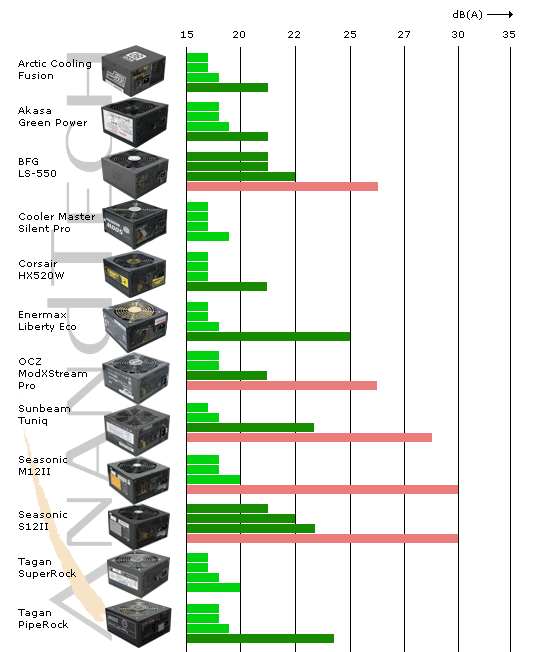 Note: The first column is 10% load, the second 20%, the third 50%, and the last column represents 100% load.
We tested all of the power supplies at various loads, as noted above. To make the chart easier to read at a glance, very low acoustic noise levels are in light green, acceptable noise levels are in darker green, and clearly audible noise levels are in red. Even the red noise levels are relatively quiet in this roundup and should not prove annoying once a power supply is installed in a computer chassis.
Most of the power supplies are nearly silent during lower loads, with more than half of the power supplies staying under 20 dB even at 50% load. BFG Technologies takes the safe route and runs the fan at higher RPMs in order to provide better cooling, and the Seasonic and Sunbeam units take a similar approach.
The Cooler Master and Tagan power supplies are the quietest options, staying below 20 dB at all loads. Whether or not that's a healthy approach to power supply design is debatable, as these power supplies do run hotter than the others. It's possible they will fail sooner rather than later, but if you plan on running at lower loads and you want a silent system, these are clearly the best options. On the other hand, we definitely wouldn't say the approach of BFG, Seasonic, and Sunbeam use is wrong; particularly at higher loads, we have no problem with increasing fan speeds to keep temperatures in check.