Comparison: Cooling Performance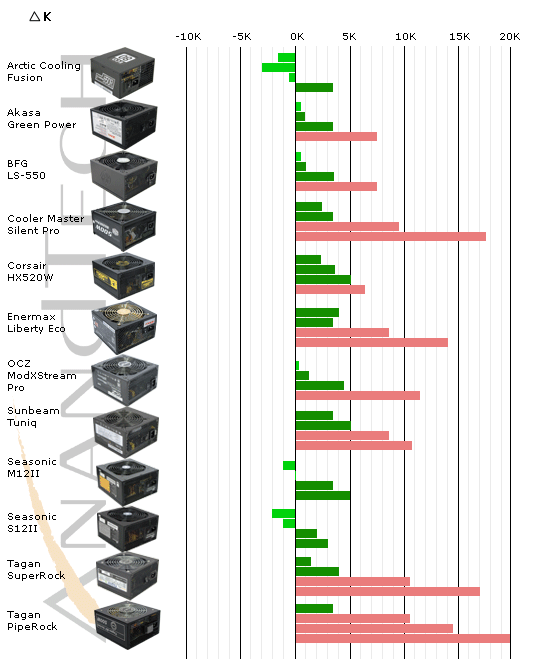 Note: The first column is 10% load, the second 20%, the third 50%, and the last column represents 100% load.
We decided to take a different approach to showing cooling performance in this review. Rather than showing rock temperatures, we show the difference between the internal heat and the exhaust heat, which is called Delta K. If Delta K is positive, it means there is heat building up inside of the power supply; the larger the bar, the hotter it is inside the PSU. The negative part indicates cooling performance is very good and hot air is being ventilated. It's normal for power supply to gain heat at higher loads, and it's up to the fan in heatsinks to dissipate this heat as much as possible.
Looking at the charts, we can see that the "noisy" Seasonic units do very well at removing heat, because of the higher fan RPMs. Lower noise levels directly correlate with higher temperatures, which we see on the Cooler Master and Tagan models for example. Although the Arctic Cooling power supply has a quiet fan, the cooling performance is still very good. Of course, this has a lot to do with the extremely high efficiency of the Fusion, which we'll see in a moment -- high efficiency means less heat produced in the first place.