Performance Comparison
With everything installed, let's take a look at one of the more important aspects of any case: cooling performance and acoustic noise.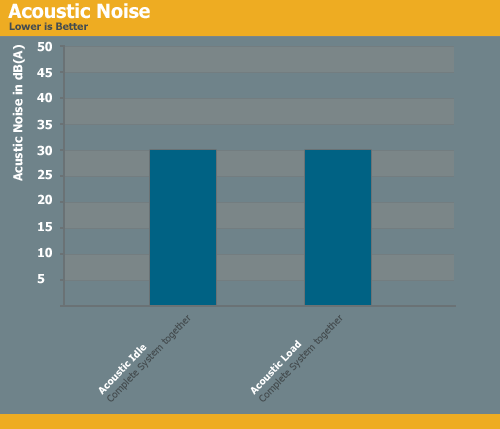 Even with everything installed -- which includes some rather noisy GPUs -- the net result is a very quiet system. It's noticeably quieter than the Silverstone FT01 with a difference of 5 to 8 dB.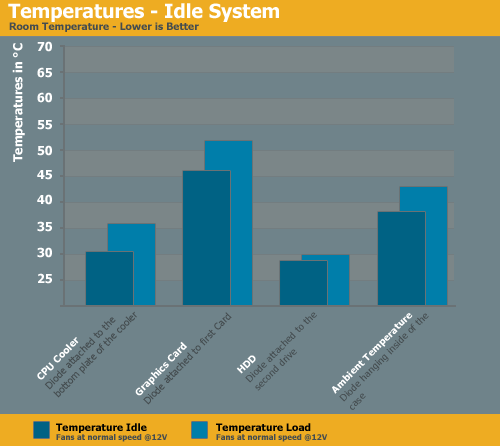 Temperatures also look pretty good, but we need to compare this case with the competition to put things in perspective.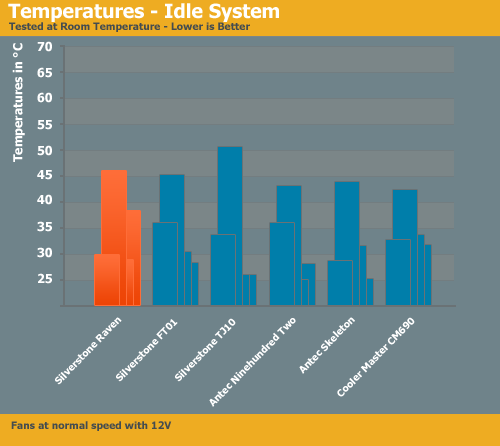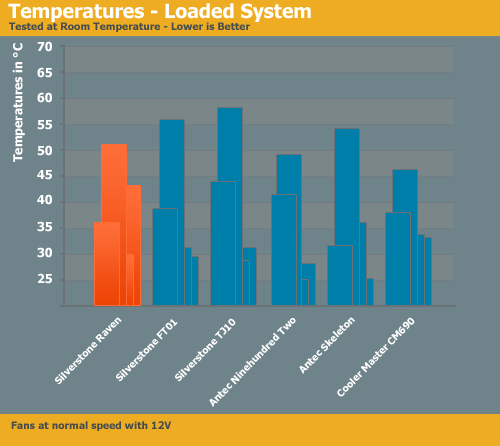 Note: The first column is the CPU temperature, the second represents the graphics cards, the third is for the hard drives, and the last one is the ambient temperature.
At idle, CPU temperature is a cool 30°C, which compares very favorably to other previously tested systems. (Note that we have some cases in the above charts that we haven't officially reviewed yet; these cases will be reviewed in the near future.) Load temperatures are similarly impressive, reaching just 36°C. Out of the tested cases, only the Antec Skeleton posts a better CPU result, but that's an open air case.
We expected better results from the graphics cards, but it appears the top cover restricts exhaust and thus hampers cooling. You can remove the top cover to improve the temperature results, but at the cost of marring the appearance. The large 180mm fan cools the hard drives nicely, keeping them at the same temperature in idle and load conditions.
All of the temperatures are good to very good, with one exception: ambient temperature. We were shocked by the ambient temperature as we expected much better results. It was 38°C at idle and 43°C at load, which is much higher than anything else we've tested so far. The temperature diode was directly below the CPU cooler at the height of the system memory, so it may simply have been caught in a dead spot where there wasn't much airflow. This is the same location we use in the other cases, but it could be that the motherboard orientation adversely affected airflow to this area. Still, we didn't feel we should change it as we wanted to stay consistent in our tests.