Understanding Atom: Three Models for the Same CPU
Let me clear up some naming confusing regarding Atom. While there's only one Atom processor, it comes in two different versions: Silverthorne and Diamondville. Silverthorne is the version intended for use in MIDs (Mobile Internet Devices), it's a part of the Z5xx series. Diamondville is the version intended for desktops, notebooks and netbooks - it's the N2xx, 2xx and 3xx series. The N2xx is used for netbooks, while the 2xx and 3xx are used for desktops. The 3xx is a dual core version of Diamondville. The 2xx and 3xx chips simply draw more power than the N2xx. They also support 64-bit instructions, while the rest of the lineup is 32-bit only.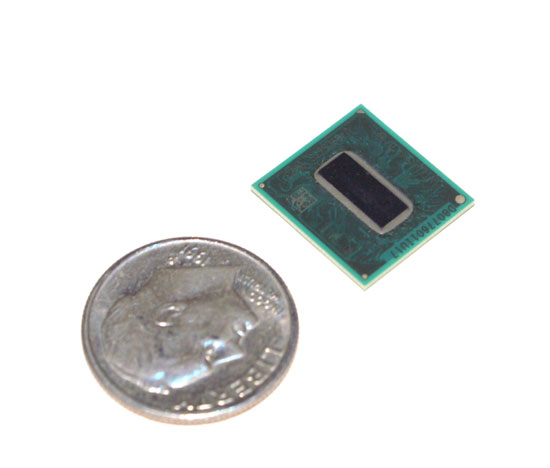 That's Atom, in case you've forgotten
Performance between Silverthorne and Diamondville at the same clock speed is identical. Silverthorne uses a CMOS bus interface instead of a GTL FSB, which consumes less power but also means that it won't work with conventional desktop chipsets. Silverthorne is thus paired with Intel's Poulsbo chipset (sold under the UL11/US15 chipset name).
Diamondville supports the standard GTL FSB interface, and will thus work with desktop Intel chipsets. This version won't work with Poulsbo, but will work with 945G as well as NVIDIA's GeForce 9400M. Anything that can work with a Core 2 or Pentium 4 processor should be able to work with Diamondville.
Both versions are sold under the Atom name, they simply carry different model numbers. I've summarized everything in the table below:
# of Cores/Threads
Clock Speed/L2
FSB
64-bit
Target Market
TDP
Price
Intel Atom 330
2/4
1.6GHz / 512KBx2
533MHz GTL+
Y
Desktops/Notebooks
8.0W
$43
Intel Atom 230
1/2
1.6GHz / 512KB
533MHz GTL+
Y
Desktops/Notebooks
4.0W
$29
Intel Atom N270
1/2
1.6GHz / 512KB
533MHz GTL+
N
Netbooks
2.5W
$44
Intel Atom Z540
1/2
1.86GHz / 512KB
533MHz CMOS
N
MIDs
2.4W
2.6W w/ HT
$135
Intel Atom Z530
1/2
1.60GHz / 512KB
533MHz CMOS
N
MIDs
2.0W
2.2W w/ HT
$70
Intel Atom Z520
1/2
1.33GHz / 512KB
533MHz CMOS
N
MIDs
2.0W / 2.2W w/ HT
$40
Intel Atom Z510
1/1
1.1GHz / 512KB
400MHz CMOS
N
MIDs
2.0W
$20
Intel Atom Z500
1/1
800MHz / 512KB
400MHz CMOS
N
MIDs
0.65W
$20
I had to get that out of the way because some manufacturers are opting to go with Silverthorne for their notebooks, while others are using Diamondville. And the model numbers are different enough to be confusing, despite fundamentally being the same processor. Just to reiterate, an Intel Atom Z530 offers the same performance as an Intel Atom N270, they both work at 1.60GHz.