Crysis Warhead Performance
This game is another killer at 2560x1600. Only multi-GPU solutions will cut it at this resolution with Gamer settings and Enthusiast shaders enabled. Once (if) the 64-bit patch is released, we should see some general performance improvement as well, but graphics limitations are the name of the game here. Crysis was tough on PCs, and while Warhead is a bit more optimized, this one is still a system killer.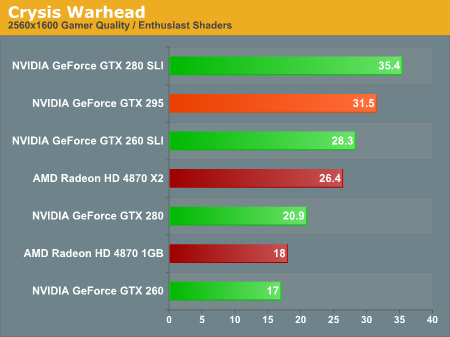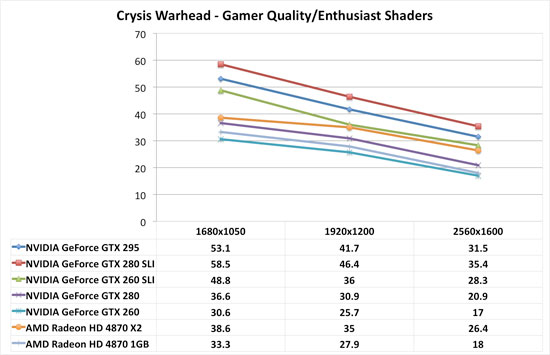 Click to Enlarge
With a 30" display, a minimum of a GTX 295 is required for playability with the settings we chose. Of course, dropping the settings down a bit will certainly help out, but even on smaller panel sizes a high end single card will be desireable for the highest image quality settings. Luckily for fans, running in DX9 mode with slightly lower settings is very playable and not that much of a sacrifice.
Crysis Warhead seems to favor SLI over CrossFire as the single 4870 1GB leads the GTX 260 while the GTX 260 SLI wins out over the 4870 X2. This isn't so much a question of what architecture handles the game better as what multi-GPU solution handles the game better. Either way, it comes out in NVIDIA's favor.