AMD Value Midrange
The AMD Value Midrange system is built around the new Phenom II 920 2.8GHz quad-core CPU. Until the introduction of Phenom II last week the 9950 was the top AMD processor you could buy and it was an excellent value. With the Phenom II shipping at introduction AMD has wasted no time in lowering the street price of the 9950, making a great CPU an even better value at $150. Still, the Phenom II offers better raw performance than the 9950 and much better overclocking. The Phenom II architecture is more like Intel's latest Core i7, and while the i7 is still the fastest current CPU the Phenom II competes better than the Phenom with i7. For those reasons we really wanted to select the Phenom II 920 for the AMD Value Midrange.
This seemed a bit of a stretch given a budget of $1500 until Foxconn told us they were reducing the price of their 790FX board by $60 and offering an additional $60 rebate. With a new lower price of $105 for the excellent Foxconn 790FX board, it became a much easier task to put together a hot top-performing Phenom II system for under $1500 complete.
AMD Value Midrange PC
Hardware
Component
Price
Processor
Phenom II x4 920
(2.8GHz x4, 4x512KB L2, 6MB L3)
$235
Cooling
Tuniq Tower 120
$54
Video
Sapphire Radeon HD 4870 1GB
$230
Motherboard
Foxconn A79A-S AM2+/AM2 AMD 790FX
$105
Memory
4GB DDR2-1066 Patriot Viper PVS24G8500ELKN
$48
Hard Drive
Seagate Barracuda 7200.11 1TB
$110
Optical Drive
LG BD/HD DVD / 16x DVD+/- RW GGC-H20LK
$99
Audio
On-Board ADI AD2000B 8-channel HD Audio
$0
Case
COOLER MASTER RC-690-KKN1-GP Black ATX Mid Tower
$80
Power Supply
CORSAIR CMPSU-650TX 650W SLI Ready CrossFire Ready 80 PLUS Certified
$80
Display
Acer H213H bmid Black 21.5" 5ms HDMI Widescreen 16:9 Full HD 1080P LCD Monitor (1920x1080)
$199
Speakers
Creative Inspire T6100 76 Watts 5.1 Speaker System
$57
Input
Microsoft CA9-00001 Black PS/2 Standard Keyboard and Optical USB/PS2 Mouse - OEM
$16
Operating System
Microsoft Vista Home Premium OEM
$99
Bottom Line
$1412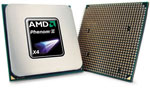 The Phenom II 920 is the lowest priced Phenom II CPU but it is still clocked at 2.8GHz, just a bit below the top Phenom II 940 at 3.0GHz. Conventional wisdom, even after the relaunch of the Phenom earlier last year, was that Phenom finally was overclockable (many reached 3.4GHz with the 9950BE) but that Phenom was not in the same overclocking league with Core 2 or i7. Phenom II shatters that old saw, as we reached 3.9GHz at 1.52V with the Phenom II 940. The 920 may or may not be an even better overclocker, but only time can answer that question. Overclocked or not the Phenom II is very competitive with current Intel offerings, and this system built around the Phenom II 920 does not really have any Core i7 competition. Intel's cheapest i7 is their 920, but pricing begins at $295 for that CPU.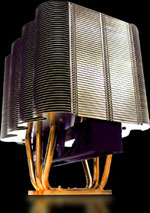 The Tuniq Tower 120 can move a lot of air and it is superb at dropping temperatures in ambitious overclocks. It has been on sale recently for as little as $45, but the best price we could find today was $54. If the Tuniq Tower 120 won't cool it then the overclock is not likely doable. At moderate to low fan speeds the Tuniq is quiet, but it can become quite loud at maximum speed. Find a nice balance of fan speed and cooling and you will find the Tuniq an excellent choice.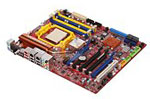 The component that made the $1500 Phenom II system possible is the Foxconn A79A-S, which is compatible with AM2+/AM2 and is based on the AMD 790FXchipset. The selling price of this Foxconn A790FX board has been $224 until Foxconn dropped the price $60 and then added on a $60 rebate. That drops the final price to a budget pleasing $105. This Foxconn board suffered from early BIOS problems, but the last few versions of the BIOS are very capable and extremely stable. We have no problem recommending the current Foxconn A79A-S motherboard as the heart of a stable and very overclockable Phenom II system.
Memory could be the same OCZ choice as the Intel Value Midrange, but another potential 4GB kit is featured in the AMD system build. The 4GB Patriot Viper PVS24G8500ELKN provides solid DDR2-1066 performance at 5-5-5-15 timings at DDR2-1066. With the current $25 rebate the final price is just $48.
The rest of the component selections are shared between the Intel and AMD Value Midrange systems. You can find more information on these component choices on page 3, which details the common system components.
Comparing our $1500 systems, we find that AMD is likely the best performer at this price point of $1500. It has been a long time since we could say this about a midrange system, and it is very good for all of us that Phenom II is competitive with i7 - and cheaper than i7. However, as AMD finally competes in the 45nm space Intel is ready to soon move to an even smaller die size. Still, no matter how long or short the parity, the Phenom II competition is good for all buyers.
With the prices of computer components generally trending down, both our AMD and Intel Value Midrange system builds came in closer to $1400 than our original $1500 budget. This gives you some room to customize some of the components to your liking - such as adding a keyboard or laser gaming mouse.